3 Reasons Why Steph Curry Will Win the NBA MVP Award in 2019-20
Stephen Curry won the NBA Most Valuable Player Award back-to-back years in 2015 and 2016. Curry happily deferred his status as the team's primary scorer when the Golden State Warriors had the opportunity to bring Kevin Durant into the fold. With Durant, Curry added two more NBA Championships to his resume.
But now Kevin Durant is gone, and a new era has begun for the Warriors. This era will have Steph Curry back in the role of the undisputed leader of this team and back into the conversation for league MVP on a yearly basis as well. Here are three reasons why Curry could win his third NBA MVP Award in 2019-20.
1. He's going to score a ton of points
In Steph Curry's last season without Kevin Durant, the Golden State Warriors went 73-9 during the regular season, and Curry led the NBA in scoring with 30.1 points per game. Golden State won't be winning 73 games in 2019-20, but Curry leading the league in scoring again is a distinct possibility.
Over the last three seasons, the Warriors have done a good job spreading out the scoring between the team's top three offensive stars:
2016-17: Curry 25.3 points per game, Durant 25.1 PPG, Klay Thompson 22.3 PPG
2017-18: Curry 26.4 PPG, Durant 26.4 PPG, Thompson 20 PPG
2018-19: Curry 27.3 PPG, Durant 26 PPG, Thompson 21.5 PPG
In 2019-20, Durant is gone, and Klay Thompson will miss the majority of the season with a torn ACL. D'Angelo Russell will provide secondary scoring, but virtually every offensive possession that Steph Curry is on the floor for this season is going to revolve around trying to get the star point guard good looks at the basket. And whether a shot is wide open or contested, Curry is one of the best in the world at hitting them.
2. He won't have to split votes with another big star
Giannis Antetokounmpo is the current favorite to win the NBA MVP for the second year in a row with just under 3/1 odds. Steph Curry is the second favorite at 5/1, followed by LeBron James (6.5/1), James Harden (7/1), Kawhi Leonard (7.5/1), and Anthony Davis (8/1).
One of the main reasons that Antetokounmpo and Curry are favored over the rest of the field is that they are clear focal points of their respective offenses. LeBron James and Anthony Davis are both elite players that should both play a vital role in the success of the Los Angeles Lakers this season. Kawhi Leonard and Paul George are two of the best two-way players in the game. James Harden and Russell Westbrook are both ball-dominant former league MVPs.
As Steph Curry and Kevin Durant learned first-hand over the last three seasons, it's difficult to separate yourself from the MVP pack when you are splitting votes with an MVP-caliber teammate. Antetokounmpo and Curry won't have to worry about splitting votes in 2019-20. And while Giannis Antetokounmpo is a deserving favorite to win MVP, there is one more reason why Steph Curry might edge him out.
3. Golden State has low expectations this season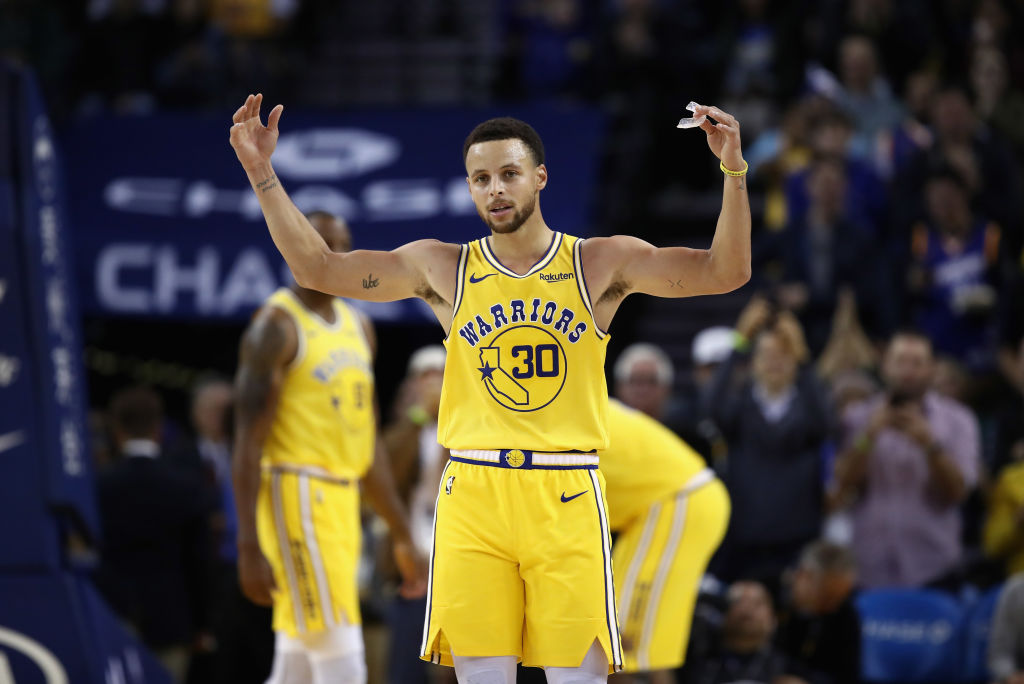 The Milwaukee Bucks have the highest projected win total in the NBA next season at Las Vegas sportsbooks. The Bucks' total is set at 57 wins; a number they could very reasonably reach after they had the league's best regular-season record of 60-22 last season. Milwaukee is the favorite to win the Eastern Conference this season and one of the top favorites to win the NBA Championship as well.
Golden State's projected win total is set at 47 wins. With Durant gone, Thompson injured, and questions about how D'Angelo Russell and Steph Curry will gel on offense, some NBA experts expect the Warriors to struggle to make the playoffs this season.
If Giannis Antetokounmpo has another sensational season and leads the Bucks to another 60-win season in 2019-20, he'll only be meeting expectations. Curry, meanwhile, would be exceeding expectations and grabbing tons of headlines if he has an excellent season that propels the Warriors into the playoffs.
Antetokounmpo might be the safer play, but Curry's actual odds of winning MVP are probably higher than the 20% suggested in his 5/1 betting odds.