3 Striking Similarities Between RGIII and Tim Tebow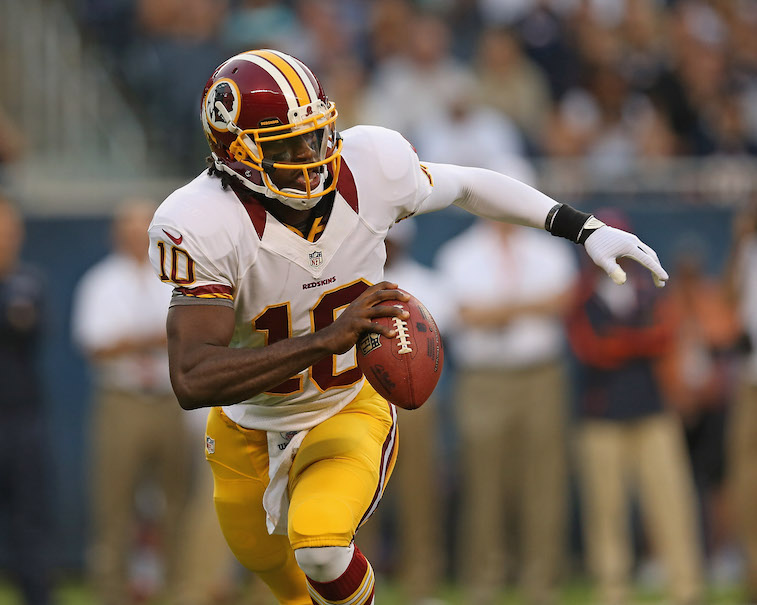 Robert Griffin III looking to reestablish his NFL career with the Cleveland Browns brings up some obvious similarities between his and Tim Tebow's football careers — both at the collegiate and professional levels. Here are three things that these two players have in common.
1. Heisman winners
These two NFL players both share the distinction of earning the Heisman Trophy award during their collegiate careers. In 2007, while at the University of Florida, Tebow won the Heisman after he finished the regular season with 32 passing touchdowns and 23 rushing touchdown, making him the only player in FBS history to rush and pass for at least 20 touchdowns in a single season. His 23 rushing touchdowns were the most recorded for any position in SEC history and his 55 total touchdowns is still an SEC record.
In his final collegiate season at Baylor, Griffin captured his Heisman Trophy award after putting together an impressive year and showing his dynamic skill set as a dual-threat quarterback. He passed for 37 touchdowns while rushing for 699 and 10 touchdowns. Griffin was the only player in the country to have at least 3,300 passing yards and 300 rushing yards in the 2011 season.
Griffin is one of three players in FBS history with 10,000 career passing yards and 2,000 rushing yards, joining Central Michigan's Dan LeFevour and Nevada's Colin Kaepernick. He was the first player in school history to win the Heisman Trophy award and Davey O'Brien National Quarterback Award. Griffin didn't play in the national championship game that season, holding the same distinction with Tebow of winning the prestigious award and not playing in the national championship game during the same season.
2. Dropped the team that drafted them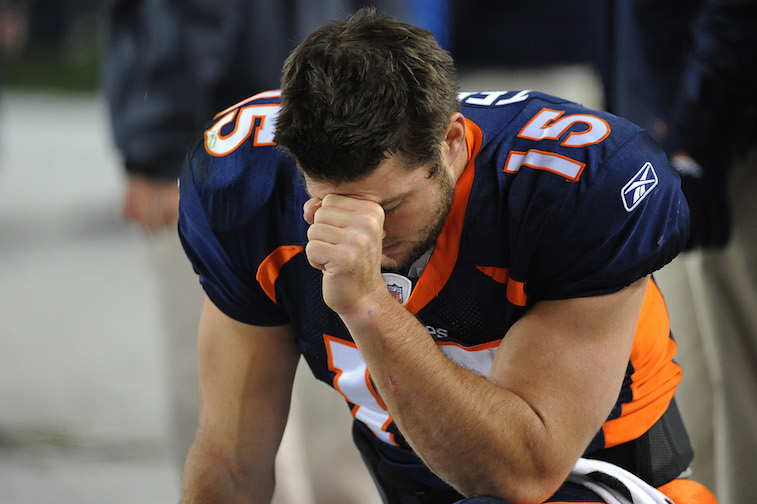 Each player was selected in the first round by their respective teams, where they both experienced success for just one NFL season. In his second year, Tebow got the call after Kyle Orton struggled in the first five games of the year with the Denver Broncos, holding a 1-4 record over that span. With Tebow at the helm of the offense, the Broncos won seven of their first eight games and seven of 11 games in the regular season overall, helping the franchise reach the playoffs.
During that stretch, Tebow Mania grew to astronomical heights while leading the team to several tantalizing comeback win. Tebow capped it off in the divisional round overtime win (29-23) over the Pittsburgh Steelers, posting a career-high 316 passing yards and two touchdowns, including setting an NFL record for 31.6 yards per completion in a playoff game.
Following that season, Tebow was traded to the New York Jets when the Broncos added free agent addition of Peyton Manning. He spent just one season in New York before the team released him. The New England Patriots picked him up the following season in training camp, but he was cut just prior to the start of the regular season. Lastly, the Philadelphia Eagles took a chance on him last season but cut him just days before the regular season began.
Griffin had an impressive rookie campaign, experiencing a lot of success playing out of the read-option formation where he completed 65.6% of his passes for 3,200 yards and 20 touchdowns while leading the Redskins to the playoffs after winning their first NFC East title since 1999. However, along the way he suffered tears to his ACL and LCL ligaments in his right knee, which required surgery in the offseason.
In the following three seasons, his inconsistent play and injuries eventually lost him the starting job and led to him not playing in a single game in 2015. In an expected move, the Redskins decided to part ways with Griffin, releasing him earlier this month. He has since signed a two-year contract with the Browns in hopes of rebooting his career.
3. Media circus that follows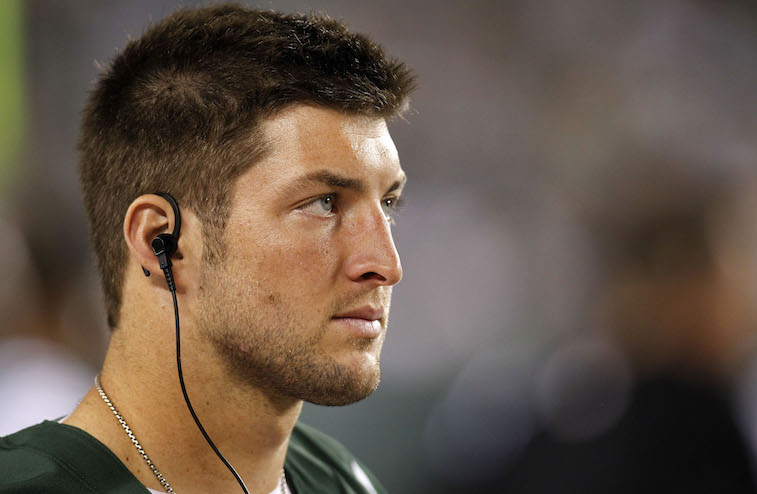 For better or worse, these two players share the similarity of being a lightning rod for media attention regardless of the situations that surround them. It came with the territory for Tebow as he entered the NFL following an extremely successful collegiate career. His strong religious connection to Christianity also made him a bigger topic of discussion for the general public. Tebow experienced a high level of success as the Broncos' starting quarterback, which only ramped up the amount of media attention that surrounded him.
Griffin began to spark media attention after his breakout rookie campaign that began with constant public barbs with then-head coach Mike Shanahan about when he would return from his knee injury. It's also well known that he's a devoted Christian like Tebow. During this time, Griffin also appeared to take on a me-first persona that has stuck with him throughout the last three years of his tenure with the Redskins, making him seem like a difficult player to deal with.
What didn't help the situation: Griffin's porous play, which only made him an even more undesirable player across the league — clearly exemplified by the lack of interest prior to the trade deadline last season. Although these two quarterbacks draw media buzz for different reasons, it's quite apparent that both players are mainstays in the spotlight.