3 Trades the Golden State Warriors Should Consider Making to Solidify Their Championship Credentials
Following a two-year hiatus, it appears the Golden State Warriors are officially back.
Through their first 40 games this season, the Warriors are 30-10, which is good for No. 2 in the Western Conference. Stephen Curry and company also recently welcomed Klay Thompson back to the lineup, who hadn't played since the 2019 NBA Finals due to injury.
However, every team has holes, and the Warriors are no different. So, ahead of the 2022 NBA Trade Deadline, we looked at three deals they should consider making to solidify their championship credentials. 
The trades aren't placed in order of importance, and while there's a chance the Warriors could complete all three in separate deals, they could also combine a couple into one if the right trade partners exist. (We aren't salary cap experts, but we tried to be as realistic as possible.)
So, without further ado, here are three trades the Warriors should consider making.
Trade James Wiseman to the Indiana Pacers for Domantas Sabonis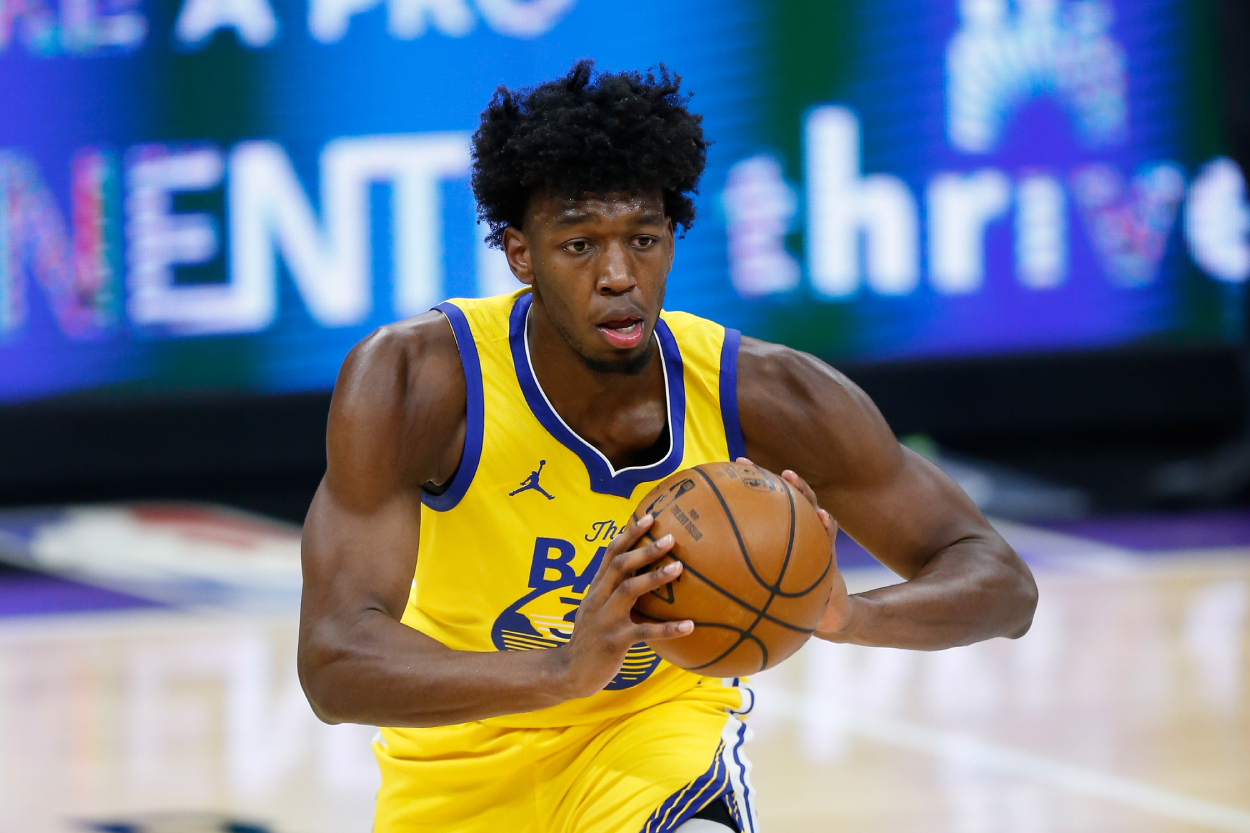 The No. 2 overall pick in the 2020 NBA Draft, James Wiseman, hasn't played all year due to injury. And last season, he proved to be more of a developmental project, averaging just 11.5 points and 5.8 rebounds.
So, if the Warriors want players who can help them now, they should consider trading Wiseman for Indiana Pacers big man Domantas Sabonis.
Sabonis is a great rebounder, as he has averaged around 12.0 boards in the last three seasons. And while Golden State is a fantastic rebounding team, it doesn't have a true big man who can dominate on the glass. Kevon Looney has been the team's starting center, and he only pulls down 6.7 per game. The Warriors also don't have a single player who averages over 7.6 rebounds.
Sabonis is someone who could be on the move given the Pacers' reported willingness to rebuild, and he could be the perfect person to strengthen Golden State's weakness.
Of course, it's unlikely that the Warriors would be able to trade Wiseman for Sabonis straight up. They both have multiple years remaining on their respective deals, but Sabonis earns over $18 million a year, while Wiseman makes a little over $9 million. However, Sabonis would help Golden State win now, and Wiseman would give the Pacers a building block for the future.
Send Jonathan Kuminga and Moses Moody to a team looking to rebuild
The Warriors elected to think about their future in the 2021 NBA Draft by selecting Jonathan Kuminga and Moses Moody in the first round. But they have since found out that their championship window might have quite a few years remaining, and Kuminga and Moody aren't making much of a difference on the team.
The former is averaging 4.9 points in 9.7 minutes, and Moody is barely in the rotation, playing just 7.0 minutes per game.
Golden State could use these guys to acquire players who can help them now (like in a Sabonis trade or in a type of deal we are discussing next), or they could just try to receive some extra draft capital for the future and free up two roster spots.
Either way, Kuminga and Moody would likely be better off playing somewhere else where they can get more minutes, so the Warriors should at least attempt to get something out of them.
Acquire Terrence Ross or someone who can provide bench scoring
Another area where the Warriors are lacking is in bench scoring. Since Klay Thompson's return, Jordan Poole has returned to the bench, and he averages 17.2 points per game. But given the number of minutes he plays, he's essentially still a starter. And after Stephen Curry, Andrew Wiggins, Poole, and Thompson, no one averages over 8.2 points per game.
So, why not get someone who can help them in that area?
There's a chance Terrence Ross could be on the trade market, and the Orlando Magic would likely love to receive some young talent or draft capital. Acquiring him (or another bench scorer) for any of their upcoming draft picks or Kuminga and Moody would be perfect for Golden State now and would help give the main scorers a breather when needed, especially in the playoffs.
All in all, championship contenders typically have depth and big men who can rebound. If the Golden State Warriors can address those two areas before the deadline, they will strengthen their already legit championship credentials.
Stats courtesy of Basketball Reference; Contract numbers courtesy of Spotrac