3 Ways Tim Duncan Has Made History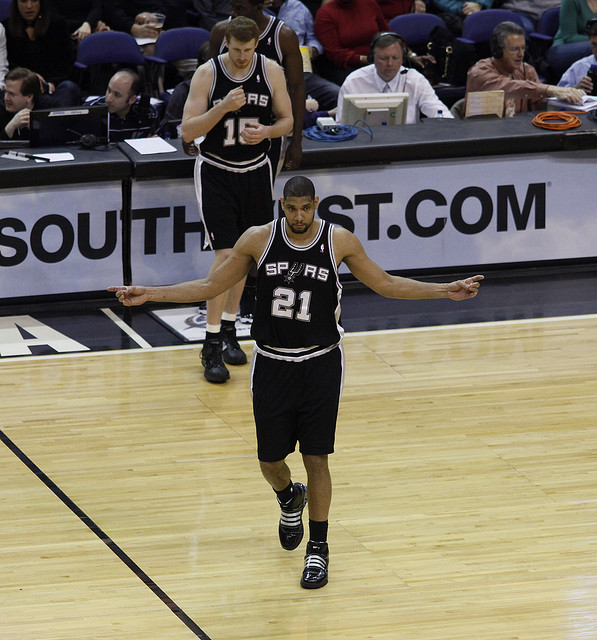 The San Antonio Spurs are at it again. After their 112-77 victory over the Oklahoma City Thunder on Wednesday night, the Spurs grabbed a 2-0 lead in the Western Conference finals and appear to be well on their way to a second-consecutive NBA final. Over the years, San Antonio has been the NBA's poster child for consistency — for example, they haven't missed the playoffs since 1997. And that streak coincides with the 1997 draft; a draft where the Spurs selected a young star from Wake Forest with the top overall pick.
That young phenom's name was Tim Duncan — a name that has become synonymous with success and talent over the last seventeen seasons. The trio of Duncan, Manu Ginobli, and Tony Parker in San Antonio has become one of the most successful of all time. This success can mostly be tied to all three's respective talent, but Duncan was the cornerstone of it all. Whenever he retires (maybe soon since he's 38 years old), he'll go down as one of the best to ever to play the game and will assuredly be selected into the Hall of Fame. But until that time comes, he will continue to garner awards, honors, and records — whether that's individual or team. With that in mind, here are three of the most impressive records Duncan holds.
1. Most playoff double-doubles
Duncan's 14 points and 12 rebounds in San Antonio's game two victory over the Thunder was his 153rd career playoff double-double. And there's only one player in the history of the NBA who has more: Magic Johnson (157). Being just four shy of Johnson, Duncan could potentially break the record this year. While the majority of Johnson's double-doubles came in a variety of points, assists, and rebounds, Duncan usually gets his with rebounds and points. At 6-foot-11, Duncan has been a hybrid power forward and center his entire career — a force to be reckoned with in the paint.
And with only four more playoff double-doubles to go, Duncan finds himself in the midst of elite company. The next two players on the list are Shaquille O'Neal with 142 and Bill Russell with 137. All four of these players are either current Hall of Famers or future ones. Outside of the playoffs, Duncan sits ninth overall for double-doubles with 751. This just shows that the veteran Duncan reserves his most impressive play for when it counts most.
2. Most NBA All-Defensive Team honors
Some people say that a good defense is a good offense. Though Duncan performs admirably on the offensive side — just look at his career 19.9 points per game average — he does even more so on the defensive side of the ball. In his seventeen seasons in the league, he has received an All-Defensive Team honor thirteen times. That is the most by any player ever (albeit not all of them were first team). Whether he was guarding the likes of a behemoth-sized man in Shaquille O'Neal or a more athletic big man like Dirk Nowitzki, Duncan never backed down and never seemed too phased.
In order to be named to thirteen NBA All-Defensive Teams, it takes more than just being the biggest, baddest guy on the floor, which Duncan typically was not. He used a combination of unique physical attributes and a ridiculously high basketball IQ to become what he is. He sees the floor well, and his anticipation and understanding of opponents is second to none.
And if all that isn't enough, as Duncan has gotten older over the years, his style of play has greatly changed. But it's changed in a way that allows him to remain so consistent. A great player is hard to come by, but one that can alter how he plays in order to stay great is a whole separate beast.
 3. Most 50-win seasons
USA Today posted a graphic showing the NBA teams with the most 50-win seasons. In an 82-game season, anytime a franchise can win 50 or more games marks an impressive season. Evidenced from the graphic, the Los Angeles Lakers (32) and the Boston Celtics (31) have the most of any franchise. But the impressive part lies in the fact that in Duncan's seventeen seasons with San Antonio, the team has sixteen 50-plus winning seasons. And the one season that they didn't do it? Well, it was shortened by a lockout so there weren't even 50 games played, though the Spurs did win the championship that year.
In the list of franchises with 50-plus win seasons, Duncan would be fifth by himself. San Antonio checks in at third with twenty-six — sixteen of which were with Duncan — and without question, he played a pivotal role. He's Mr. Consistent year in, year out. There was a time a few years ago when sports analysts thought that his time had come because he was too old and feeble to keep playing. Instead of listening to them, though, he revamped his body and game in the offseason before the 2011 season. The ensuing year was one of his best ever.
If you're still not impressed with his sixteen seasons where the Spurs have won 50 or more games, consider this: Kobe Bryant only has eleven seasons with the Lakers where they have won 50-plus games. Eleven out of eighteen isn't too shabby, either — it's certainly one of the best for currently active players. Bryant's numbers really put a perspective on how impressive the fact that the Spurs have won 50 or more games in sixteen of Duncan's seventeen seasons (the only missed one was a championship year, too). Duncan's greatness is nigh unmatchable, and as these playoffs continue, look for him to continue to shine.