31 Winningest Current Coaches in American Professional Sports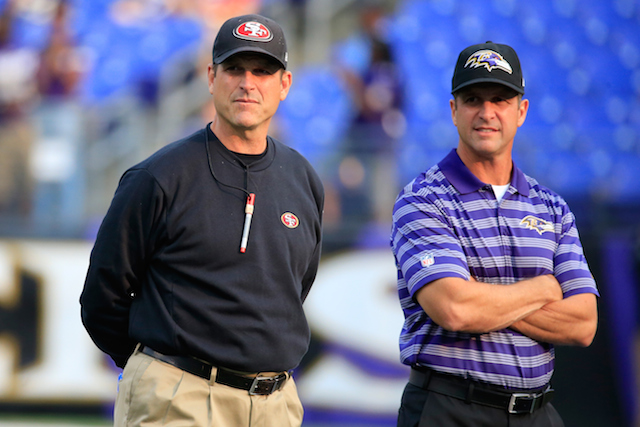 "Just win, baby." The late Al Davis's famous motto for the Oakland Raiders sums up a head coach's No. 1 job in three simple words. Some coaches do an exemplary job of leading a program in every aspect except on-the-field results. That usually leads to a pink slip in short order, because in pro sports, winning is everything. Many a minor (or major) transgression has been overlooked for a coach that wins a lot more than he loses. Again, it boils down to win percentage. Victories are the bottom line. Nothing more, nothing less.
The 31 — well, 34, thanks to a tie — coaches on the list that follows have proven over their careers to be better at winning games than anyone else. We used Sports-Reference.com to compile the current head coaches across four of the main American professional sports (MLB, NBA, NFL, and NHL) and rank them by percentage of regular season games won. We didn't eliminate anyone using a minimum number of games coached, due to wide discrepancy in numbers between football (16 games) and baseball (162). Each of these men has coached at least one full season in his league, whether with his current franchise or a different one. (Records are updated as of October 7, 2014.) Without further ado, we start at the top after the jump.
1. Jim Harbaugh, San Francisco 49ers (.736)
Only one current coach can boast having won more than 70% of his games, and it's the one whose players apparently don't want him anymore. Go figure.
2. Gregg Popovich, San Antonio Spurs (.686)
He's taken his team to the playoffs 17 years in a row and won five titles in the process. A model of consistency and success that every coach strives to emulate.
3. Erik Spoelstra, Miami Heat (.660)
Spoelstra (pictured) has been an NBA coach for six seasons and had LeBron James for four of them. Good luck keeping that sky-high winning percentage with the King now back in Cleveland.
4. Tom Thibodeau, Chicago Bulls (.657)
The defensive guru was named Coach of the Year in 2010-11. Imagine what his winning percentage would have been if not for two Derrick Rose knee surgeries?
5. Bill Belichick, New England Patriots (.654)
This three-time Super Bowl champion and master of the press conference is in his 20th season as a head coach and — in an era where seemingly a quarter of the NFL's coaches turn over every year — is one of the few truly untouchable coaches in the league.
6. John Harbaugh, Baltimore Ravens (.644)
Coaching genes run in this family. John Harbaugh hasn't had a losing record as an NFL coach yet, and owns a Super Bowl win that came against his brother. Can you say 'bragging rights?'
7. (tie) Sean Payton, New Orleans Saints (.641)
Payton has won at least seven games in every NFL season, and having Drew Brees at the controls of his high-powered offense hasn't hurt. Career highlight: winning Super Bowl XLIV. Career lowlight: Bountygate (and the ensuing year-long suspension).
7. (tie) Stan Van Gundy, Detroit Pistons (.641)
Van Gundy (pictured) has been out of the league for the last two seasons despite a stellar win percentage. Thanks for nothing, Dwight Howard. He gets another crack this year with Detroit.
8. Mike McCarthy, Green Bay Packers (.639)
Extremely successful coach — including a Super Bowl win — who doesn't get the attention and credit he deserves because of the small market (well, and Aaron Rodgers).
9. Patrick Roy, Colorado Avalanche (.634)
Roy (pictured) won 52 of 82 games in his first season as Avalanche coach, took Colorado to the playoffs, and earned Coach of the Year for his efforts. Next question: can he win over the long-term?
10. Scott Brooks, Oklahoma City Thunder (.633)
Brooks has drawn his share of criticism in OKC for underachieving in the postseason, among other things (although injuries haven't helped), but he's still won more than 63% of his games and taken the Thunder to the playoffs in each season of his tenure.
11. Mike Tomlin, Pittsburgh Steelers (.632)
Tomlin has continued the Steelers' coaching tradition of longevity and excellence. He's just the team's third coach since 1968 and added the franchise's most recent Super Bowl trophy in February 2009.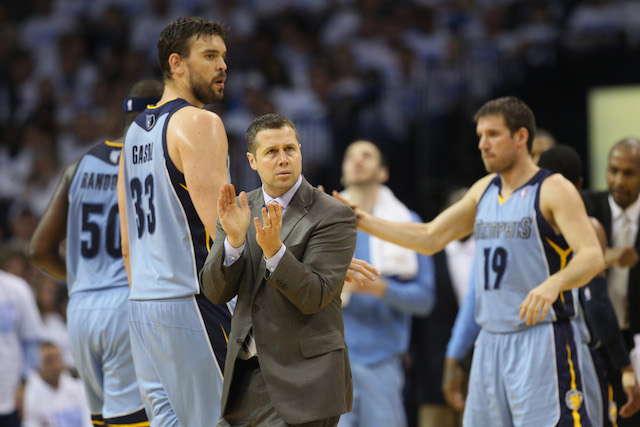 12. Frank Vogel, Indiana Pacers (.625)
The Pacers missed the playoffs four straight years before Vogel took over. They've been to the postseason four straight years since he arrived. Can Vogel continue to work his magic, now without Paul George (injury) and Lance Stephenson (left in free agency)?
13. Mike Smith, Atlanta Falcons (.614)
Smith led Atlanta to winning seasons in each of his first five years at the helm before slumping to 4-12 a year ago. Was 2013 a trend or a blip? The verdict is still out on this year's Falcons (currently 2-3).
14. Dave Joerger, Memphis Grizzlies (.610)
Dave Joerger (pictured) may be the opposite of a household name, but if he can win 50 games every season in Memphis, fans will take notice soon enough.
15. Bruce Boudreau, Anaheim Ducks (.603)
Boudreau owns a Coach of the Year award from his time with the Capitals, and more recently led Anaheim to the best 2013-2014 record in the NHL's Western Conference.
16. Todd McLellan, San Jose Sharks (.592)
McLellan has taken San Jose to the postseason in each of his six years on the bench, and became the franchise's all time winningest coach after less than five years in charge.
17. Rick Carlisle, Dallas Mavericks (.588)
The 2001-2002 NBA Coach of the Year has only missed the playoffs twice in 12 seasons during stints with the Pistons, Pacers, and (currently) the Mavericks. His Mavs won the 2011 NBA title, beating Spoelstra and the Heat.
18. Jeff Hornacek, Phoenix Suns (.585)
Jeff Hornacek shocked many around the basketball world by leading underdog Phoenix to 48 victories in his debut season as a head coach, although, unfortunately, that still wasn't enough to make the playoffs in the loaded West.
19. Andy Reid, Kansas City Chiefs (.584)
The Eagles firing Andy Reid after nine playoff appearances in 14 seasons was Kansas City's gain. Reid (pictured) helped the Chiefs improve from 2-14 to 11-5 in his first season on the job.
20. Mike Matheny, St. Louis Cardinals (.566)
We finally make it to the winningest current baseball manager: the Cardinals' Mike Matheny (pictured). Matheny is looking for his second trip to the World Series in just his fourth season as a big league skipper.
21. Doc Rivers, Los Angeles Clippers (.564)
Rivers has coached with the Magic, Celtics, and Clippers, and owns both a Coach of the Year award (1999-2000 in Orlando) and a championship trophy (2007-2008 in Boston). He's trying to become the first coach since Phil Jackson to win a title with two different franchises.
22. (tie) Pete Carroll, Seattle Seahawks (.561)
Carroll went from the NFL to USC and back to the NFL again. His second stint in the pros has been an impressive one, as Carroll's won more than 60% of his games in Seattle and is a reigning Super Bowl champion.
22. (tie) John Fox, Denver Broncos (.561)
Fox has taken both the Panthers and Broncos to the Big Game, but is still looking for his first championship ring as a head coach. With Peyton Manning on his side, don't count him out.
23. Joe Girardi, New York Yankees (.560)
Former Yankees player Joe Girardi (pictured) managed New York to a 2009 World Series title and owns seven straight winning seasons in pinstripes since taking over in 2008.
24. Mike Babcock, Detroit Red Wings (.558)
Certain things are inevitable in life: death, taxes, and the Red Wings in the playoffs. The Wings have been to the postseason 23 years in a row, and Babcock is responsible for the last nine (including a Stanley Cup in 2008).
25. Claude Julien, Boston Bruins (.553)
Julien is entering his 12th season as a head coach (with previous stops at Montreal and New Jersey). He's taken Boston to seven playoffs in seven tries and lifted the Stanley Cup in 2011.
26. Lovie Smith, Tampa Bay Buccaneers (.550)
Smith won more than 56% of his games in Chicago from 2004-2012 — capped off by a 10-win season in his final Windy City campaign — and still got fired. He gets a chance to reboot his career in Tampa this fall.
27. Tom Coughlin, New York Giants (.549)
Coughlin (pictured) always seems to be on the hot seat in New York, but also always seems to win enough to stay employed. He took the Jaguars — the Jaguars — to the playoffs four times and has another five trips with the Giants (including a pair of Super Bowl victories).
28. (tie) Flip Saunders, Minnesota Timberwolves (.548)
Saunders coached the Timberwolves from 1995-2005 and is back for his second go-round. Despite 11 trips to the postseason, he's still looking for his first NBA Finals appearance (and Minnesota seems to be a ways away, to put it kindly).
28. (tie) Mike Scioscia, Los Angeles Angels (.548)
The longest tenured manager in baseball has never won less than 75 games during 15 seasons in charge of Anaheim/Los Angeles. He won baseball's biggest prize in 2002.
Honorable mention (just missed): Jim Caldwell, Don Mattingly, and Joel Quenneville