33-Year-Old Derrick Rose Delivers a Bold Prediction About His Future With the Knicks: 'I'm Gonna Try to Tom Brady This Thing'
Derrick Rose thinks he can follow in Tom Brady's footsteps and play into his 40s.
Derrick Rose is currently in his 14th year in the NBA. He just turned 33 earlier this month and is well past his prime at this point in his career, but the New York Knicks point guard isn't even close to thinking about retirement just yet.
Speaking ahead of the highly anticipated matchup between the Knicks and the Chicago Bulls on Thursday night, Rose boldly claimed he wants to "Tom Brady this thing" and keep playing for as long as he can.
Derrick Rose has found a resurgence with the Knicks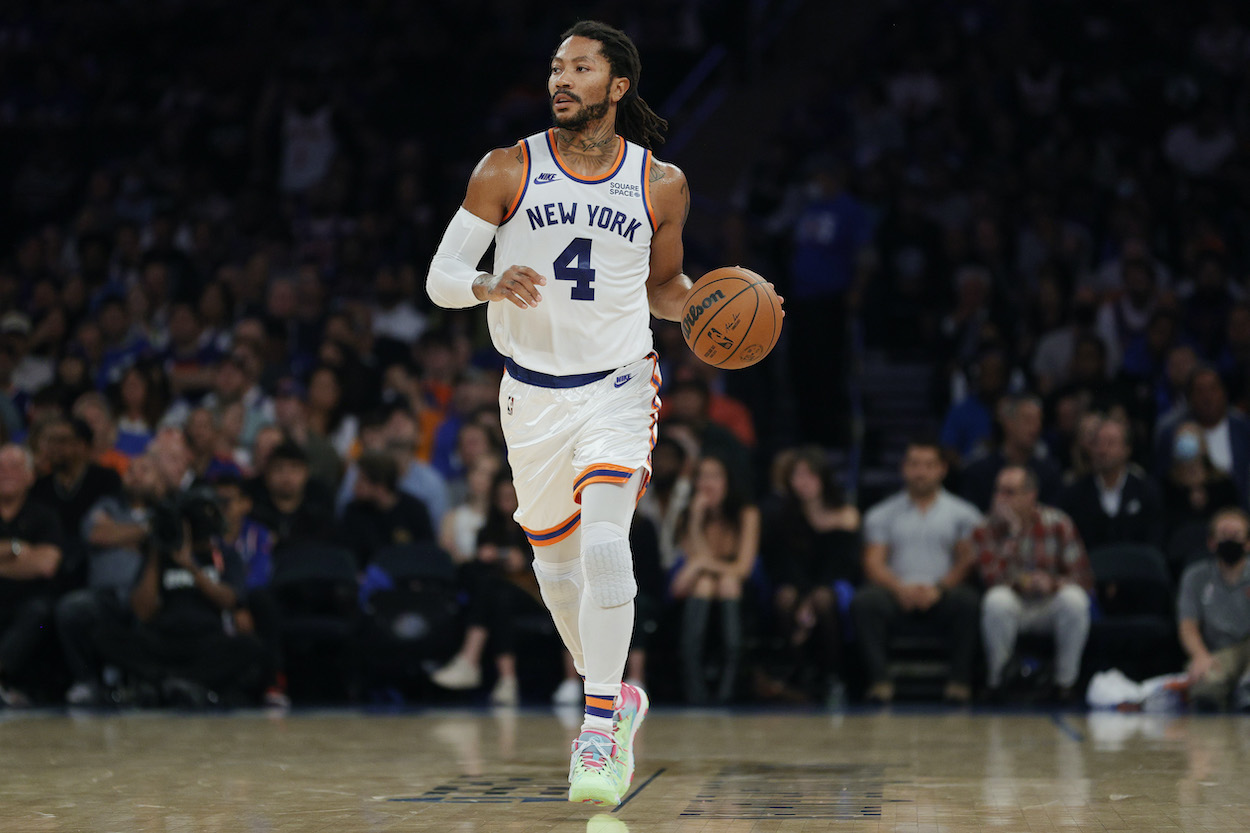 Rose's NBA career is one of the biggest "What ifs" in sports history. After being drafted No. 1 overall by the Bulls in 2008, Rose won the Rookie of the Year award and was later named the league MVP just three seasons into his professional career.
But in 2012, tragedy struck when Rose tore his ACL in a playoff series against the Philadelphia 76ers, and his career hasn't been the same since.
The three-time All-Star left Chicago for New York in 2016 and has bounced around to four different teams since. After a few forgotten years with the Cleveland Cavaliers, Minnesota Timberwolves, and Detroit Pistons, Rose returned to the Knicks last season and has found the perfect role for his 33-year-old self coming off the bench.
In four games so far this year, Rose is averaging 14.3 points and 4.0 assists per game on 47.6% shooting and a career-high 57.9% from three.
Rose will never be able to return to the player he once was, but he's finding somewhat of a career renaissance in the Big Apple.
Derrick Rose on his future: "I'm gonna try to Tom Brady this thing"
Most NBA players start to deteriorate once they reach their mid-30s. Playing 82 games every year for more than a decade really adds up, so retirement announcements usually come before even the most accomplished players reach their 40s.
But Rose believes he can get there. Even with his extensive injury history, the Knicks point guard told reporters Thursday morning that he wants to follow in Tom Brady's footsteps and play as long as possible.
Honestly, I'm gonna try to Tom Brady this thing, man, you know what I mean? Play as long as possible. Make sure I really take care of my body. And while I'm playing, play with joy. I don't have to score 30 points a night anymore to affect the game. I can come out and do what I got to do. I got a great supporting cast with (Julius Randle) and everybody in the starting five, even the guys that are on the bench, we have a great rhythm.

Derrick Rose
Brady is 44 years old and looks like he could still play into his 50s, so Rose has a long way to go.
Does that future involve the Knicks?
Rose knows better than anyone how quickly things can change in the NBA. If he wants to play at least seven more years in the league, that might involve at least one more move to a different team.
But that won't be happening anytime soon, as Rose re-signed with the Knicks this offseason on a three-year deal worth $43.5 million. By the time he becomes a free agent again, he'll be 35 closing in on 36.
If the Knicks keep improving like they have over the past few years, it'll be hard for Rose to willingly leave New York at that point.
All stats courtesy of Basketball Reference.
Like Sportscasting on Facebook. Follow us on Twitter @sportscasting19.