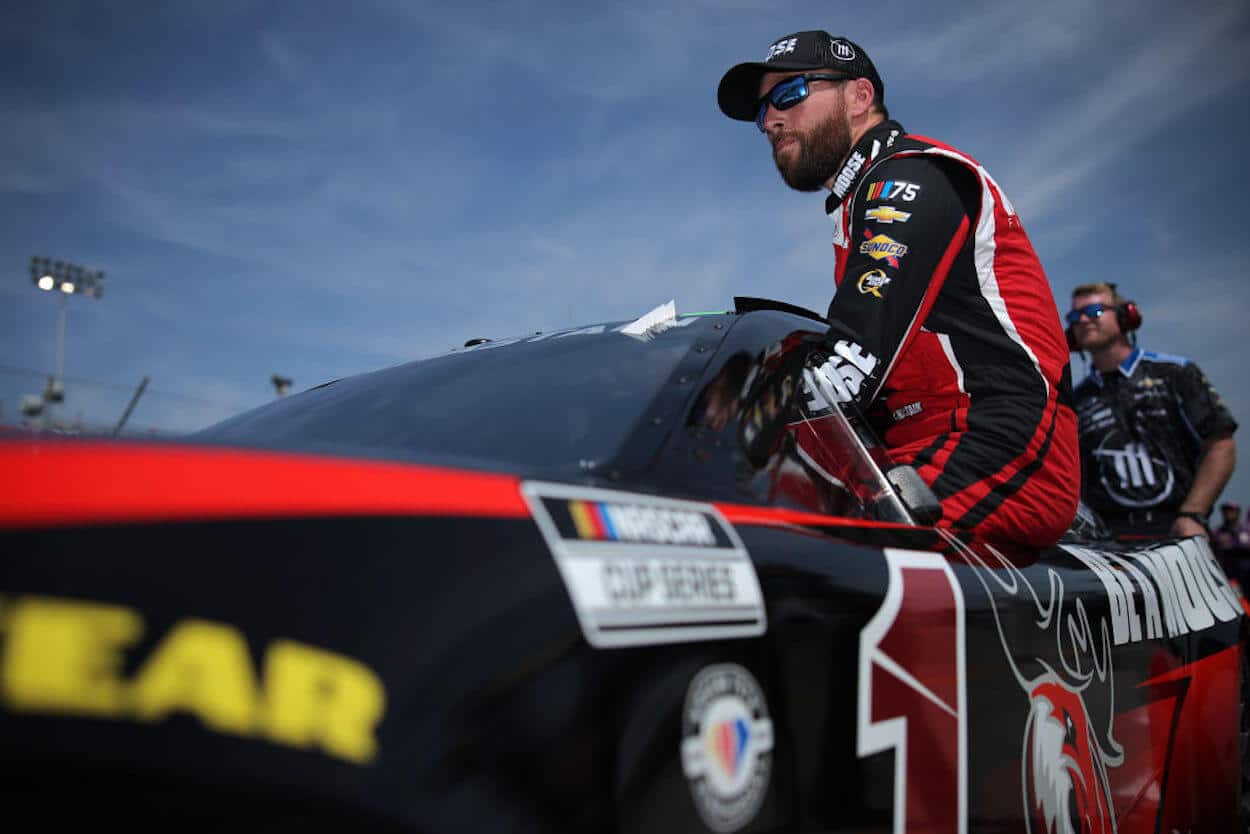 4 Cup Series Drivers Who Are Hot and 4 Who Are Not: Sonoma Week Edition
When the NASCAR Cup Series arrives at Sonoma, drivers will be turning both left and right. Before the race begins, though, let's look at who is trending up, and who's falling down.
Before NASCAR Cup Series drivers start turning both left and right on the road course this weekend at Sonoma Raceway, it's worth taking a look at some drivers whose season is pointed in one of two other directions: up or down.
Let's consider four drivers who are hot and four who are not heading to the Sonoma Wine Country in Northern California.
Hot: Ryan Blaney
Welcome to the top of the NASCAR Cup Series standings, Ryan Blaney. That's where the Team Penske driver finds himself for the first time in 2023 after posting his third top-10 finish in a row and sixth top-10 in the last seven races.
Blaney, who ended a dry spell dating back to August 2021 with his win on Memorial Day at Charlotte, is 13 points to the good of his closest pursuer in the standings and is showing no signs of a return anytime soon to the mediocrity that has plagued him for much of his career in NASCAR's premier division.
Hot: Kyle Busch
Kyle Busch's magical first season as part of Richard Childress Racing just keeps rolling right along. Last weekend at Gateway, the two-time Cup Series champ put on a show like we haven't seen from him in at least a couple of years, starting from the pole and leading nearly half of the race en route to his third triumph of 2023.
Busch, whose earlier wins came at Auto Club Speedway and Talladega, has finished no worse than seventh in the last three events and has been to Victory Lane twice in his last half-dozen starts.
Hot: Martin Truex Jr.
Martin Truex Jr.'s comeback season, of sorts, continues after he uncharacteristically missed the playoffs and failed to win a race in 2022. Although Truex hasn't set the proverbial woods on fire since his win May 1 win at Dover that snapped a 59-race drought, he's finished fifth, third, and eighth, respectively, in three of his last four starts.
Now fourth in the standings, Truex has been no worse than 10th in points all year — a testament to his turnaround from a season ago when he ranked 17th in the final standings.
Hot: William Byron
With Kyle Busch's win at Gateway, William Byron can no longer lay claim to being the only Cup Series driver with three points-paying victories in 2023.
But Byron remains a consistent frontrunner, nevertheless, having ripped off six consecutive top-10 finishes that include a win at Darlington. Following an eighth-place result at Gateway, the Hendrick Motorsports driver is up to second in the standings — his highest points position all year.
Not: Austin Dillon
After being wrecked by Austin Cindric at Gateway, Austin Dillon claimed the contact that sent him out of the race was intentional and demanded that NASCAR suspend Cindric for his actions as the sanctioning body did Chase Elliott for wrecking Denny Hamlin the previous race at Charlotte.
But after reviewing replays of the accident along with various data that seemed to support Cindric's innocence, NASCAR ruled against Dillon's request and ultimately didn't suspend the Team Penske driver.
NASCAR not doing as Dillon asked is just the latest blow in a season of disappointments for the Richard Childress Racing driver, who is winless and sits 29th in the standings — 22 spots behind first-year teammate Kyle Busch, who on Sunday at Gateway won for the third time in 2023.
Not: Chase Briscoe
What an absolutely horrendous few weeks it's been for Chase Briscoe. As if finishing 30th or worse in three of his last five outings wasn't bad enough, Briscoe and his Stewart-Haas Racing team were the recipients of one of the harshest penalties in NASCAR history after NASCAR discovered that the No. 14 Ford had a counterfeit part on it at Charlotte.
After losing 120 points and crew chief John Klausmeier to a six-race suspension, Briscoe is buried deep in the standings — 31st to be exact — and will undoubtedly need to win one of the remaining 11 regular-season races to qualify for the playoffs, at which point he'll be docked 25 playoff points for the Charlotte infraction if he makes the cut.
Not: Corey LaJoie
Last weekend at Gateway, Corey LaJoie had the opportunity of a lifetime when he drove the No. 9 Hendrick Motorsports Chevrolet in place of suspended Chase Elliott.
But rather than making a big splash that could potentially draw interest from other teams about future opportunities, LaJoie basically laid an egg as he made multiple mistakes throughout the weekend on the way to an uninspiring 21st-place finish.
LaJoie will return to his day job this weekend as the driver of the No. 7 Chevrolet for Spire Motorsports — an organization on the complete opposite end of the performance spectrum from Hendrick.
Not: Ross Chastain
What's happened to Ross Chastain? Ever since his late-race dustup with Kyle Larson at Darlington that put him in hot water with Chevrolet and team owner Justin Marks while drawing criticism from the likes of Chevy team owner Rick Hendrick, Chastain has basically been an also-ran.
The Trackhouse Racing driver has finished a less-than-impressive 22nd in each of the two points races since Darlington, raising questions about whether he's toned down his aggression a little too much.
Chastain did send Michael McDowell for a spin last weekend at Gateway while the two battled on a restart, however, so perhaps Chastain's humdrum performance the past two races has been merely a result of having uncharacteristically so-so race cars.