4 Landing Spots for the Knicks' New Free Agent, Carmelo Anthony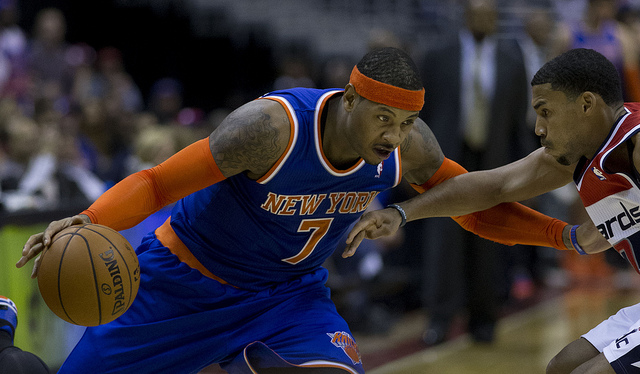 Even though everyone who was up on their NBA Collective Bargaining Agreement game — read: nerds like us — knew that Carmelo Anthony was going to opt out of the last year of his contract as early as last year, he officially announced that he was going to test the waters of free agency. Which doesn't mean, necessarily, that he's leaving the New York Knicks. Similar to the gamble the Lakers took on Dwight Howard in 2013, leaving the Knicks would cost 'Melo at least $30 million. Even for a superstar with, presumably, a ton of money in the bank, that's a lot to leave on the table for what is going to be his last big contract.
Now officially on the wrong side of 30, Anthony probably wouldn't be ready to leave New York if the Knicks situation, asset-deprived and floundering, wasn't so dire. New York was his destination, after all, when he made it clear to the Denver front office that he wanted out of the Mile-High City. The fact that the Knicks amnestied the wrong person (Chauncey Billups, instead of Amar'e Stoudemire) and proceeded to make disastrous move after disastrous move has worked wonders, relatively speaking, in driving Carmelo out of town. Don't let the haters fool you: The Knicks were beyond awful in spite of Anthony, not because of him.
The news that Anthony is doing his due diligence for his impending free agency, then, shouldn't be surprising. What is interesting are his proposed landing spots, at least the ones he's been linked to in the bursts of news that populate Twitter and the general sports news spheres. Each one offers an interesting opportunity in Anthony's quest to snag a ring — or at least make it out of the second round for the first time since 2009. And no, Miami's probably not a viable option.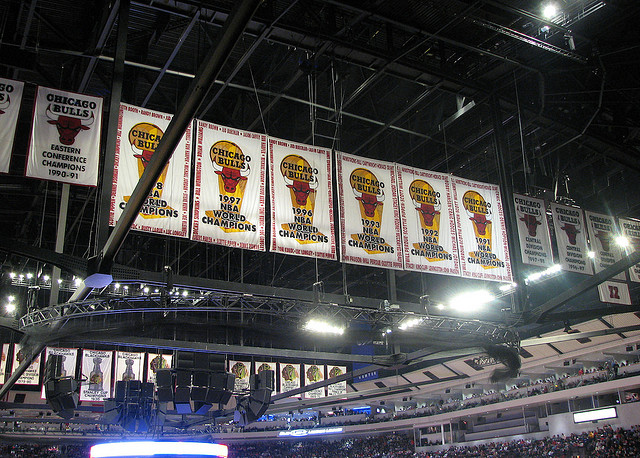 4. Chicago Bulls
The last time Tom Thibodeau and 'Melo teamed up, it was for the 2012 NBA All-Star game, where Thibs, in his unmistakably gravelly voice, was caught on tape yelling "Melo! Get the boards!" in a hilarious moment that is inexplicably not on YouTube. But it happened. We saw it. Anyway, the possible addition of Anthony to a Bulls team that prides itself on defense and lacks a scoring punch is certainly interesting, especially if Thibs can get Anthony to buy into his notoriously demanding scheme the Bulls play when trying to keep the other team from getting a basket.
Between Anthony and Joakim Noah, not to mention whatever version of Derrick Rose finally returns to the court, the Bulls could field a potent squad, especially in the Eastern Conference — remember, this is a Bulls team that lost Rose and Deng and still finished with 48 wins last year. They'd probably have to get rid of Boozer via amnesty in order to afford Anthony's salary, and the Chicago ownership is notoriously tight fisted when it comes to paying the luxury tax, but it could be make for an intriguing team.
"I even told Tom that there may be days he will want to blow his own head off when it comes to 'Melo's defense, but he keeps saying he knows he can make it work," one former NBA coach who had Anthony on his roster during his tenure (We hope it's George Karl) told the Chicago Sun-Times. "It's not that Carmelo can't play defense, it's just how often, and he knows every trick in the book on getting around that."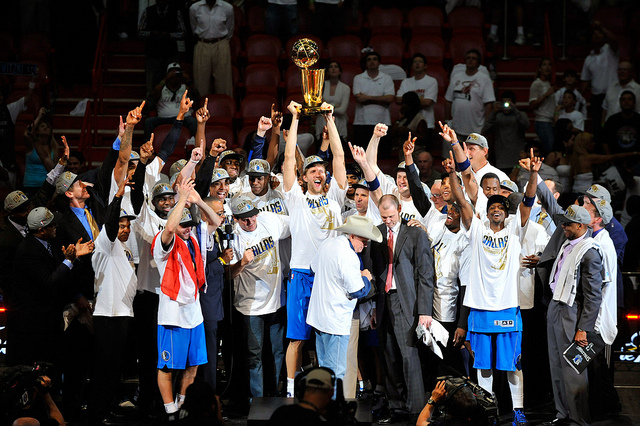 3. Dallas Mavericks
Talk about a dangerous team. The Dallas Mavericks, who constructed an island of misfit toys out of unfairly maligned free agents like Monta Ellis and Devin  Harris to notch 49 wins last season, have always been able to make the most from their rosters — a byproduct of having a Hall of Fame pillar to build around in Dirk Nowitzki and one of the most underrated coaches in the league in Rick Carlisle. Adding Carmelo to that squad would turn the Mavericks into the NBA's version of Argentina's World Cup squad: all in on offense, more offense, and even more offense.
Remember, this Dallas team was the only team to seriously challenge the eventual 2014 NBA Champions, pushing the San Antonio Spurs to seven games while Carlisle and Greg Popovich played speed chess with each other through their substitutions, lineups, and schemes. Great players can overcome decent coaching, but the added benefit that a great coach gives to a roster is incalculable. Putting Carmelo on the Mavericks, especially in a small-ball lineup with Dirk at the center position and Carmelo at power forward, would result in an incredibly versatile and dangerous offensive end. Imagine an Ellis-Nowitzki pick and roll with Anthony on the wing as a safety valve. It's awesome.
On defense, the team would be, uh, not good. But Dallas already employs a hybrid zone defense to great effect (it's how the team was able to utterly flummox Miami in 2011), and Carlisle has made a career around keeping subpar defenses afloat. Plus, Mark Cuban and 'Melo seem like they'd get along smashingly.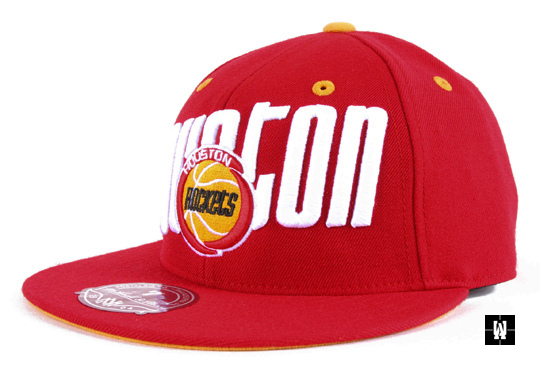 2. Houston R0ckets
This one is a little bit trickier to fit, mostly because of the perception that Houston's plays (very fast, lots of threes and layups) are not really conducive to Anthony's playing style. Only, that's not actually true. While you could be forgiven for ignoring the Olympics, the idea that Anthony is fundamentally a ball hog is probably less correct than his detractors wish to believe. Remember, this is the guy who set the U.S. record for points in an Olympic game, and he did it almost entirely on assisted shots. Take a look:
A couple of things are, undoubtedly, sticking points. One, that's the FIBA three-point line, which is shorter than the NBA deep-ball range. Two, that's Nigeria, and most NBA teams can field a better defense. But to bring up point three, who cares? Pairing up Anthony with another great wing scorer like James Harden and a defensive force like Dwight Howard provides Houston with a myriad of options and some serious scoring danger from 25 feet out.
Not to mention that Anthony is better at creating his shot in isolation than Harden, who manufactures points on his drives and suffers when he doesn't get friendly whistles. Long twos may be the most inefficient shot in basketball, but if you have a player who can knock them down, you have an advantage of defenses that are willing to concede it.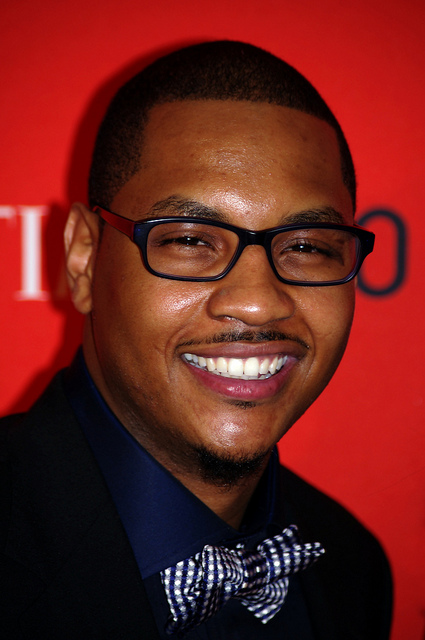 1. New York Knicks
It's not inconceivable. While Anthony is opting out to hit free agency, he's not entirely ready to abandon the Knicks. The problem, though, is that over three-and-a-half seasons, New York has only looked like a legitimately good team once. With new head coach Derek Fisher and new general manager Phil Jackson at the reins, it looks like a new leaf could be turning for the Knicks, but the crippling roster maneuvers of their previous management and notoriously meddlesome ownership have left them without any draft picks and a team full of guys who don't play together particularly well. That's not good for their chances at retaining Anthony.
"I want to come back. But I also want to win," Anthony said in a story by the New York Post. "You know, me wanting to be here, if we can put ourselves in position to at least compete at a high level over the course of (the next contract), then I'm willing to stay here and I'm willing to ride or die for New York."