4 NBA Teams That Look Like Title Contenders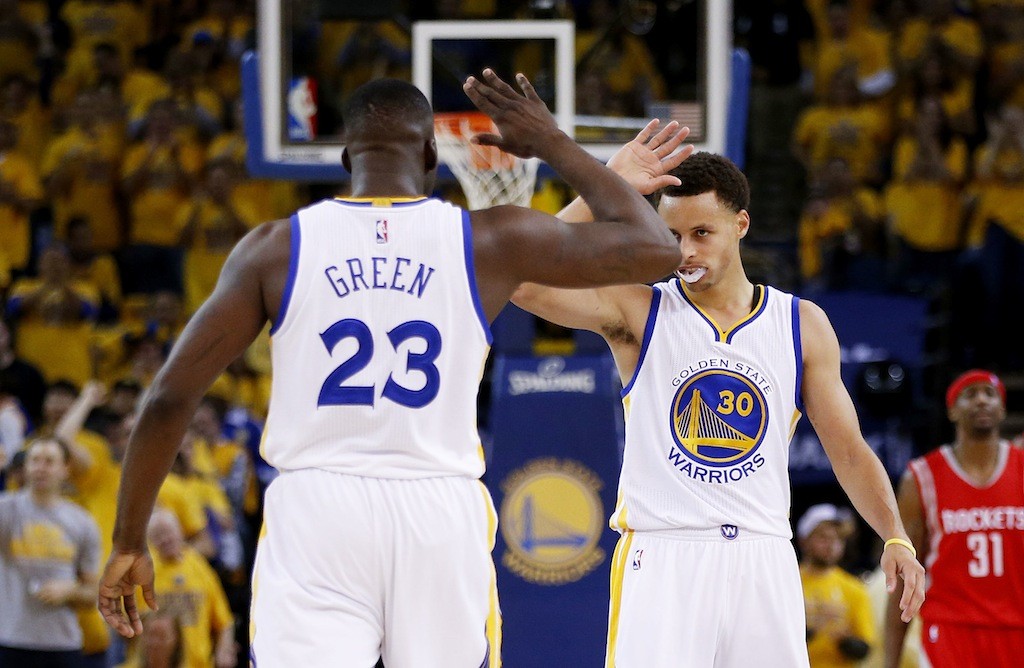 The NBA just began the second half of season, which gives us plenty of time to assess the teams that have made the strongest cases as being legitimate title contenders. There are a few teams that separated themselves from the pack with historic starts to the season and look poised to hoist the Larry O'Brien trophy in June. Here are the top four teams with the best chances to win an NBA title this season.
4. Oklahoma City Thunder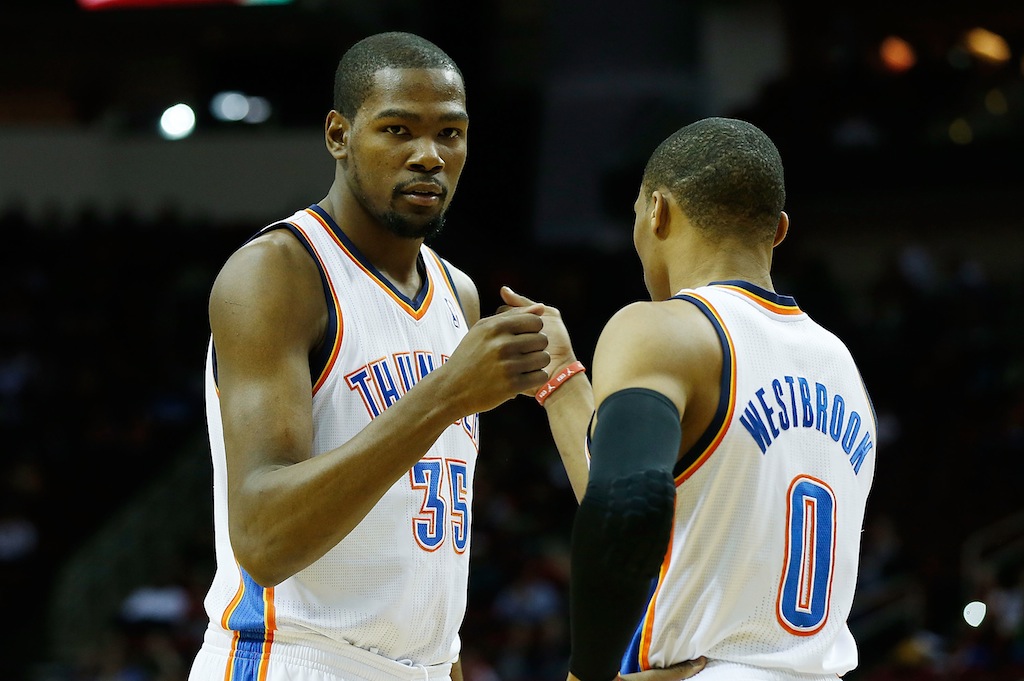 The Oklahoma City Thunder finally have a healthy dynamic duo and are unsurprisingly back to being one of the elite teams in the league, holding the third-best record at 40-14 through the first half of the season. Oklahoma City has been dominant against Western Conference opponents, holding a 27-5 record including 16-1 at home. They also rank second in the NBA in scoring (110.1 ppg), third in field-goal shooting percentage (47.6), second in rebounding (47.7 ) and third in blocks (6.35).
Durant has been lights out this season with a current NBA-best mark of scoring 20-plus points in 39 straight games; one of three players (LeBron James and Michael Jordan) to record 20 or more points in 41 of their first 42 games of the year. Westbrook has had a phenomenal season, topping last year by averaging 24.1 points on a career-high 45.8% shooting while holding career bests in assists (10.0) and rebounds (8.6). He is currently on pace to join Oscar Robertson as the only other player in NBA history to average 24-plus points, 10-plus assists, and seven-plus rebounds in a single season.
In the first 54 games this season, Westbrook ranks second in the league with 36 double-doubles and second with eight triple-doubles. He also leads the NBA is steals (2.3) while ranking second in assists and seventh in scoring. The Thunder, behind these two stars, is without a doubt a legitimate contender for the NBA title this season — more now than ever before.
3. Cleveland Cavaliers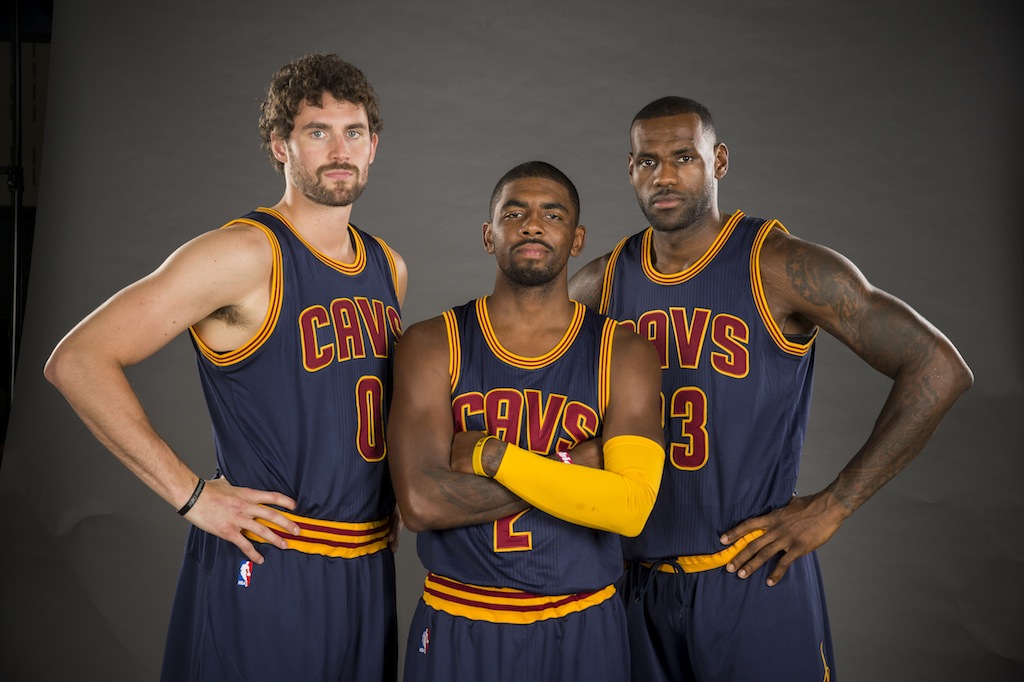 The defending Eastern Conference champions have had their share of rocky moments in the first half of the season, but the Cleveland Cavaliers persevered, currently holding the top record in the East at 38-14. James has been his usual self, currently the fifth-leading scorer and averaging 25.0 points along with 7.1 rebounds and 6.5 assists per game.
This season, King James is the only player in the NBA to shoot over 50% from the field while averaging at least 20.0 points, 6.0 assists, and 7.0 rebounds. He has posted 16 double-doubles and scored at least 20 points in 38 games, including 11 30-point performances. Additionally, Kyrie Irving made his triumphant return to the court this season, averaging 19.0 points, 3.1 rebounds, and 4.5 assists in 26 games played. He has scored at least 20 points on 13 occasions and at least 30 points three times. Irving seemed to find his legs over the last eight games prior to the All-Star break, averaging 26.9 points on .558 shooting from the field.
Although Kevin Love continues to struggle to find his place on the team, he's averaging a team-high 10.3 rebounds, which is the eighth-best mark in the NBA, along with 15.7 points and 2.4 assists. He also has 23 double-doubles and nine games with at least 20 points and 10 rebounds this season.
With the Cavaliers' big three playing well, the most important aspect of the game for them will be defense, where they allow the fourth-fewest points (96.6) in the league while ranking 12th in opponent field goal percentage (44.4). They are also giving up the third-fewest second-chance points (11.0) and fourth-lowest points in transition (10.4). Additionally, Cleveland has held opponents to under 100 points and 40% shooting 27 times this season while holding a 21-6 record in such contests. If the Cavaliers are going to get over the hump this year, it will have to be through that end of the court.
2. San Antonio Spurs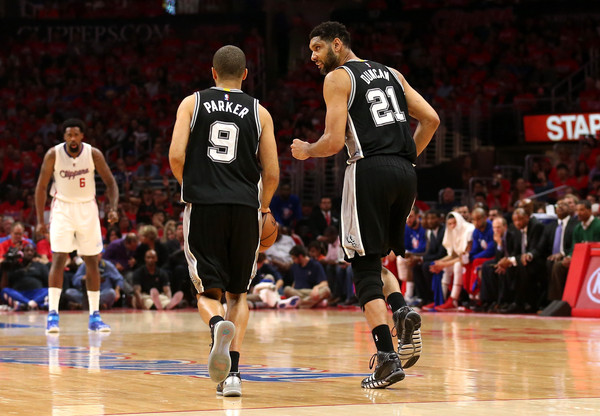 What's a conversation about the best teams in the league without the San Antonio Spurs? They are going through arguably one of the most dominant regular seasons for a team in league history, currently holding the second-best record in the league at 45-8, which is the best record through the first 53 games in team history. The Spurs currently hold a 14-game lead in the Southwest division, which is the largest in the division's history.
Aside from the Golden State Warriors, San Antonio is towering over opponents, holding a league-best 18 wins by 20 points or more. They are the first team in NBA history to record 14 wins by 25-plus points through the first 53 games of the season. During this stretch, the Spurs began the season with a perfect 28-0 at home, which is a franchise-best 37 straight regular-season games dating back to last season.
All of this success is due to the team's phenomenal defense, which is first in the NBA in points allowed (91.8), second in opponent three-point field goal percentage (.317), and third in opponent field goal percentage (.431). San Antonio has also held opponents to under 85 points 17 times this season.
Offseason additions David West and LaMarcus Aldridge fit in nicely with the team. Aldridge was named to his fifth All-Star Game and has turned it up a notch in February, averaging 25.5 points through the team's first six contests. Kawhi Leonard has taken his game to the next level, averaging a career-high 20.2 points and leading the league with a 48.2 mark from three-point range. This helped him earn his first All-Star Game appearance and become just the third player in NBA history (Michael Jordan and Hakeem Olajuwon) to be named an All-Star, NBA Finals MVP, and Defensive Player of the Year. In short, the Spurs have all the pieces in place to win another NBA title.
1

. Golden State Warriors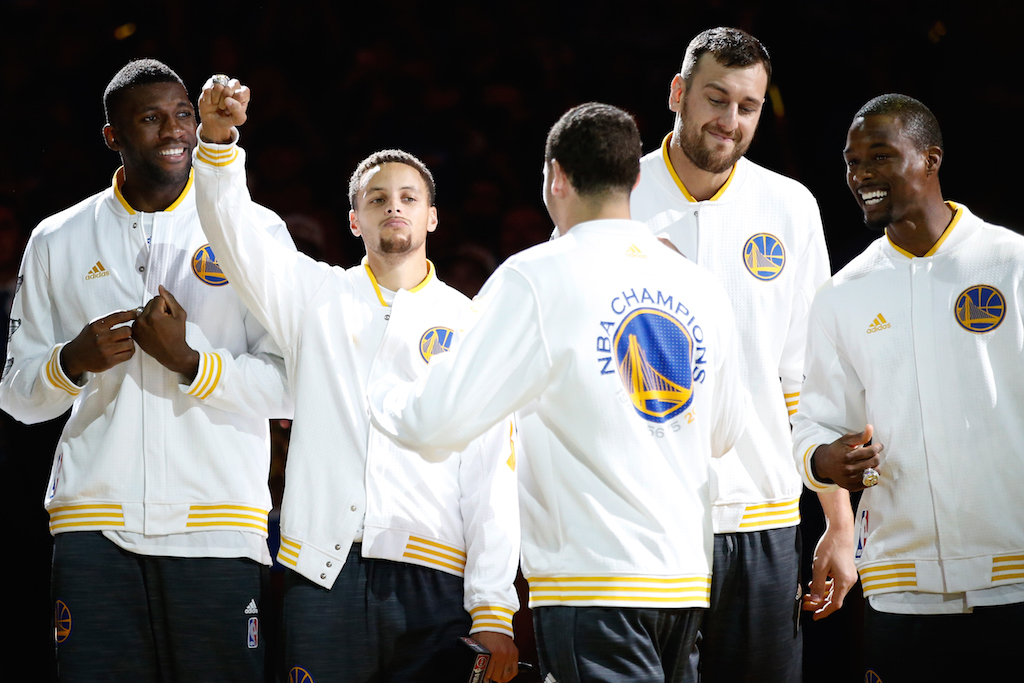 The defending champion Golden State Warriors clearly want to silence the doubters and capture their second consecutive title. The Warriors currently hold the league's best record at 48-4, which set the best mark in NBA history through the season's first 52 games. This includes setting the best start in league history and winning their first 24 games of the season. They are currently on an 11-game win streak, making it the first time in franchise history that the team has posted multiple double-digit win streaks in back-to-back campaigns.
The Warriors currently hold a franchise record with 42-straight regular-season home wins dating back to last season, which include 24 consecutive victories this year. Golden State has been nearly unstoppable offensively this season, leading the league in points (115.5), assists (29.2), three-pointers made (12.9), defensive rebounds per game (36.5), fast break points (20.7), and assist-to-turnover ratio (1.90).
Reigning league MVP Stephen Curry has put together a stronger campaign than last year by leading the NBA in scoring with a career-high 29.8 points along with 6.6 assists, 5.3 rebounds, and 2.1 steals per game. He also ranks first in 40-point games (eight) and 50-point games (two) this season and has become the first player in league history to make 200 threes in four-straight years. Draymond Green earned his first All-Star Game selection with career highs in points (14.5), rebounds (9.5), assists (7.2), field goal percentage (48.5), and three-point percentage (42.0).
The Warriors have remained dominant throughout the season, defeating each of the three teams below them on this list in convincing fashion, including topping both the Spurs and Cavaliers by 30-plus points last month. More than anything else, Golden State proves that they are still the top team and the gatekeepers to this year's championship.