4 Reasons the Jared Goff Extension Was a Bad Idea for the LA Rams
Less than a week before the 2019 NFL season was set to begin, the Los Angeles Rams agreed to a massive four-year, $134 million contract extension with quarterback Jared Goff. After signing this deal, Goff is now under team control through the 2024 season as he joins Todd Gurley, Aaron Donald, and Brandon Cooks as a pillar of this franchise for years to come.
But while Gurley, Donald, and Cooks were all elite players at their respective positions when they signed their contracts, the jury is still out on Jared Goff being an elite quarterback. There is no question that he's a talented quarterback that can work in head coach Sean McVay's system, but whether or not he's one of the league's very best quarterbacks is a different story.
Given that the salary cap keeps going up every year (and quarterback salaries keep going up with them), it's understandable that the Rams would want to lock in Jared Goff at the current market price instead of waiting to do so. But here are four reasons that this contract might end up backfiring on Los Angeles.
1. Goff showed some signs of decline towards the end of 2018
Jared Goff put up big numbers in 2018, passing for 4,688 yards and 32 touchdowns. It's worth noting however that most of this damage was done through the first 11 games of the season in which Goff had 3,547 passing yards (322.5 per game) and 26 touchdowns. In his final five regular-season games, Goff threw one touchdown pass or less four times and threw for over 220 yards only once. He had a touchdown to interception ratio of 6-to-6.
These struggles carried over into the playoffs, where Goff averaged a paltry 237.3 passing yards per game with only one touchdown and two interceptions in three games. He looked lost in the Super Bowl, mustering up only three points in a 13-3 loss to Tom Brady and the Patriots.
2. The Rams gave too much guaranteed money
By guaranteeing $110 million of Goff's $134 million salary, the Rams essentially haven't left themselves any way out of having Goff as their starting quarterback for the next six years. He's only 24 years old; he could continue to develop and improve each year and make this contract look like a good value someday. But if the current version of Goff is all that the Rams get, or worse yet he suffers a decline, cutting him before 2024 won't be a realistic financial option.
3. They didn't have to make this move yet
Jared Goff was still under team control for the next two seasons. Waiting until the end of this season or next season to get an extension done would have come with its own risks (such as a higher price point if he excels), but signing this deal now is an even bigger risk.
What if Goff looks more like the version of himself that he was in the last eight games of 2018 than he was in the previous 11? What if Goff, like Todd Gurley, develops injury issues before the extension even kicks in that hampers his effectiveness? At least seeing how he does this year before assessing the situation would have been a prudent move.
4. Sean McVay could likely get similar results out of a cheaper quarterback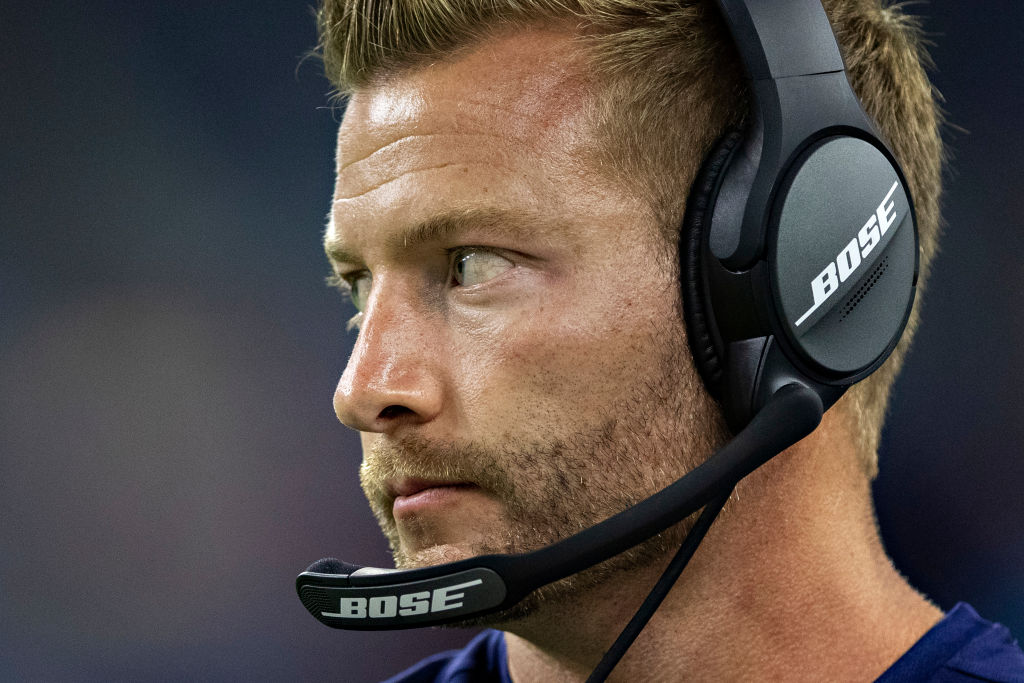 Sean McVay is an offensive genius. In one season, he turned a team that finished 2016 with the worst scoring offense in the NFL (averaging 14 points per game) into a team with the best scoring offense in the NFL (averaging 29.9 points per game) in 2017. He rejuvenated Jared Goff's career in the process, helping the 2016 first overall pick realize his potential after an awful rookie campaign under head coach Jeff Fisher.
Under McVay's tutelage, in this Rams offense that is loaded with offensive weapons, there are a number of quarterbacks that could thrive. This isn't to say that Los Angeles should have cut ties with Goff, but if ever there was a system, coach, and team in place to be built around an inexpensive quarterback, it's this one.
The Rams could have let the next two years play out with Goff under center to see where his development took him and whether he was genuinely worth this massive contract. Instead, they took a gamble and gave it to him early. Time will tell how that decision pans out.