4 Records Peyton Manning Might Break in 2014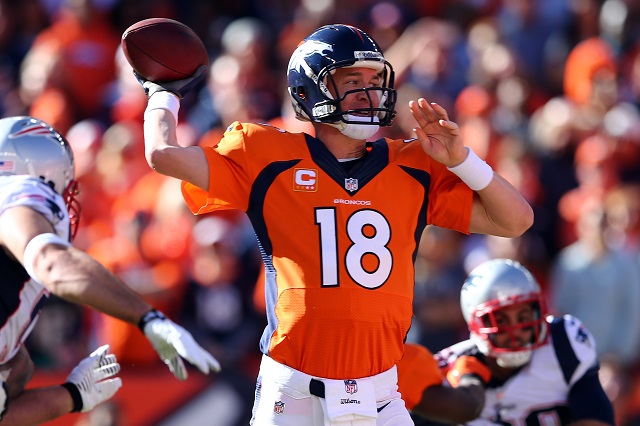 When Peyton Manning joined the Denver Broncos in 2012, no one could say with certainty that he would be the Broncos' starting quarterback. His place in the Pro Football Hall of Fame was already locked up, but the records many thought he would go on to break looked like they were well out of reach. In a little over two full seasons quarterbacking the Broncos, Manning has thrown for 10,950 yards and 100 touchdowns, led the Broncos to a Super Bowl appearance, turned in the greatest single season by a quarterback in NFL history, and put himself into a position where he could own every major NFL career passing record within the next three seasons.
If he retired today, Peyton Manning would go down as one of the best, if not the best quarterback in NFL history. Bear in mind that he has shown no signs of slowing down and has made it clear that he intends to keep playing beyond the 2014 season. With a contract that carries him through the 2016 season, it is entirely possible that Manning could play long enough to put every career passing record so far out of reach that they may stand for decades.
While there are a handful of records that can only be broken if Manning plays beyond 2014, here is a breakdown of four records that the 10-time All-Pro quarterback could break in 2014.
All statistics courtesy of Pro Football Reference.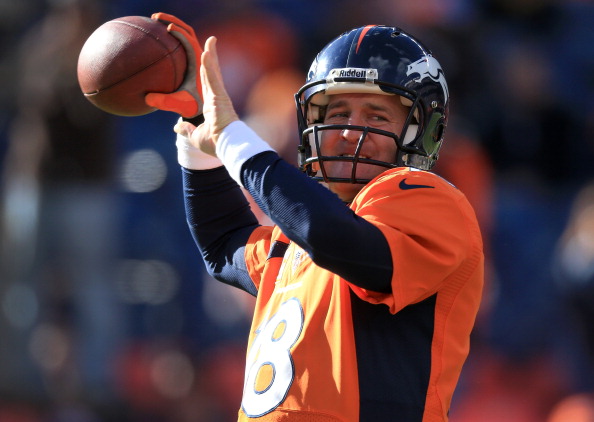 1. Career Passing Touchdowns
This is a record Manning could easily break by mid-season. Three games into the 2014 season he is sitting at 499 touchdowns, only 9 behind current leader Brett Favre. The five-time NFL MVP has averaged 32.7 touchdown passes per season (just over two per game) over the course of his 15 seasons as a starter and is a part of a Denver Broncos offense that may be the most talented and explosive group he has ever played with.
Since joining the Denver Broncos in 2012, Manning has averaged 2.9 touchdown passes per game. At that rate, Manning will break this record in Week 8, a Thursday Night Football matchup against the San Diego Chargers. A schedule that includes some of the top defenses in the league and a team-wide commitment to improving the running game could, however, push this back a couple of weeks. Regardless, I fully expect Manning to break this record no later than Week 10 of the 2014 NFL season.
2. Career Passing Yards
Manning's chances of breaking this record in 2014 are a long shot at best. He is currently at 65,788 yards, which puts him 6,060 yards behind Brett Favre, meaning this is a record the Broncos' signal caller will likely break in 2015 (assuming he returns for a fourth season in Denver). For Manning to eclipse Favre's record in 2014, he will have to average 467 passing yards per game for the rest of the season. Like I said, the odds are stacked heavily against this happening in 2014, but then again, the odds were heavily against Manning ever returning to play in the NFL following a 2010 neck injury that resulted in four separate surgeries and a full year off the field.
3. Career Game-Winning Drives
Manning could break this record as soon as this Sunday against the Arizona Cardinals. He is currently tied with Hall-of-Famer Dan Marino for the career lead with 51 career game-winning drives. The only obstacle that could prevent Manning from breaking this record would be the Denver Broncos' propensity to jump out to big leads early and never look back. Given Denver's difficult schedule, Manning should get at least one shot at leading the Broncos on a record-setting, game-winning drive in 2014.
4. Pro Bowl Appearances
Manning can't technically break this record in 2014, but he can jump into a four-way tie with Merlin Olsen, Bruce Matthews, and Tony Gonzalez for the all time lead at 14 appearances. Pro Bowl rosters are determined by fans, who account for one-third of the vote, and by the league's coaches and players, who account for the other two-thirds of the vote. Given Manning's level of play, his worldwide notoriety and the respect and admiration he gets from players and coaches around the league, it's a safe bet that he will earn Pro Bowl appearance No. 14 in 2014.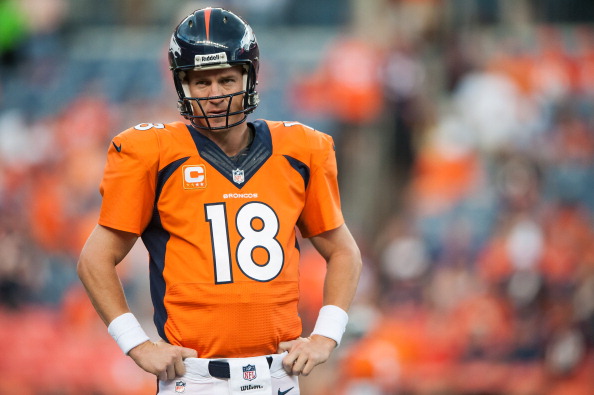 Capturing another career passing record is not going define Manning's place in NFL history. He has already accomplished enough in his career that if he walked away from the game today, he would be firmly entrenched in the "best quarterback in NFL history" discussion.