MLB
4 Retired Athletes who Still had Some Serious Game When They Walked Away
The average retirement age for professional athletes comes in at 33 years old. That may seem like a young age, but years on the gridiron, time spent on the baseball field, and bumps and bruises from time on the basketball court can take a tremendous toll. For those in the heavy-hitting NFL, they join their fellow retired athletes even sooner in comparison.

Some leave the game due to a career-ending injury while others, such as New England Patriots' tight end Rob Gronkowski, seem to have left the field during the prime of their careers. Still, at the tender young age of 30, Gronk will likely be going on to bigger and better things outside his days playing on the field. In this light, let's look at four other retired athletes that appear they could have continued to play since they looked like they still had some serious game left in them.

4. Ichiro Suzuki
We'll start with one of the most recent retirees to walk away from the ball field none other than Ichiro Suzuki. He joined the crew of retired athletes in 2019 after playing for three different teams. Leaving the game at age 45 might lead some to say his days of batting were coming to an end. However, the player nicknamed The Pendulum because of his smooth-swinging style, still had something left. His recent numbers weren't up to the level of his career stats, but he still possessed a rocket arm in the outfield.
3. David Robinson
To say David Robinson was a star on and off the courts is a bit of an understatement. He was a fierce competitor, but he was and is a very spiritual and compassionate man. In a candid interview with Sports Spectrum, David Robinson retired from basketball in 2003 at age 37 to teach and preach God's word:

"Even when we were celebrating the championship, we were about to run out on the court at the Alamodome, and all the guys stopped and looked at me and said, 'Let's pray one more time.' That, to me, was one of the highlights of the whole year because I knew the guys understood the source of our strength."

His God-given talent gave the San Antonio Spurs' center the ability to play in 80 or more games eight times in his career. He also led the league in rebounds twice along with the highest number of blocks during another two years of play.
2. Ray Lewis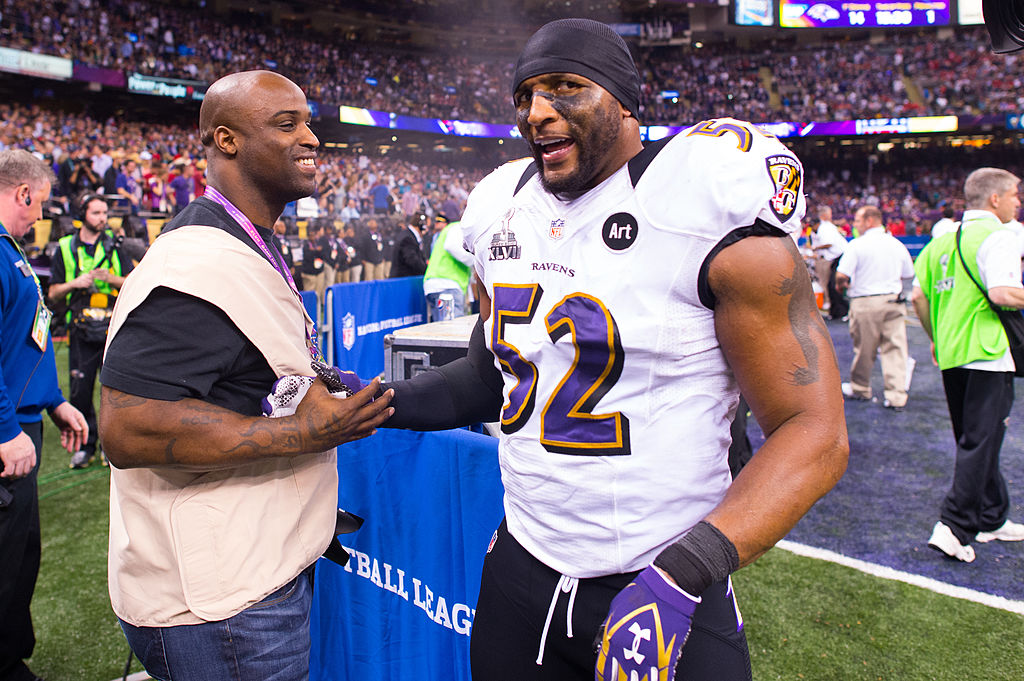 A real fan favorite (especially for Baltimore football fans), Ray Lewis was well-known for his pre-game dancing skills that the middle linebacker somehow made menacing and intimidating for his opponents. His final dance on the field came during the postgame celebration after Super Bowl XLVII. He walked off the field as a champion, which was an excellent way for him to end his seventeen seasons playing for the Ravens. Lewis definitely had the moves during the game, too. He played in 21 playoff games and led the league in tackles (both solo and combined) in 1997, 1999 and 2001.
1. Ken Griffey Jr.
Ken Griffey Jr. and his dad held the unique distinction of playing together as a father-and-son team in the same MLB lineup on August 31, 1990. While Dad stepped off the baseball field after almost two decades of impressive play, his competitive son walked away in 2010 at 41 years old following 22 big-league seasons.

In 2009, the year before he walked away, Griffey swatted 19 home runs and tallied 57 RBIs. Those weren't close to his career numbers, but he is one of the retired athletes who still had something left in the tank. The 13-time All-Star, 10-time Gold Glove winner, and 1997 MVP entered the Hall of Fame in 2016.

Which retired athletes waited the longest to walk away?
We just discussed athletes who had long careers and still had something left when they walked away, but their careers pale in comparison to others from their sport.

Some of the oldest professional athletes who played until they were relatively seasoned compared to most of the competition:
Gordie Howe played hockey until he was almost 70
In baseball, the oldest player to retire from the sport was Satchel Paige who played until he was nearly 60
Basketball's oldest player on record is Robert Jaworski, who quit playing professionally at age 50
George Blanda was on the gridiron in the NFL until he was 48