4 Teams That Should Trade for Ravens Backup QB Tyler Huntley
The undermanned Baltimore Ravens entered a Week 15 matchup against the Green Bay Packers with 30 players either out or banged up. Among those players was quarterback Lamar Jackson, who missed the game due to a bone bruise in his ankle. His backup, Tyler Huntley, made the second start of his NFL career. Even in a loss, the second-year quarterback put on a show.
Huntley completed 28 of 40 pass attempts for 215 yards, two touchdowns, and zero interceptions. The Utah product also chipped in 73 yards and two scores on the ground. Even without the former MVP, the Ravens still had a chance to beat one of the NFL's best teams.
Huntley is an exclusive rights free agent, a player with two or fewer accrued seasons and an expired contract. The Ravens could make a qualifying offer (one-year contract at league minimum salary), which would prevent Huntley from negotiating with other teams.
"Snoop" Huntley fills in admirably whenever Jackson goes down. His latest performance likely put him on the radar of quarterback-needy teams. Here are four teams that could come knocking for the right price.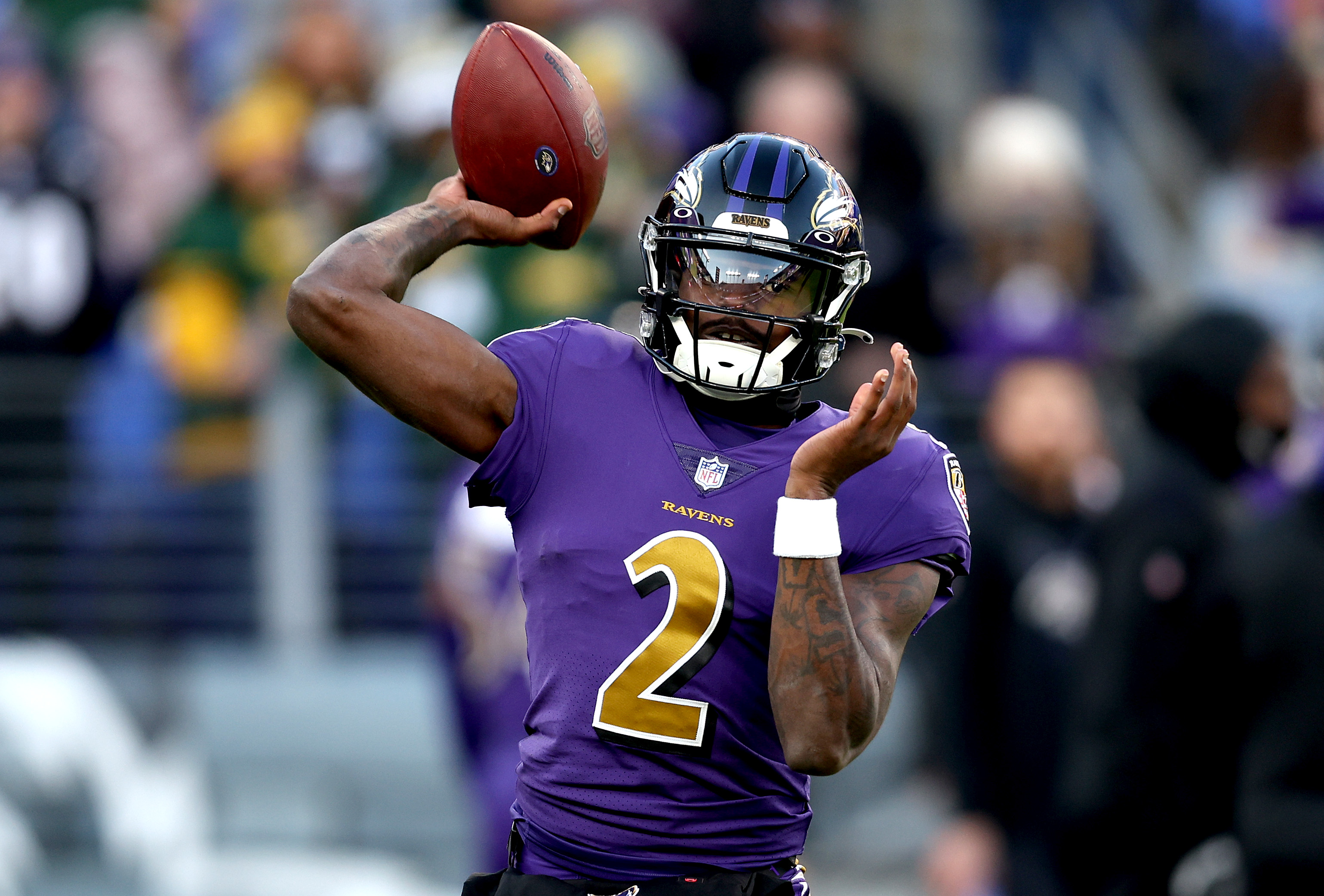 Houston Texans
Don't put too much stock into Davis Mills' most recent performance against the Jacksonville Jaguars. The Houston Texans rookie threw for 209 yards, two touchdowns, and one interception en route to a 30-16 victory.
Even though the Stanford product put up one of his better stat lines of the season, there's still cause for pause. Mills has thrown for 1,946 yards, 10 touchdowns, and nine interceptions in 10 games (including eight starts).
Mills is a rookie third-rounder who's experienced the same rookie learning curve as the rest of the crop. While it may not be wise to assume he can't be the answer, he hasn't done enough to prove that he can.
Trading for Tyler Huntley could give Mills the competition he needs in the quarterback room. Tyrod Taylor is there, but he can't seem to stay on the field. Huntley is mobile like Taylor but has much fresher legs than the 32-year-old veteran.
The Texans won't be contending any time soon, so they have nothing to lose and could benefit from a healthy QB competition.
Carolina Panthers
The Carolina Panthers' quarterback room is in disarray right now. The front office acquired Sam Darnold from the New York Jets before the 2021 season. He looked good the first three weeks while making the Jets look bad in the process. However, the former No. 3 overall pick came back down to earth.
Before an injury ended his season, Darnold was stinking up the place. He threw for just five touchdowns and 10 interceptions from Weeks 4 through 9.
Carolina brought back Cam Newton in a last-ditch effort to rescue its playoff hopes. He put up a two-touchdown performance in limited action against the Arizona Cardinals. However, the shock factor has since worn off. Newton has shown why he wasn't on a roster to begin the season.
The Panthers clearly don't have much faith in P.J. Walker, either. Tyler Huntley is a young quarterback willing to do the work to get on the field. It's no wonder he's won over the Ravens' locker room and coaching staff.
Detroit Lions
How about those Detroit Lions? Dan Campbell's crew just knocked off a 10-win Arizona Cardinals team.
Jared Goff put together his best performance of the 2021 season. He threw for 216 yards, three touchdowns, and zero interceptions while completing over 80% of his passes.
Even in a winning effort, the jury is still out on whether or not Goff should be the quarterback of the future for the Lions. Detroit will likely have a top-five pick in the 2022 NFL Draft, so the front office will have a chance to draft a quarterback if it doesn't believe in what it already has.
However, the Lions wouldn't have to break the bank for Tyler Huntley. The Florida native seems to fit with what this team is doing. Detroit plays with a lot of heart and toughness. Huntley does the same. He's a grinder and plays with a chip on his shoulder.
Baltimore is a depleted team right now, so the young quarterback knows how to perform when he has little to work with.
Pittsburgh Steelers
This trade would be the most unlikely to happen for obvious reasons. The Baltimore Ravens and Pittsburgh Steelers don't like each other. However, it makes sense for Pittsburgh from a football perspective.
The Steelers will likely be saying goodbye to Ben Roethlisberger after the 2021 season. Rumors are swirling about his upcoming retirement, and it would be the right move for Big Ben. You can't knock Roethlisberger's toughness, but he just doesn't have it anymore.
Pittsburgh could potentially land a top quarterback prospect like Kenny Pickett in the draft. That's assuming he'd fall to them, though.
The Steelers could also look to be practical and make a move for a guy like Tyler Huntley who wouldn't garner a hefty price tag. Neither Mason Rudolph nor Dwayne Haskins Jr. is the future.
The Ravens would never trade a player they believe in to their heated rivals, but "Snoop" is proving he deserves a shot somewhere.
All stats courtesy of Pro Football Reference and contract figures courtesy of Spotrac