4-Time NBA Champion Gives Shocking Assessment of Russell Westbrook's Hall of Fame Case
Russell Westbrook has more triple-doubles than any player in NBA history and made averaging a triple-double for a season about as rare as walking to the mailbox. He's been an NBA MVP, is a nine-time All-NBA selection, and has the rare combination of two scoring titles and leading the league in assists three times. But according to a retired four-time NBA champion, Westbrook's Hall of Fame resume is incomplete.
John Salley won two rings as a role player with the Bad Boys Detroit Pistons, added a third playing five minutes a game for Michael Jordan and the 72-win Chicago Bulls in 1996, and enthusiastically cheered the 1999–00 Los Angeles Lakers to pick up ring No. 4. Ostensibly, Salley knows what a Hall of Fame player looks like having played with so many of them. But he's not entirely sold on Westbrook, now with the Lakers.
John Salley caped for his own Hall of Fame chances
John Salley played 12 seasons in the NBA, averaging 7.0 points and 4.5 rebounds in 22.1 minutes per game. He is 96th in NBA history with an average of 1.3 blocked shots a night. With totals of 5,228 points and 3,356 rebounds in 12 years, it seems his counting stats fall a bit short of the Hall of Fame standard. Put it this way: Russell Westbrook is a bit stronger in these areas.
Basketball-Reference's Hall of Fame Probability index gives Salley a 0.2% chance of induction. For those of you doing the math at home, that's 1-in-500 odds. Per Health Research Funding, that is the same chance one has of being born a polydactyl (born with 11 or more fingers or toes). So you're sayin' there's a chance for Spider. Just not, you know, much of one.
But during a recent appearance on the VladTV podcast, Salley concluded he's Hall-worthy.
"I'm watching how they put people in the Hall of Fame, and I got a lot of stats better than a lot of them.," Salley said.
Only one Hall of Famer inducted as players averaged less than Salley's 22.1 minutes per game. And Louie Dampier comes with a sizeable red-white-and-blue asterisk. Yes, Dampier averaged 19.1 minutes per game in three NBA seasons. But he was inducted for his ABA career, during which he played 38.1 minutes a night and, oh, by the way, was the ABA's all-time leader in 3-pointers, games and minutes played, assists, and points.
Now that we've established that Salley is in no way, shape, or form a Hall of Fame player, let's dive into his critique of Westbrook.
John Salley calls Russell Westbrook a 'maybe' for the Hall of Fame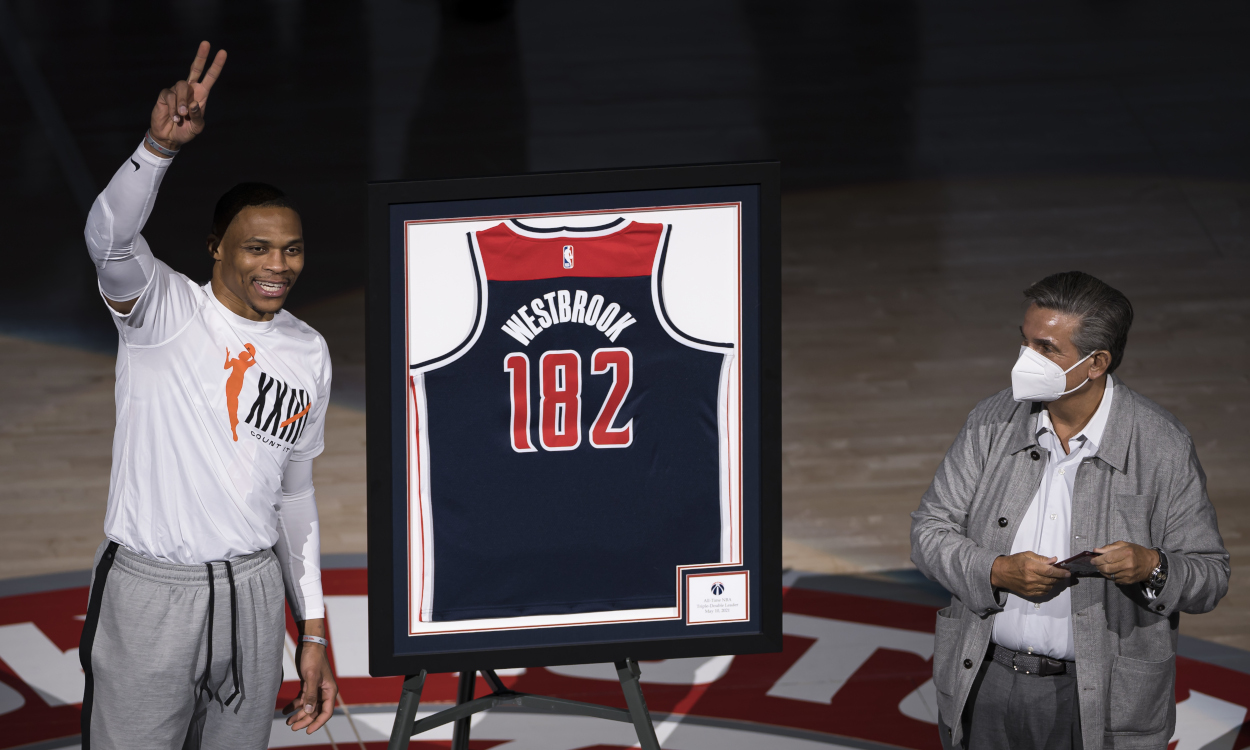 John Salley is correct in a broad sense. Russell Westbrook's career accomplishments are polarizing. He made the triple-double commonplace, averaging double figures in points, rebounds, and assists five times. That runs the all-time total of triple-double seasons to six, just for the record (Oscar Robertson in 1961–62 and Westbrook's handful).
But Westbrook's decision-making can be questionable. In the pace-and-space era, he's a dismal 3-point shooter at the point guard spot (not Ben Simmons-dismal, but not good).
Still, Westbrook needs more to convince Salley:
"Maybe (Westbrook is a Hall of Famer). He's comfortable, I think — and that's the trick. There's no nonsense, so I don't think there's going to be any buffoonery because he has to win a championship. You asked me if he's gonna be in the Hall of Fame. Well, one: I don't know how that works because I know Ben Wallace got in … Defensive Player of the Year on a defensive team. And he only averaged 5.7 points per game.
"And (Westbrook) is amazing that's he's in this situation. So, you have to win a championship; it seems like. Well, except for Charles Barkley."
So, according to Salley, Westbrook is a definite maybe. OK, then.
Russell Westbrook is statistically untouchable
In 13 NBA seasons, Russell Westbrook has 21,857 points, 8,061 assists, and 6,961 rebounds. He averages 7.4 boards a game in his career as a 6-foot-3 point guard. Among players that height or shorter, it's the best all-time among players with the qualifying 400 games played. Lafayette Lever is second at 6.0. So it's a first-round knockout.
Contrary to John Salley's perception, a championship is not a prerequisite for NBA Hall of Fame induction. Just this year, coaches Rick Adelman and Cotton Fitzsimmons got in without a ring, as did Chris Webber as a player. Dozens of others disprove Salley's theory.
Westbrook may or may not get a ring before his career winds down. But he could quit right now and safely book a flight for Springfield, Massachusetts, for September 2025. A championship is merely icing on a Hall of Fame cake for Russell Westbrook. But the cake itself? It's already baked.
Statistics courtesy of Basketball Reference and Stathead.
RELATED: Russell Westbrook Tried to Bring the Wizards Organization to Its Knees Before Asking for a Trade