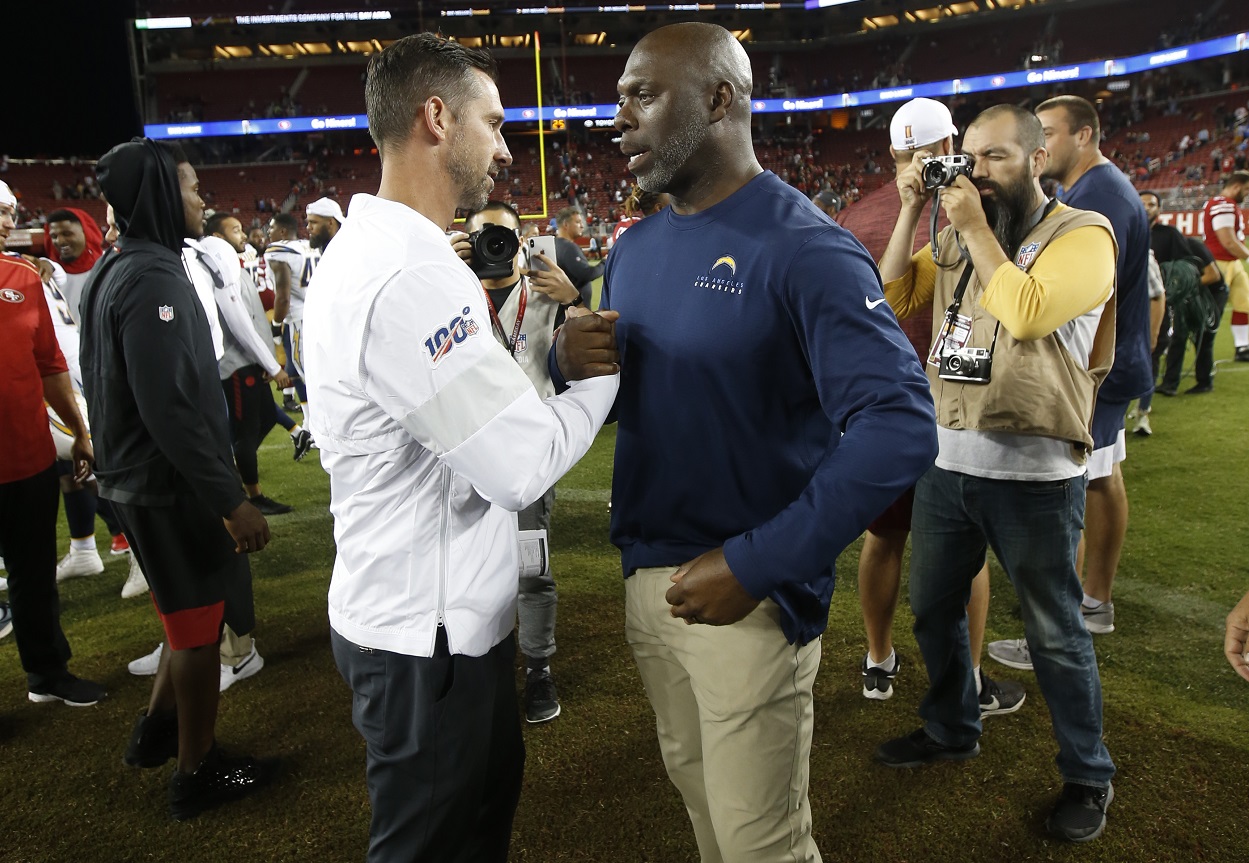 49ers Bring Lynn On Board As McDaniel Leaves For Dolphins' Head Coaching Job
The San Francisco 49ers hired Anthony Lynn to help replace Mike McDaniel, who took the Dolphins head coaching position Sunday.
When Mike McDaniel interviewed for the Miami Dolphins head coaching position on Friday, the San Francisco 49ers could see the writing on the wall for their offensive coordinator. He was already one step out the door to take his talents to South Beach.
So instead of waiting for that news to become official, which it did on Sunday afternoon, the 49ers were proactive in bringing in a replacement, someone who would fit in seamlessly with the 49ers' new run-heavy approach.
In that regard, there was probably no one better than Anthony Lynn.
The 49ers hired Lynn as their assistant head coach on Friday, placing him in charge of the running attack that carried San Francisco to a fourth-quarter lead in last week's NFC Championship Game.
The move not only provides the 49ers a sense of continuity with their prized running game, it also reunites Lynn with Kyle Shanahan, reviving a relationship that began a quarter-century ago.
Lynn replaces McDaniel, who took the Dolphins head coaching job Sunday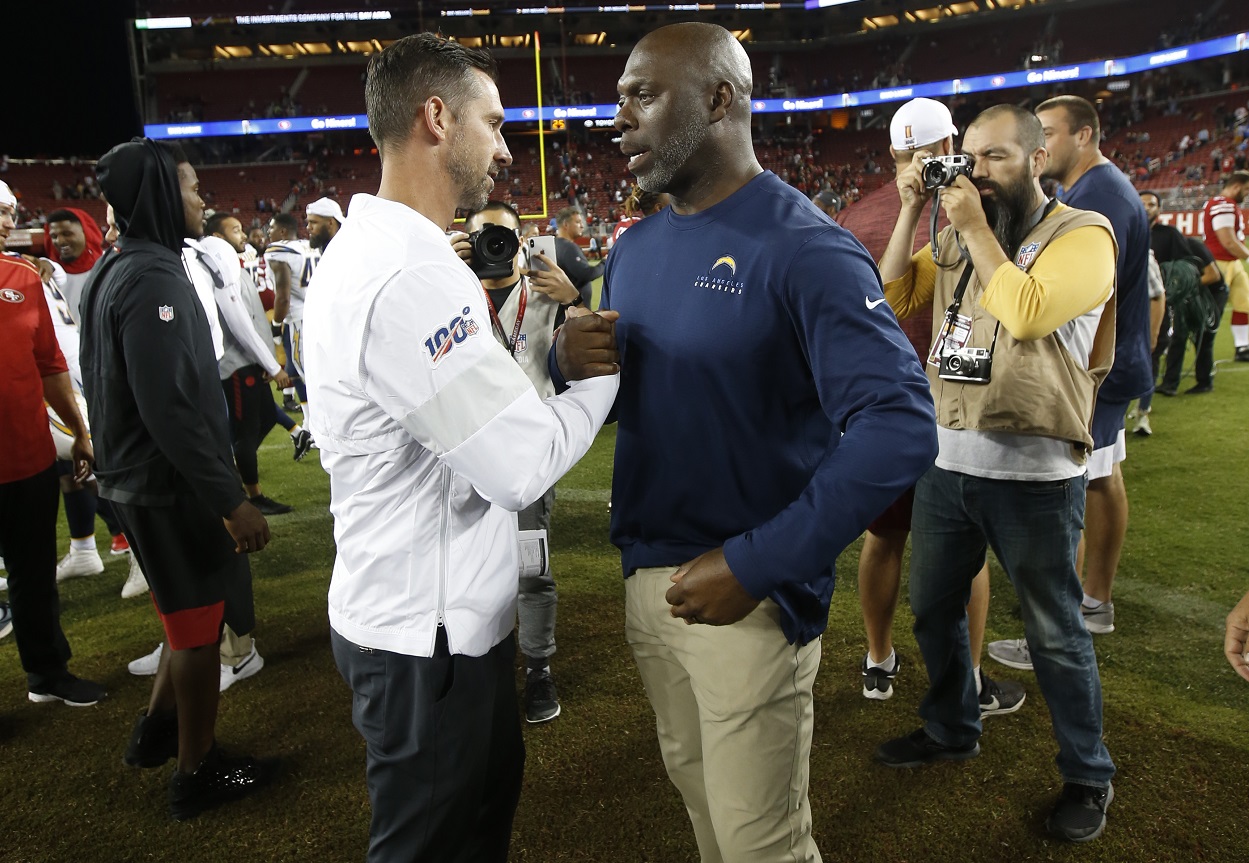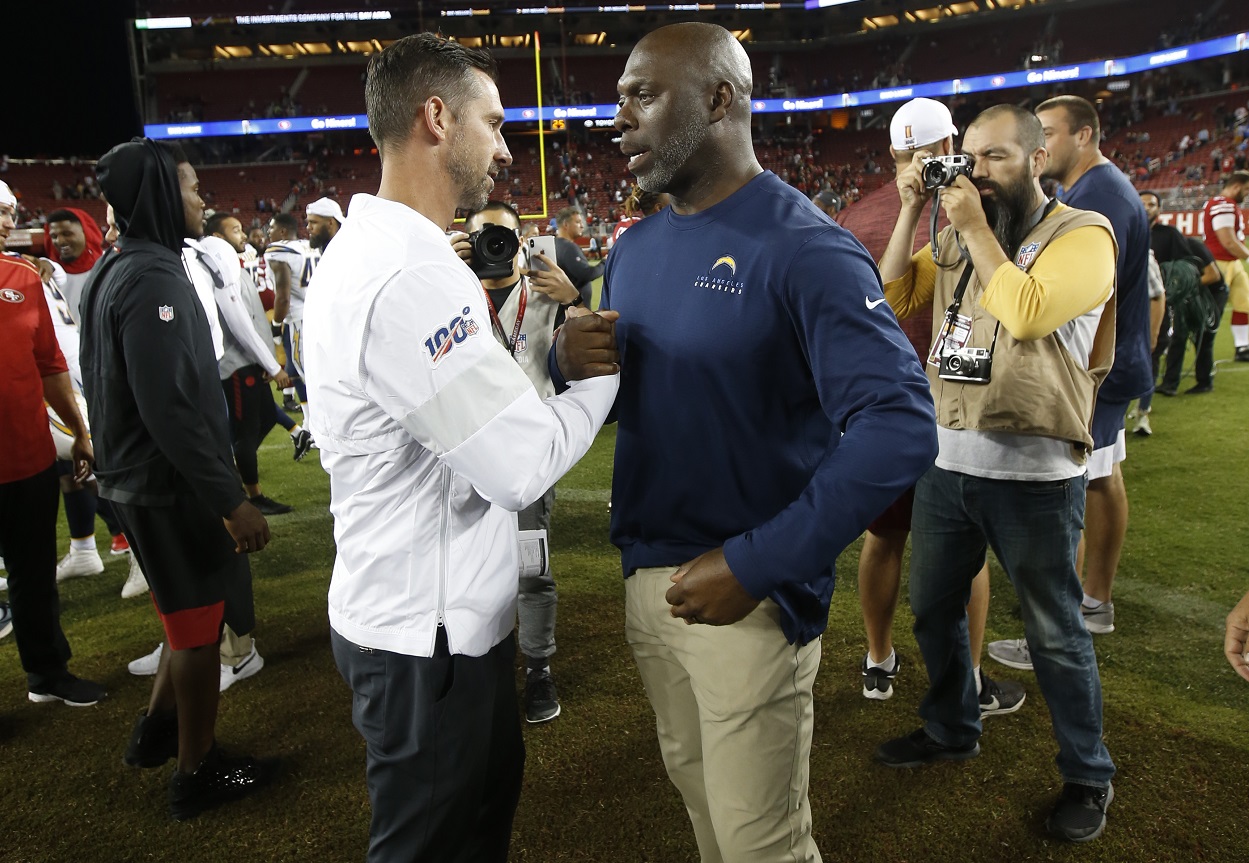 McDaniel signed a four-year deal on Sunday to coach the Dolphins, according to multiple media reports. In McDaniel, the Dolphins get a brilliant young mind that turned wide receiver Deebo Samuel into one of the most dangerous dual-threat players in the league in the second half of 2021, rushing 51 times over the final 12 games of the season, including the playoffs, for 343 yards and seven touchdowns.
McDaniel also becomes the first minority hire of the 2022 head coaching cycle, and the fourth minority head coach overall, joining Mike Tomlin (Pittsburgh Steelers), Robert Saleh (New York Jets), and Ron Rivera (Washington Commanders). McDaniel replaces Brian Flores, who was fired after the season and has since filed a lawsuit against the NFL alleging racial bias in hiring practices.
In return, the 49ers get two compensatory third-round NFL Draft picks, one in 2022 and another in '23.
But by hiring Lynn, Shanahan brings into the organization one of his closest friends from another era of the Shanahan coaching family.
Kyle Shanahan and Lynn have a long history together, going beyond the field of play
Lynn played running back for the 49ers from 1995-96, then won a pair of Super Bowls in three seasons with the Denver Broncos and head coach Mike Shanahan. It was during those three years that Lynn befriended Mike Shanahan's son, Kyle, and the two maintained their friendship as they both entered the world of coaching.
"Anthony is someone I've been close to my whole life since he was a player," Kyle Shanahan said in 2018, when both men were NFL head coaches. "I think I was in ninth grade when I got to know him. I've always kept in touch with him since he got into coaching.
"He's been one of the most impressive people I've been around. I know he was always one of my dad's favorite players. He was always one of my favorite people as a kid, and he hasn't changed in the last 20 years. He's a person I consider a very close friend."
Lynn has long had success at coaching up running games
Before becoming head coach of the Los Angeles Chargers in 2017, Lynn built his reputation as a coach for developing top running games. As running backs coach and assistant head coach with the Buffalo Bills in 2015, and interim head coach and offensive coordinator in 2016, the Bills finished first in the NFL in rushing yards per game, yards per carry and rushing touchdowns in both seasons.
Lynn then became the Los Angeles Chargers' head coach, his hiring announced the same day the franchise announced its move from San Diego to Los Angeles.
In his first two seasons, the Chargers nine and 12 games, the latter campaign resulting in a Wild Card playoff victory over Lamar Jackson's Baltimore Ravens. But two down seasons in 2019 and '20 resulted in Lynn's firing.
He served this past season as the Detroit Lions' offensive coordinator with the Detroit Lions before being let go after a 3-13-1 season. But second-year running back D'Andre Swift developed into one of the better young players in the league, despite numerous injuries.
Now Lynn gets to work with Samuel and Elijah Mitchell, who formed the nucleus of one of the most dangerous running games in the league.
Stats courtesy of Pro Football Reference