49ers DE Nick Bosa Just Fired a Major Shot at the Cowboys Offensive Line: 'They Are Definitely Beatable'
The San Francisco 49ers and Dallas Cowboys are just a few days away from squaring off in the NFC Wild Card Round. The 49ers are coming off an impressive late-season surge which saw them sneak into the playoffs at the last second, while the Cowboys cruised to a comfortable first-place finish in the NFC East.
It's an intriguing matchup on paper, one that could go either way. The Cowboys are the current 3-point favorites (according to Fox Sports). However, the 49ers could easily pull off the upset with big games from Deebo Samuel, George Kittle, and Nick Bosa.
49ers DE Nick Bosa has already started the trash talk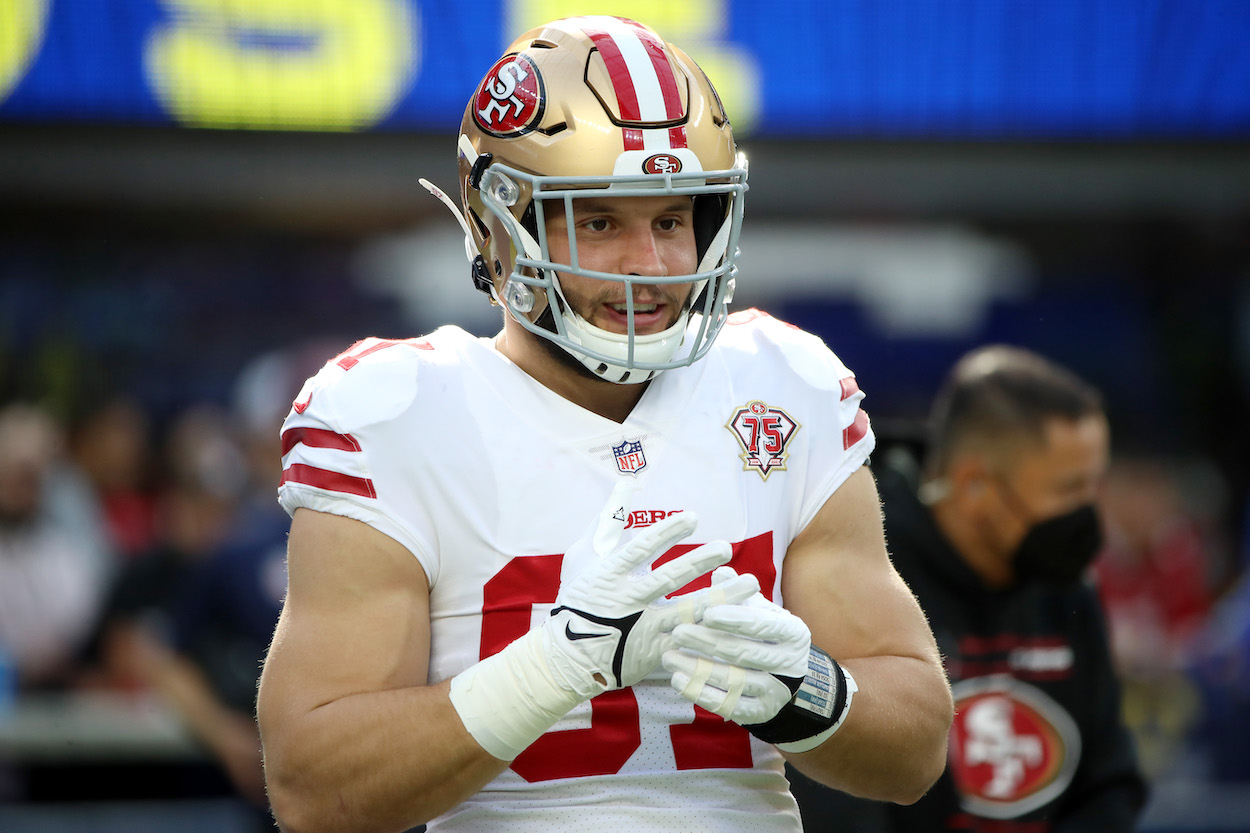 The current versions of the 49ers and Cowboys haven't had many battles in recent years. They've primarily been on opposite ends of the spectrum regarding the NFC standings.
However, this isn't stopping 49ers defensive end Nick Bosa from kicking up the trash talk. When asked about his looming matchup with the Cowboys offensive line, he called them "beatable."
"They are definitely beatable," Bosa said, via Jennifer Lee Chan of NBCSportsBayArea.com. "There's tape on them getting beat, and we're trying to do the same but they've definitely been in and out of the lineup this year and the past years, so just game plan is to make them work."
Nick Bosa needs to have a big-time performance for the 49ers
All trash talk aside for the moment, Bosa needs to have a big game this weekend if the 49ers are going to pull off the upset. He's the Niners' leading pass rusher with 15.5 sacks.
Despite Bosa's confidence, the pairing of Tyron Smith and La'el Collins at left and right tackle is a strength of the Cowboys' offense. Their ability to consistently provide clean pockets for Prescott is a significant reason the Cowboys won 12 games this season.
To slow down Dallas and their high-powered offense, Bosa needs to get into the backfield and get Prescott off his spot on more than one occasion. Allowing him time in the pocket would be a nightmare for the San Francisco defense — one of Amari Cooper or CeeDee Lamb will eventually get open if Prescott is given too much time.
The 49ers have a few pass rushers who should be able to get in Prescott's face (most notably Arik Armstead). However, Bosa is the main guy worth keeping an eye on. The 49ers drafted him No. 2 overall a few years ago for games like this.
The Cowboys would be wise to send double-teams Bosa's way
Instead of laughing off Bosa's comments as nothing more than over-confident trash talk, the Cowboys would actually be wise to take heed of his warning.
Stopping Bosa should be Dallas' number one priority on offense, meaning double-teams shouldn't be out of the question.
Whether it's lining up a TE on Bosa's side or sending a running back to chip-block, the Cowboys need to know where Bosa is at all times. Stopping him from causing chaos in the backfield (as he predicted he would do) could lead to a successful afternoon for Dallas.
All stats courtesy of Pro Football Reference.