49ers General Manager John Lynch Gives a Confusing Update on the Team's Unusual Quarterback Situation: 'We're Still Looking for the Answers'
The San Francisco 49ers have a quarterback controversy on their hands, and general manager John Lynch continues to offer little clue as to which direction the team intends to go.
The consensus up to this point is that veteran QB Jimmy Garoppolo will start the season under center, ultimately paving the way for No. 3 overall pick Trey Lance to take over at some point. However, a reason update from the 49ers' GM has only added confusion to the discussion.
49ers GM John Lynch gave a confusing QB update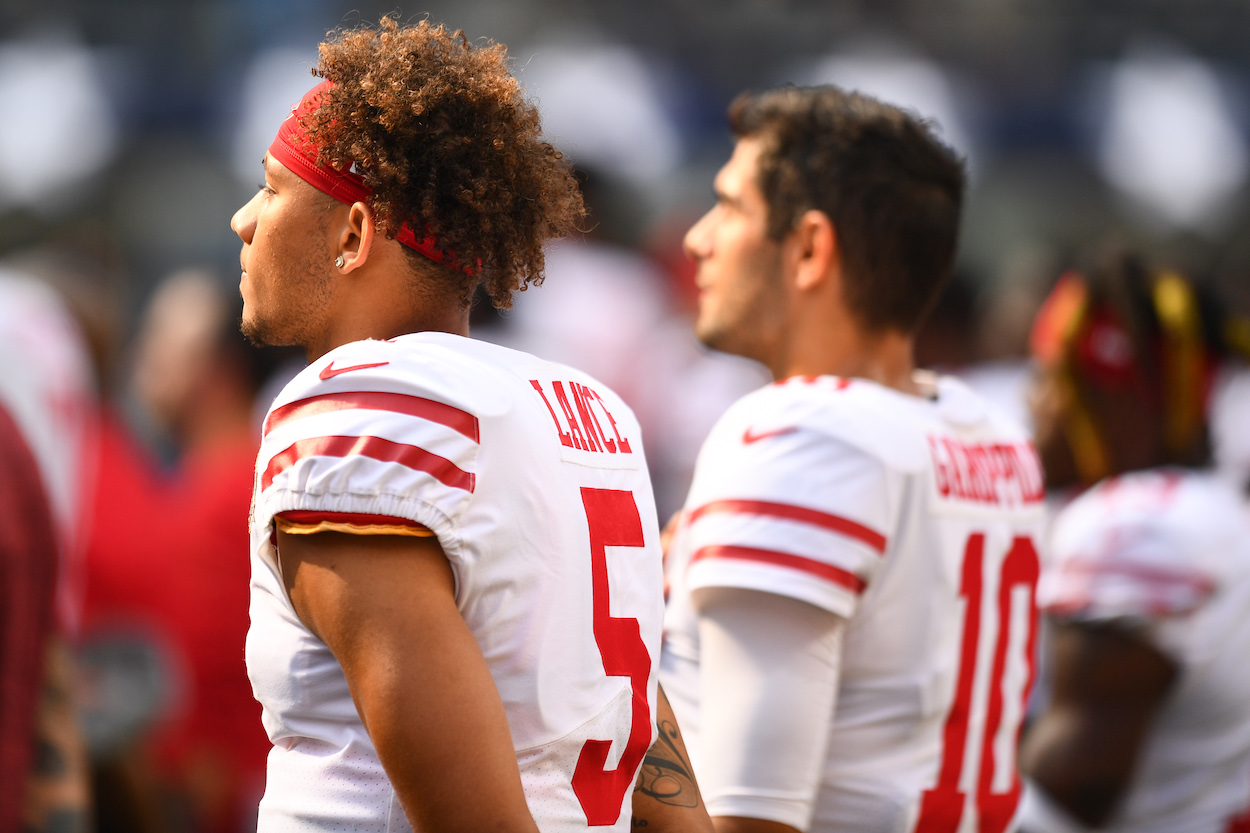 During a recent interview on KNBR's Murph & Mac show, Lynch somewhat talked in circles when asked about the 49ers' plan at quarterback. His comments revealed little regarding who to expect under center for Week 1 while simultaneously sparking theories about a potential dual-QB system.
"[I]f we are in a situation like that, yes, it's difficult to prepare for," Lynch, a Hall of Fame safety, said on the Murph & Mac show. "We haven't shown a lot in the preseason, as well, in terms of the things we can do with both Trey and Jimmy. But that's not only for us. That's league-wide. You really don't know, going into the first couple of games, what you're going to see."

The coaching staff has experimented with quarterback substations a bit this week during practices. However, that doesn't necessarily mean it's something they will show on Sunday against the Las Vegas Raiders.

Said Lynch: "But yeah, that is something that we kind of are looking forward to, the amount of time that people are going to have to put in, preparing for each quarterback."

David Bonilla, 49erswebzone.com
Not a lot to piece together out of Lynch's monologue before arriving at the "experimented with quarterback substations a bit this week during practices" comment.
Are the 49ers planning to run a dual-quarterback system?
Dual-quarterback systems are scarce in the NFL but not completely unheard of. The Baltimore Ravens found ways to get a rookie Lamar Jackson on the field alongside Joe Flacco in 2018, and the Philadelphia Eagles employed a similar strategy with Jalen Hurts in 2020.
Both instances resulted in the younger QB taking over for the veteran by the season's end. Not exactly promising news for Garoppolo, but he would also be a fool not to expect being replaced at some point this season.
Following Lynch's odd radio comments, Mike Florio over at Pro Football Talk is at least suspective that the 49ers are, in fact, looking to get two QBs on the field this year:
"The 49ers clearly want to force opposing defenses to be ready for both players…The 49ers seemingly hope that will be Lance, given what they gave up to get him. If it's Garoppolo, expect to still see plenty of Lance," writes Florio.
It's possible John Lynch doesn't know the full plan at QB
Lynch is the general manager and obviously gets a large input on football-related decisions. However, even he may be in the dark regarding the team's strategy at quarterback this season.
Ultimately speaking, Kyle Shanahan is the head coach, and it's reasonable to assume that he'll get the final say regarding who his starting QB is on a given Sunday. Garoppolo did state during a recent press conference that he has a "pretty good idea" as to who the starting QB is going to be in Week 1. However, Lynch's radio comments seem to be coming from an entire season's point of view instead of just the first game.
Garoppolo starting Week 1 doesn't guarantee he'll start all 17 games this year.
The whole situation is rather confusing, but it's also an incredibly awesome problem to have if you're the 49ers. Most teams struggle to find one starting-caliber QB. The 49ers have two at their disposal.
Like Sportscasting on Facebook. Follow us on Twitter @sportscasting19.