49ers HC Kyle Shanahan Endlessly Defending Jimmy Garoppolo Is Becoming a Tired Act
Rolling into Week 16 at 8-6, the San Francisco 49ers were quietly on the brink of establishing themselves as significant players in the NFC. They had a firm grip on one of the three wild card spots — another win would all but guarantee their place in the postseason.
However, despite another massive performance from WR/RB Deebo Samuel, the 49ers could not capitalize on their momentum. The Tennessee Titans knocked them off 20-17, putting a dent in their playoff aspirations. The 49ers are still in control of the No. 6 seed as things currently stand. However, the gap between them and the rest of the bubble teams is closing.
Jimmy Garoppolo is to blame for the 49ers' Week 16 loss
Very rarely is a loss in the NFL all one person's fault. Yet, the Thursday Night Football spectacle between San Francisco and Tennessee very much came down to one person's ability, or lack thereof.
The 49ers entered the matchup with a fairly basic game plan. Between Deebo Samuel, George Kittle, and a rejuvenated run game led by Jeffrey Wilson, Niners head coach Kyle Shanahan figured his offense could outscore Tennessee's. The Titans simply haven't looked the same since star RB Derrick Henry went down to injury.
The only thing potentially standing in Shanahan's way was quarterback Jimmy Garoppolo. He's looked solid the past few weeks. However, Jimmy G always seems to even out whenever his performances start getting too good or too bad.
That's exactly what happened during Week 16. Garoppolo threw two interceptions, ultimately costing his team the game. It was a disappointing loss, considering how well Samuel played.
Kyle Shanahan refuses to pin blame on Garoppolo
When the 49ers traded up for the No. 3 overall pick and drafted Trey Lance, most NFL fans assumed Shanahan was preparing to move away from Jimmy G sooner rather than later. However, that's not been the case. In fact, it feels like Shanahan is doubling down even harder on his current starting QB.
When asked about Garoppolo's two interceptions against the Titans, Shanahan refused to blame his quarterback — a running theme for the 49ers this season.
"I mean, two turnovers cost you," Shanahan said. "But they're not all just on him. That's on everybody out there."
It's not uncommon for coaches to defend their quarterback during press conferences. However, the lengths to which Shanahan has gone toward shifting blame away from Jimmy G this year have been remarkable. It's odd behavior from the 49ers' coach.
What do the 49ers have in store for the future?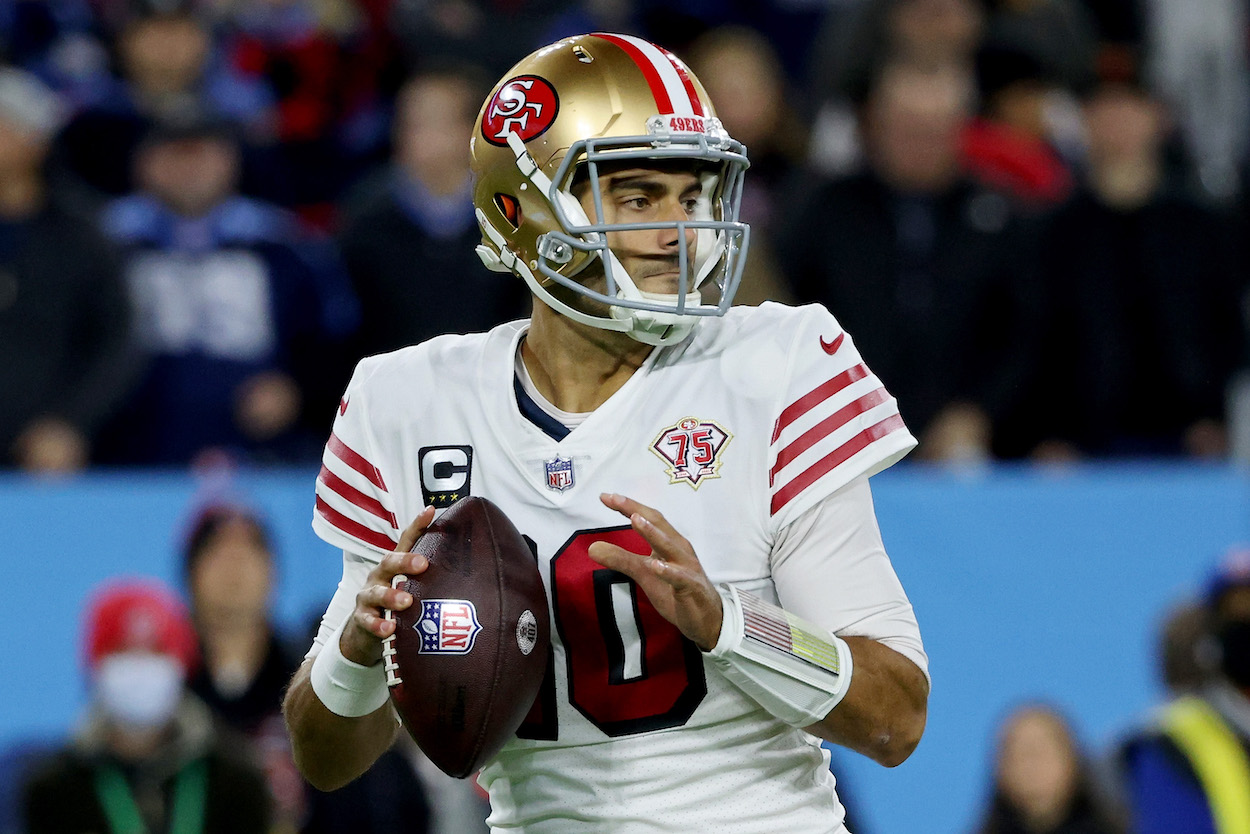 As things currently stand, the 49ers are in line for a trip to the postseason. This dramatically improves Jimmy G's stock around the league. However, it also puts the 49ers in a pretty weird position.
Shanahan clearly has great admiration for Garoppolo. Yet, he still has a top-three rookie in Trey Lance waiting in the wings. Would the 49ers really kick Jimmy G to the curb, right after he led them to the playoffs, for an unproven rookie?
Common sense suggests they need to get Lance on the field sooner rather than later. However, Shanahan's comments cast some doubt on the situation.
Regardless, the constant defending of Jimmy G from Shanahan is becoming a tired act for 49ers fans. He needs to play better if the Niners want to make a postseason run this year.
All stats courtesy of Pro Football Reference.