49ers HC Kyle Shanahan Sends Mixed Message on Trey Lance While Deflecting Regression Reports: 'I'm as Eager for That as Everyone Else Is'
The San Francisco 49ers playoff hopes are dwindling by the week. Yet, somehow, head coach Kyle Shanahan refuses to play Trey Lance over Jimmy Garoppolo. No, Shanahan refuses even to let Lance see the field lately.
Sure, the 49ers can technically go on a second-half surge and snag a playoff spot in the topsy-turvy NFC. On the other hand, the defense has more issues than the offense.
Nonetheless, the handling of the quarterbacks in the Bay Area has been a constant talking point since the 49ers took Lance at No. 3 overall in the 2021 NFL Draft. Moreover, legendary wide receiver Jerry Rice had his own take on that matter recently.
Well, Shanahan's latest comments on the North Dakota State product aren't exactly music to Lance's ears — or the majority of 49ers fans, for that matter.
Kyle Shanahan won't commit to Trey lance as the 49ers starter for the time being
Sure, Garoppolo has played well over the past few games. But that doesn't change the fact that Lance is just sitting on the bench for no reason.
At the very least, find a package or a few plays per game for the talented rookie. That hasn't been the case lately, as Lance hasn't seen one snap over the past two weeks since recovering from his knee injury.
Shanahan has had to answer Lance questions all year, and for a good reason. The 49ers head coach did once again in preparation for the team's Monday Night Football clash with the Los Angeles Rams and delivered an interesting answer when asked about Lance's potential insertion into the starting lineup (h/t Alex Didion of NBC Sports).
"I'm as eager for that as everyone else is … And we don't think it's that moment yet, could be very soon."

Kyle Shanahan on Trey Lance being inserted into the starting lineup
Um, what?
Shanahan is eager as everyone else but still doesn't let Lance see the field because it's "not his moment yet."
So, when will it be time for the rookie to get his shot?
The NFC West is a difficult division with the Arizona Cardinals and Rams at the top. The Seattle Seahawks got Russell Wilson back and could be primed for a winning streak of their own. The 49ers' playoff hopes aren't over just yet, and maybe that's what Shanahan is waiting for.
"Very soon" is not conclusive in any way, shape, or form. The fact of the matter is that nobody — not even Shanahan — knows when, or if, Lance will be named the starting quarterback in San Francisco.
Shanahan gives confusing response to reports of Lance regressing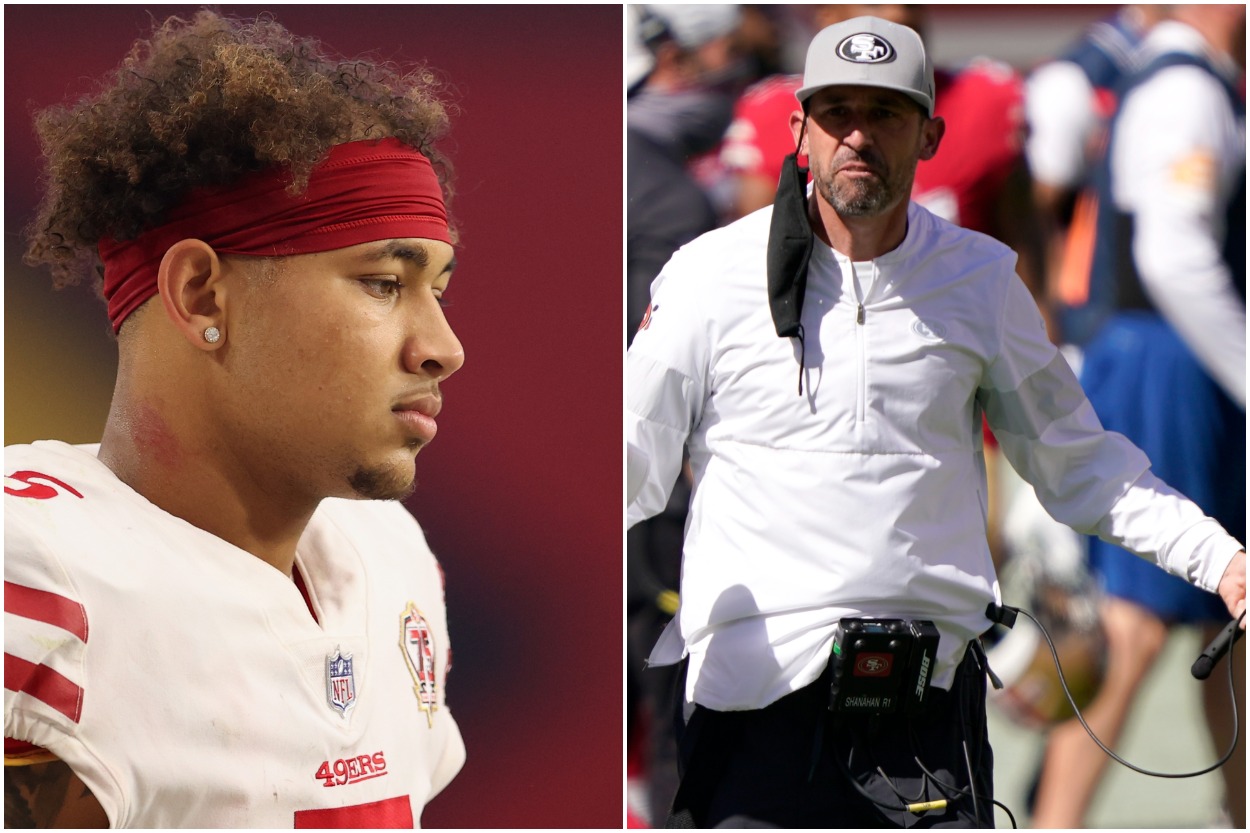 In the same week, a report came out about Lance regressing and pointing to that being the reason for Shanahan's refusal to start him.
It would make sense if that were the case. However, Shanahan didn't give a very clear answer when asked about it, instead sending out a more general statement (h/t Josh Schrock of NBC Sports).
"Yeah, he's gone up, he's gone down just like every player in here … I can't remember exactly how it goes, so there's probably some accuracy to that report, which I think would be accurate with every player on our team."

Kyle Shanahan on reports of Trey Lance regressing
Well, what does that mean?
Has Lance regressed? Has the rookie quarterback been on the sidelines for a reason unbeknownst to everybody else?
Or does Shanahan just insist on rolling with Garoppolo and doing whatever it takes for the 49ers to force their way into the playoffs?
It is puzzling. What's even more confusing is that Lance hasn't sniffed the field, not even in the most recent loss to a depleted Cardinals team.
Shanahan saying that Garoppolo played "all right" isn't the most reassuring vote of confidence. If anything, it begs the question of why Lance isn't at least getting some game action.
At this point, nobody has the slightest idea.
The 49ers time to let Lance run the show is drawing near as long as Shanahan cam make the obvious decision
The Rams look like one of the best teams in the NFL and got even better after making the shocking move to sign Odell Beckham Jr.
Sadly, this is bad news for the 49ers ahead of their matchup on Monday Night Football. A loss would send them to 3-6 and in need of a massive win streak to stay alive in the NFC Wild Card race.
Would that be enough for Shanahan to turn to Lance?
Probably not.
Nonetheless, the time is coming, and the 49ers head coach echoed that (h/t Josh Schrock).
"I have to see how the season goes. When he's ready, when our team's ready. Obviously, there's nothing to play for, you make that decision for a lot of guys trying to prepare guys for the next year and stuff like that."

Kyle Shanahan answering on the situation with Trey Lance
So, how the season goes is Shanahan's final deterrent. But should it be?
No wonder the rookie reportedly lost confidence and regressed. His head coach doesn't have much faith in him, not even for one play in high leverage situations.
Shanahan had no issues inserting Lance earlier in the year, including this example from Week 3.
What a time that was. It is hard to believe that was the same season. Lance even got an opportunity in Week 1 to touch the ball and see the field.
Shanahan and the 49ers have totally messed up this situation, and what makes it look worse is that Justin Fields, Trevor Lawrence, and Mac Jones are locked in as starters. Zach Wilson should also be locked in as the starter when he returns from injury.
But, for some reason, Shanahan won't hand over the keys to Lance just yet.
For all we know, it might not happen this year at all, sadly.
Stats Courtesy of Pro Football Reference