49ers GM John Lynch Fires Back at Joe Montana Picking Mac Jones Over Trey Lance: 'We Made Our Decision'
The San Francisco 49ers desperately needed to find their future quarterback, heading into the 2021 NFL season. The front office believes it found its guy in Trey Lance. Niners legend Joe Montana seemed to disagree, though. General manager John Lynch fired back at the Hall of Famer's comments about the controversial draft-day decision.
Joe Montana preferred Mac Jones over Trey Lance for the 49ers
The San Francisco 49ers entered the 2021 NFL Draft with the No. 12 overall pick. Instead of waiting, John Lynch was proactive. He traded up nine spots to draft Trey Lance at No. 3 overall.
Lance was the third quarterback taken in the draft, behind Trevor Lawrence of the Jacksonville Jaguars and Zach Wilson of the New York Jets. His dual-threat ability set him apart from some of the other quarterbacks in the class.
Lance played college football at FCS powerhouse North Dakota State. However, he didn't play a challenging schedule in comparison to the other top quarterback prospects.
Former 49ers' star signal-caller Joe Montana recently weighed in on San Francisco's selection of Lance. "If I were the 49ers, I would have taken the kid from Alabama [Mac Jones]," said Montana per Yahoo Sports. "Nothing against the guy that they took [Lance], but Jones is more pro-style offense, more used to being in tough situations." 
Mac Jones fell to the New England Patriots at No. 15. Playing against SEC competition at Alabama helped prepare Jones for the NFL. However, that doesn't mean Trey Lance was a bad pick for the Niners.
Montana probably sees more of himself in Jones, prompting him to make those comments.
John Lynch showed his support for Lance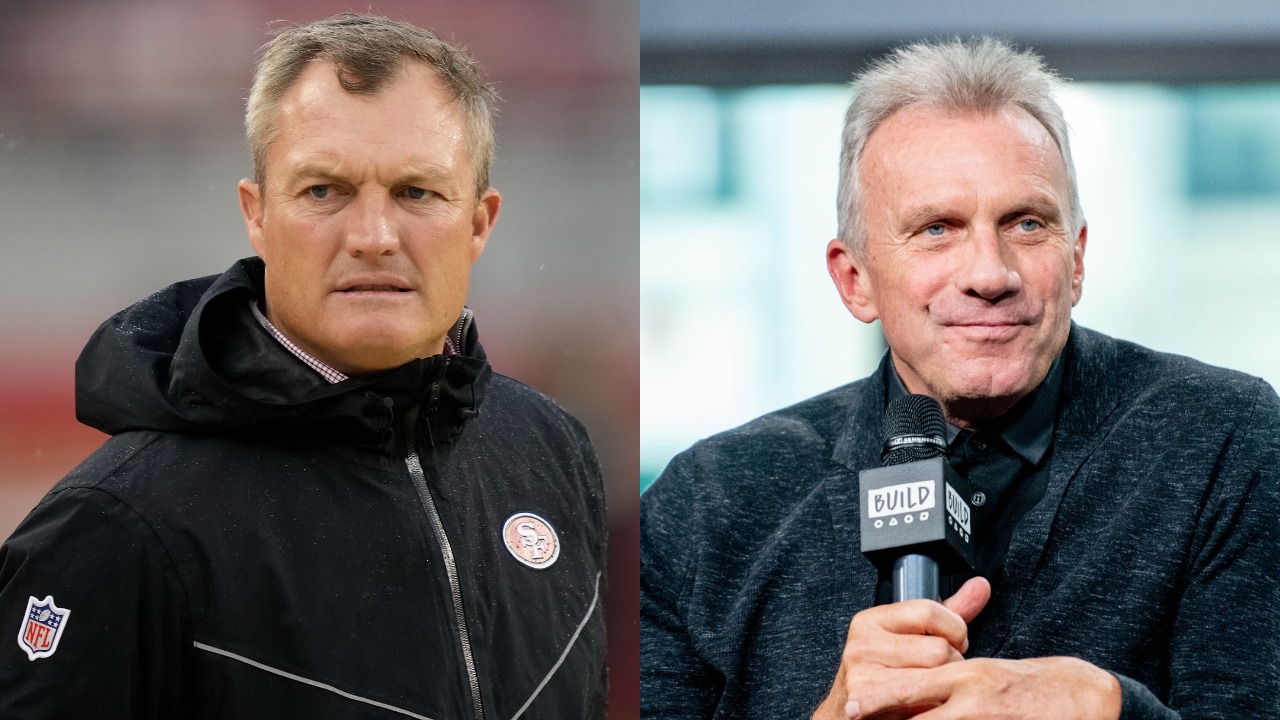 John Lynch respects Joe Montana, but he wholeheartedly disagrees with his take. The 49ers general manager and Hall of Fame safety responded to Montana's recent comments about Trey Lance.
Lynch recently joined the Murph and Mac Podcast to discuss the current state of the Niners. When asked about Montana's Lance comments, the general manager doubled down.
"Well, I'm never going to argue quarterbacking with Joe Montana," Lynch said. "But I can tell you this. We are extremely confident in Trey Lance and what he is going to be. "I think we have seen glimpses of that. We're taking our time, you know? Because we have another quarterback who we believe in in Jimmy. But it's also about putting Trey in the best possible situation."
Lynch also addressed how Mac Jones has played thus far in 2021. "Mac's playing right now, so I can understand why Joe said that but we studied that hard," he said. "We made our decision. We're still as convicted as ever that we made the right decision there."
Lynch strongly believes that Trey Lance is the quarterback of the future in San Francisco. "He's entitled to his own opinion," he said. "We'll always respect that, but we've got a ton of belief in Trey Lance that he is going to be a tremendous player for us for a long time."
San Francisco will need to see what they have in its rookie QB
After a long offseason full of mystery, 49ers head coach Kyle Shanahan announced that Jimmy Garoppolo would open the 2021 regular season as the team's starting quarterback.
Unlike Trevor Lawrence and Zach Wilson, Trey Lance had to compete for the starting job. However, Shanahan didn't feel the rookie was ready.
Garoppolo is in his fifth season with the Niners. While he continues to be the starter, he's been pretty average. San Francisco is currently 3-4, so the team isn't out of it yet. However, if they lose a few more games, Shanahan will need to strongly consider a quarterback change.
The 49ers used high draft capital to grab Lance. It would be safe to assume he'll take over the reins at some point in 2021.
The North Dakota State product looked decent in the game and a half of football he played while Jimmy G was out due to injury. Still, there's a learning curve for any young quarterback.
Joe Montana thinks Mac Jones was a better fit. John Lynch disagrees. But we'll need to see more of Trey Lance to make a fair comparison.
All stats courtesy of Pro Football Reference.
RELATED: Joe Montana Reveals He Wishes the San Francisco 49ers Drafted Another Rookie Quarterback Instead of Trey Lance