49ers News: Adam Schefter Drops Massive Jimmy Garoppolo Bombshell
The San Francisco 49ers appear ever so inclined to trade Jimmy Garoppolo this offseason. Despite leading them to the NFC title game, it looks more and more like Garoppolo's run as the starting quarterback is over.
With 2021 No. 3 overall pick Trey Lance waiting patiently behind, the time is now for the talented signal-caller to get the job once and for all. After the 49ers' season ended in a loss to the Los Angeles Rams, Garoppolo bid farewell in an emotional press conference.
However, Adam Schefter of ESPN dropped a bombshell report that could change a ton of things across the NFL and in the Bay Area.
Adam Schefter suggests the 49ers might end up keeping Jimmy Garoppolo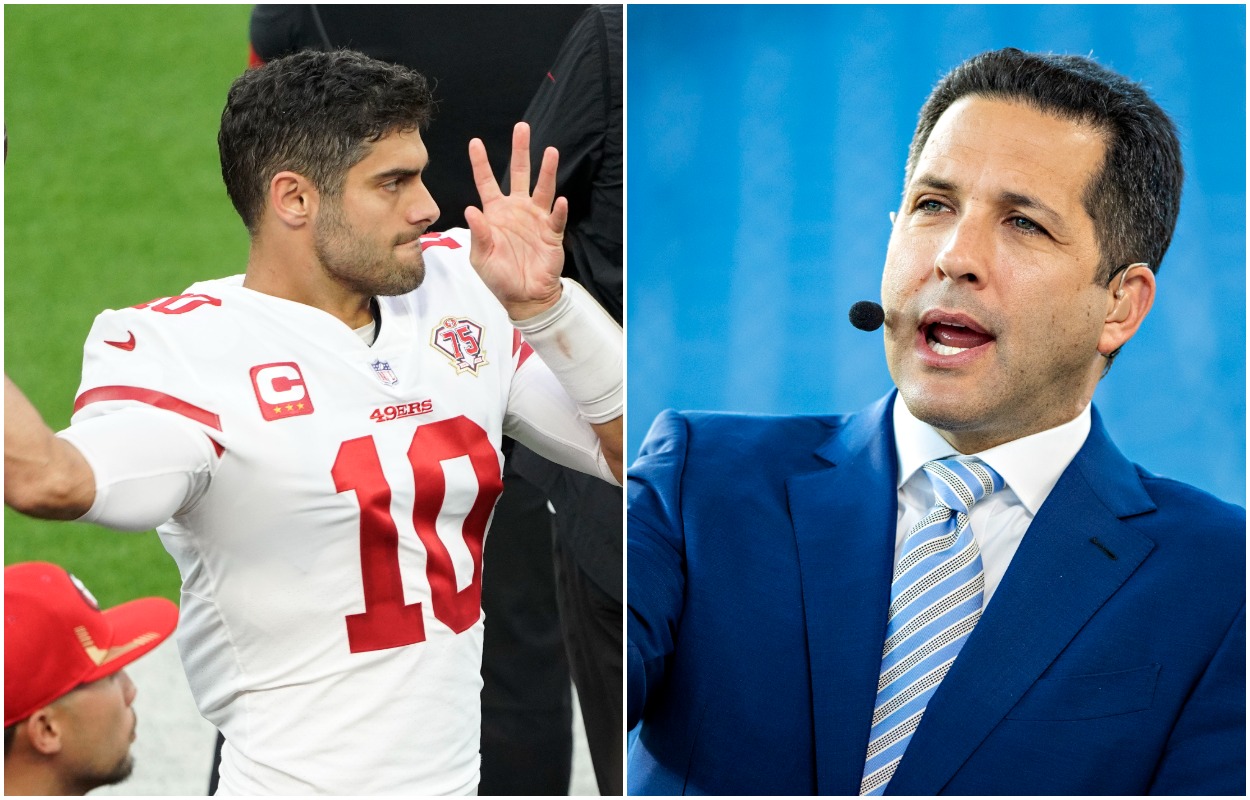 Schefter recently made an appearance on the Ari Meirov NFL Show and dropped quite a bit of news on the episode. With the flurry of QB rumors popping up across the NFL, Schefter has the insight on just about all of the big names.
Garoppolo came up, and for weeks it seemed like the 49ers were going to trade him away and roll with Lance once and for all. However, Schefter noted that might not be the case (h/t Kyle Madson of Niners Wire).
"… I don't think it's a lock that he's gonna be traded. He very well might, but it's not a lock."

Adam Schefter on potential Jimmy Garoppolo trade
Schefter spoke in great lengths about the Garoppolo rumors. While he did acknowledge that a trade could happen, the more shocking part is him saying that it is "not a lock."
That means there is a chance the 49ers keep him one more year, pay him his salary, and roll into training camp with another QB battle — and likely meaning that Garoppolo is the favorite.
The 49ers holding Garoppolo would certainly change a ton of things across the NFL and in San Francisco, and this decision would deal a massive blow to Lance.
San Francisco holding Jimmy G would hinder Trey Lance's development once again
The weapons are in place for Lance to succeed. Even with Mike McDaniel dashing for the Miami Dolphins head coaching job, the 49ers have a ton around Lance to have him perform well as the starting QB.
But, for some reason, Garoppolo isn't out of the picture yet, although Schefter offered some reasoning as to why.
"I'm just telling you that Trey Lance was probably further behind than people realize. Trey Lance is greener than people realize. Trey Lance is probably going to need more work than people realize. And they have a roster that can win now."

Schefter on Trey Lance
According to Schefter, he is further behind. That lines up with the way Kyle Shanahan dealt with the QB situation all year long, although Lance played pretty well when he was the starter earlier in the 2021 season.
Schefter's comments are a giant red flag if they are true, and the 49ers' reluctance to deal Garoppolo would mean Lance holding the clipboard for one more year, at least.
That is problematic. Sure, Garoppolo played well enough to get to the NFC title game, but Lance offers far more flexibility as far as playcalling goes, and his arm is a major upgrade over Jimmy G.
Yet, here we are at the end of February, and the 49ers are considering keeping Garoppolo around — at least, according to Schefter.
What is really going on in the Bay Area on the Jimmy G front?
Schefter's comments definitely hold merit, especially since he is one of the best insiders in the NFL business. However, this might be a game of cat and mouse.
The 49ers want to get the most possible via a trade for Garoppolo, and maybe this is a way of ballooning the market for the veteran QB.
Schefter also stated that Garoppolo believes he will get traded.
"Maybe they do trade him … it still is absolutely on the table that he could be moved, and I think he believes he's gonna be moved."

Adam Schefter
So, to sum it all up, a trade is on the table. But, a deal isn't a lock, and Lance might not be ready to take over as the starter. That is quite something coming out of San Francisco, and the following weeks should be interesting regarding the big-name QBs on the trade market.
Aaron Rodgers is set to make his decision soon. Russell Wilson keeps going back and forth with the Seattle Seahawks, and who knows what is going on with Kyler Murray in Arizona. If those three guys stay put, Garoppolo shoots to the top of the list of QBs on the trade market.
Only time will tell what the 49ers decide to do at the QB position, but Schefter's comments definitely make things interesting.
RELATED: Struggling 49ers QB Jimmy Garoppolo Gets Vote of Confidence from Kyle Shanahan and Deebo Samuel After Viral Mina Kimes Take