49ers OC Mike McDaniel Raved About Jimmy Garoppolo's 'Really Cool' 2021 Season: 'He Played Through So Much S*** And All the S*** In His Head'
Article Highlights:
San Francisco 49ers offensive coordinator Mike McDaniel raved about Jimmy Garoppolo following the NFC Championship Game
McDaniel praised the veteran quarterback's effort and attitude throughout a "really cool" 2021 season
Garoppolo played far better in 2021 than his critics and skeptics will likely ever admit
Barring anything unexpected in the coming months, it doesn't appear the final image of Jimmy Garoppolo in a San Francisco 49ers uniform will be him celebrating with the Lombardi Trophy. The same 49ers fans who prepared for a second Super Bowl appearance in three years might still be seeing the veteran quarterback's fourth-quarter, NFC Championship Game-sealing interception in their dreams when the Big Game kicks off on Feb. 13.
As San Francisco prepares to enter the offseason and decide what's next for Garoppolo, 49ers offensive coordinator Mike McDaniel is at least attempting to take the glass-half-full approach.
Mike McDaniel raved about Jimmy Garoppolo after the NFC Championship Game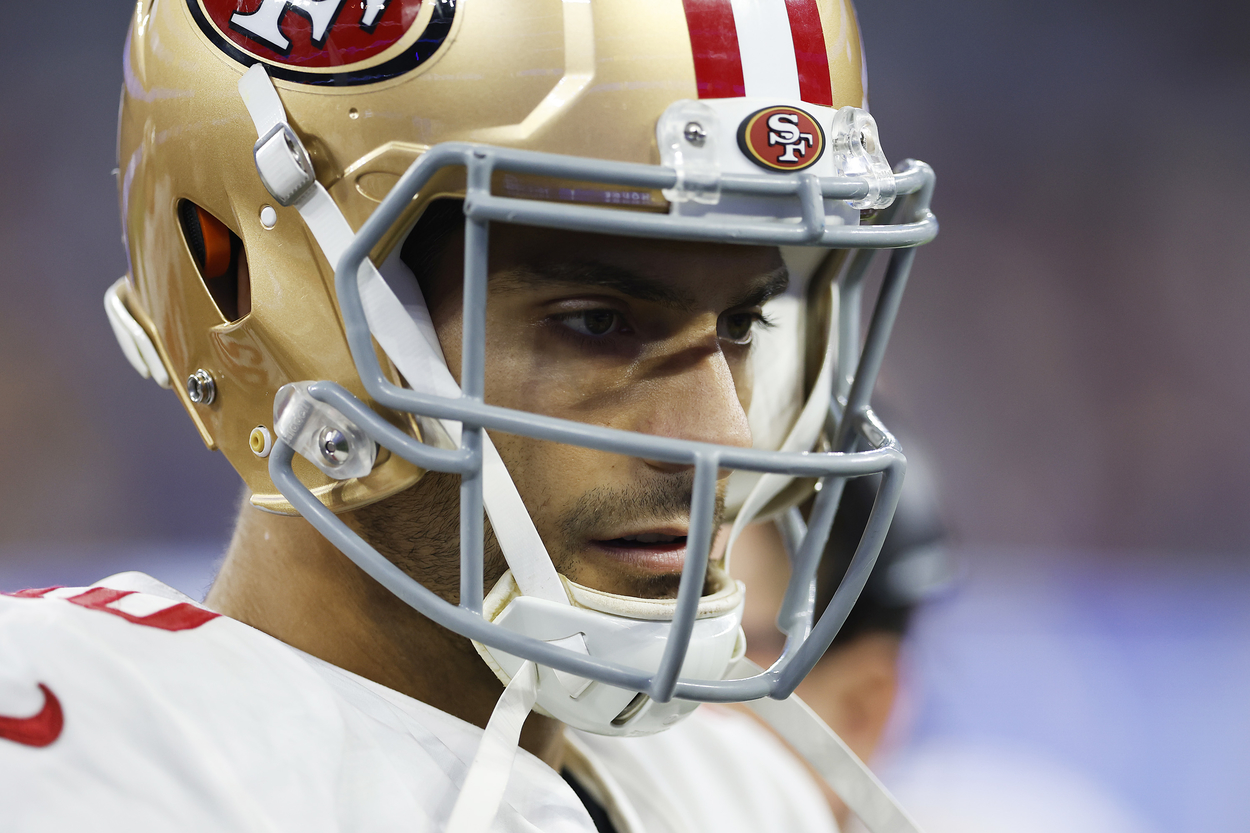 Football fans might never know how McDaniel privately felt in the minutes and hours after the 49ers' NFC Championship Game collapse. Depending on what happens in the coming weeks, McDaniel — who, as of publication, remained a candidate for the Miami Dolphins' head coaching vacancy — may have coached his final game as San Francisco's offensive coordinator.
Publicly, McDaniel sounds like someone who wants the 49ers faithful to appreciate Garoppolo for the good times. The 38-year-old praised his starting quarterback's effort and attitude In an interview with Bally Sports' Mike Silver following the NFC title game. Specifically, McDaniel wanted those at home to understand how much Garoppolo fought through over the last year, especially the 49ers' decision to trade up and select North Dakota State quarterback Trey Lance third overall in the 2021 NFL Draft.
"He played through so much s— and all the s— in his head. Most of the time, when you draft somebody high, people fold. He got better, and that started in the offseason. Everyone noticed. It was really cool."

Mike McDaniel
As of publication, the 49ers had not announced what they plan to do with Garoppolo, who has one year left on his contract. San Francisco cannot officially trade him until the new league year starts on March 16.
For his part, Garoppolo told Silver on Sunday night that he didn't know what his future held.
"I want to enjoy this time with these guys," Garoppolo said. "For as long as I can."
Garoppolo played far better than his critics and skeptics will likely ever admit
The final numbers on Garoppolo's 2021 season are now in, and he played far better than his critics might ever admit. The Eastern Illinois product completed 68.3% of his passes for 3,810 yards, 20 touchdowns, and 12 interception in 15 regular-season starts. He only tallied a 58.1 completion percentage, two yards, and three touchdowns in three playoff games.
No one is going to confuse Garoppolo with Matthew Stafford or Patrick Mahomes, and that's fine. He played well enough to keep his team in the postseason picture after a 3-5 start. When the NFL calendar turned to November, there was no guarantee that head coach Kyle Shanahan and general manager John Lynch would return in 2022.
Garoppolo kept his head down and, by all accounts, took Lance under his wing. The eighth-year quarterback chose to be a model teammate rather than looking down on Lance as a pest who would eventually take his job.
Garoppolo's critics, including ESPN's Mina Kimes, suggested throughout the postseason that he was only there for the ride and the 49ers were winning in spite of him. There is absolutely truth to the fact that San Francisco's defense and special teams are why the 49ers shocked the Green Bay Packers in the NFC Divisional Round. However, would the San Francisco faithful really have cared if the team won the Super Bowl?
From that perspective, McDaniel is right to rave about Garoppolo's 2021 season. The veteran quarterback may not have done enough to impress Kimes, but he certainly did enough to impress his offensive coordinator.
Could Garoppolo and McDaniel team up again if the latter earns a head coaching job?
As of publication, it appears McDaniel will have one of two jobs in 2022. He'll either be the 49ers' offensive coordinator or the Dolphins' eighth full-time head coach (and 11th overall) since 2000.
Suppose McDaniel does move to Miami (or, at least, the south Florida region). In that case, he'll inherit a Dolphins team that is still trying to determine if Tua Tagovailoa is the answer at quarterback. In theory, Miami could acquire Garoppolo and bring him in to create competition or outright replace Tagovailoa as the starting quarterback.
Although Garoppolo is owed over $24 million in base salary next season, the Dolphins are expected to have the most cap space of all NFL teams. However, whether or not the franchise wants to pay $24 million to a player who could spend the bulk of next season on the bench is another conversation.
If the idea of Garoppolo playing for the Dolphins sounds strange, just remember that the 49ers reached the NFC Championship Game and nearly played the Cincinnati Bengals in the Super Bowl. Welcome to an era of weirdness.
Like Sportscasting on Facebook. Follow us on Twitter @sportscasting19.
RELATED: O.J. Simpson Is All Aboard the Joe Burrow Hype Train Ahead of Super Bowl 56: 'There's Nobody Better Than Him'