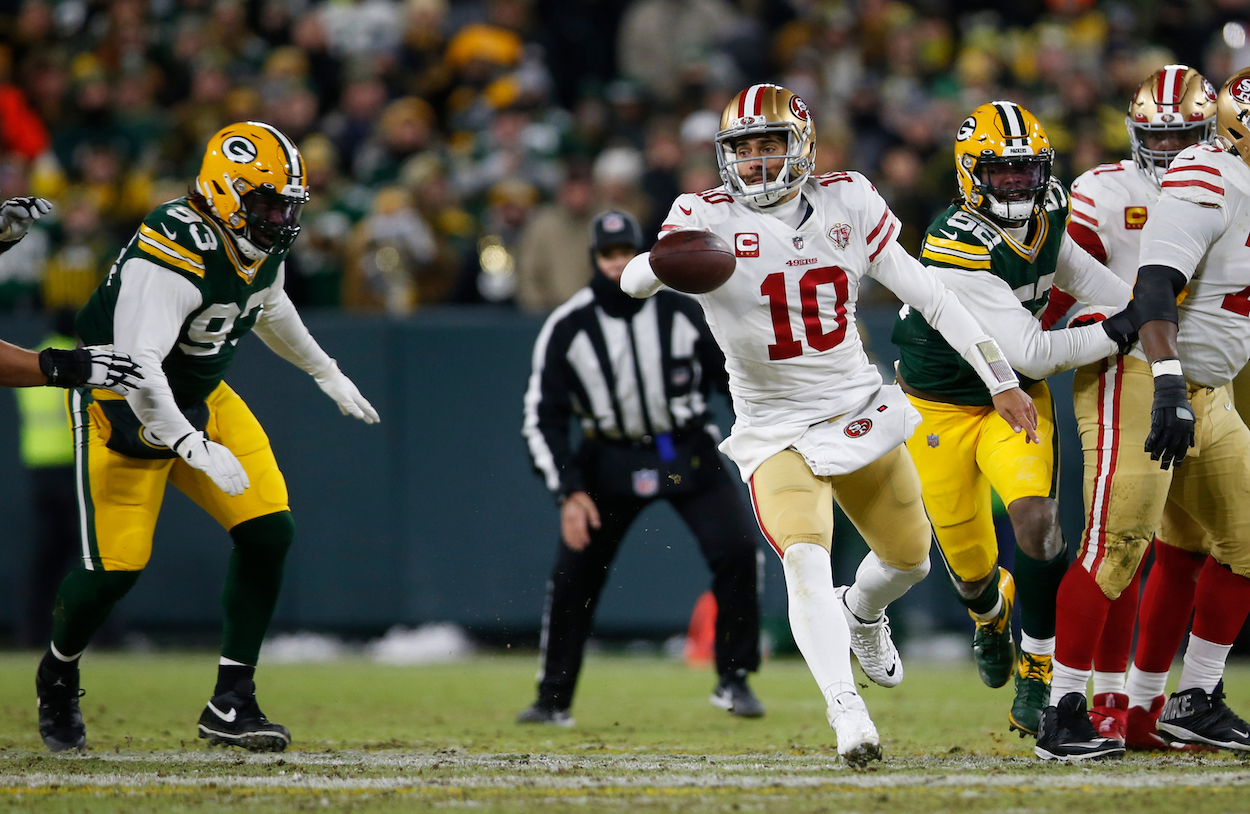 The 49ers Are Planning to Trade Jimmy Garoppolo No Matter What According to NFL Insider Jonathan Jones
Not even a Super Bowl-winning season can save Jimmy Garoppolo from being traded this offseason, according to NFL insider Jonathan Jones.
Exiting the 2021 NFL Draft, everyone knew that a Jimmy Garoppolo trade was in the San Francisco 49ers' future. They had just spent multiple first-round picks on acquiring rookie quarterback Trey Lance, blatantly signaling their desire to make a change at the position moving forward.
However, much to the surprise of the 49ers, Garoppolo guided the team to an impressive 10-win season. Then he won a road playoff game against the Dallas Cowboys. Then he won another road playoff game against the Green Bay Packers.
Despite San Francisco's desire to move off the veteran QB, Garoppolo has it one game away from its second Super Bowl appearance in three years.
Jimmy Garoppolo is making a case for the 49ers to keep him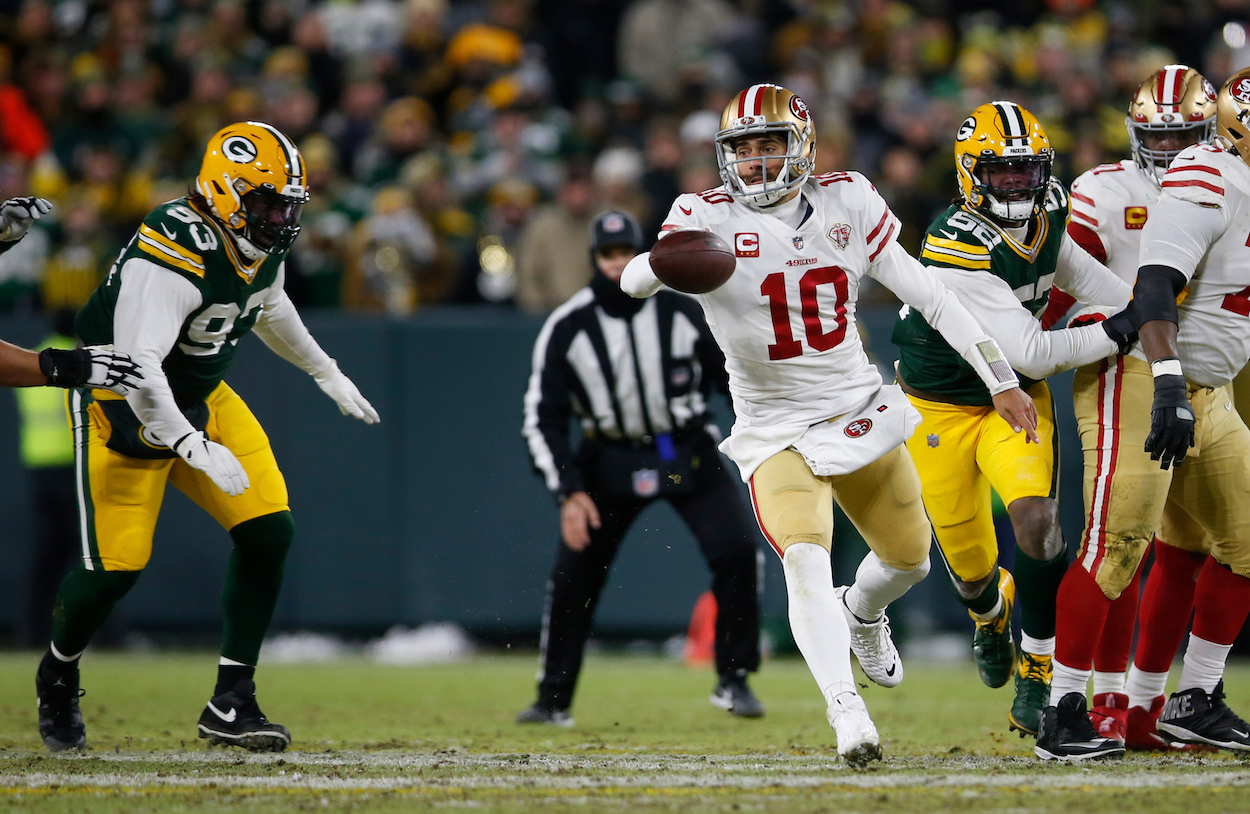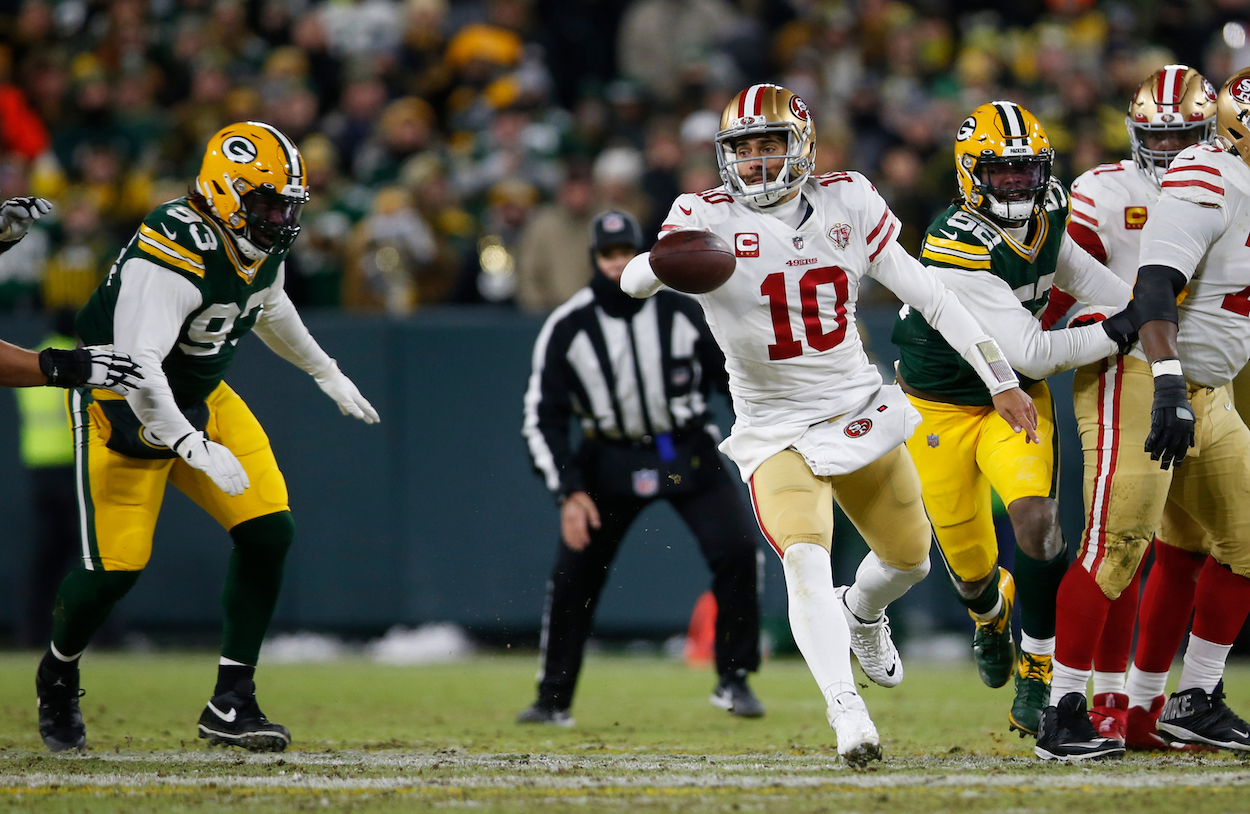 Garoppolo doesn't have the accuracy of a Tom Brady, and he certainly doesn't have the arm strength of a Patrick Mahomes or a Josh Allen. However, for whatever reason, the guy finds ways to win games.
Since taking over as the Niners' starting QB in 2017, Garoppolo has gone 31-14 in the regular season and 4-1 in the playoffs. You'll be hard-pressed to find many quarterbacks with better records during this timeframe.
Despite all of the complaints surrounding Jimmy G's lack of arm strength or lack of elite-tier athleticism, he's consistently found ways to lead San Francisco to wins when healthy. Even if he isn't able to outduel Matthew Stafford and the Los Angeles Rams this weekend, making it to the NFC Conference Championship is still an impressive achievement.
If Garoppolo beats the Rams and advances to the Super Bowl, the calls for him to return in 2022 will grow loud. If he somehow leads the 49ers to a full-on Lombardi Trophy, the calls will become deafeningly loud.
NFL insider Jonathan Jones believes the 49ers are trading Jimmy Garoppolo no matter what
It's hard to fathom the 49ers voluntarily trading Jimmy G if he wins them a championship. However, according to NFL insider Jonathan Jones, this is precisely what they're planning on doing.
Imagine this: The San Francisco 49ers win Sunday and go on to win Super Bowl LVI on Feb. 13. A little more than four weeks later, just as the champagne hangover may finally be wearing off, Jimmy Garoppolo is officially traded to another team.

We've never seen it before. Trent Dilfer is the only Super Bowl-winning QB to be with another team the following year, and that was after the Ravens decided against re-signing him. This would be the Niners actively trading their Super Bowl-winning quarterback to another team and moving forward with 2021 No. 3 overall pick Trey Lance.

Yes, even if the 49ers win out this postseason, I still believe Garoppolo will be traded. In fact, winning out would make the likelihood of a trade even higher, as if it could go any higher than it already is.

Garoppolo, head coach Kyle Shanahan and just about everyone in that building knows that short of something wildly unforeseen, Garoppolo won't be in San Francisco after this postseason.

Jonathan Jones via CBS Sports
According to Jones, the 49ers (and Garoppolo) know a trade is still imminent.
What needs to happen for the 49ers to rethink their strategy?
The 49ers seem sold on their current plan of attack. After all, they spent the No. 3 overall pick on Lance. They need to get him on the field.
However, what if Garoppolo goes and wins the Super Bowl in convincing fashion? What if he wins Super Bowl MVP? What if he outduels Patrick Mahomes or Joe Burrow on the biggest stage possible?
One can reasonably assume the 49ers may begin second-guessing themselves if something of this magnitude occurs.
First things first, Jimmy G and the 49ers need to get through LA this weekend.
All stats courtesy of Pro Football Reference.