49ers Pro Bowler George Kittle Calls Out the NFL's Annoying Vendetta Against Taunting: 'It's Brutal and Kind of Soul-Crushing'
NFL players put countless hours into their craft. They should be able to reap the rewards of their labor, right? Well, the NFL doesn't seem to think so. It's open season for referees to throw their yellow flags for players showing emotion on the football field. San Francisco 49ers Pro Bowl tight end George Kittle recently sounded off on the league's new emphasis on taunting.
The NFL's taunting penalties have gotten out of hand
The NFL looked at Tampa Bay Buccaneers safety Antoine Winfield Jr. mock Kansas City Chiefs wideout Tyreek Hill in Super Bowl LV. Now, they've launched a crusade around the league.
According to NFL Network's Tom Pelissero, the league instructed officials to be more vigilant when enforcing unsportsmanlike conduct penalties for taunting.
Since the preseason, there have been numerous instances where referees threw flags for non-egregious offenses. Officiating crews across the NFL have called a total of 27 taunting penalties, and some of them have been inexplicably horrible.
Las Vegas Raiders tight end Darren Waller received an unsportsmanlike conduct penalty for spiking the football after being pushed out of bounds by two Los Angeles Chargers defenders. Players have been spiking footballs for decades, and it's never been a problem before.
The most recent controversial call came late in the Monday Night Football matchup between the Chicago Bears and the Pittsburgh Steelers. Bears defensive end Cassius Marsh took a few steps toward the Pittsburgh sidelines and simply stared. Referee Tony Corrente flagged him for taunting, which potentially altered the outcome of the game.
These officials seem to be taking things a little too far.
49ers tight end George Kittle is not a fan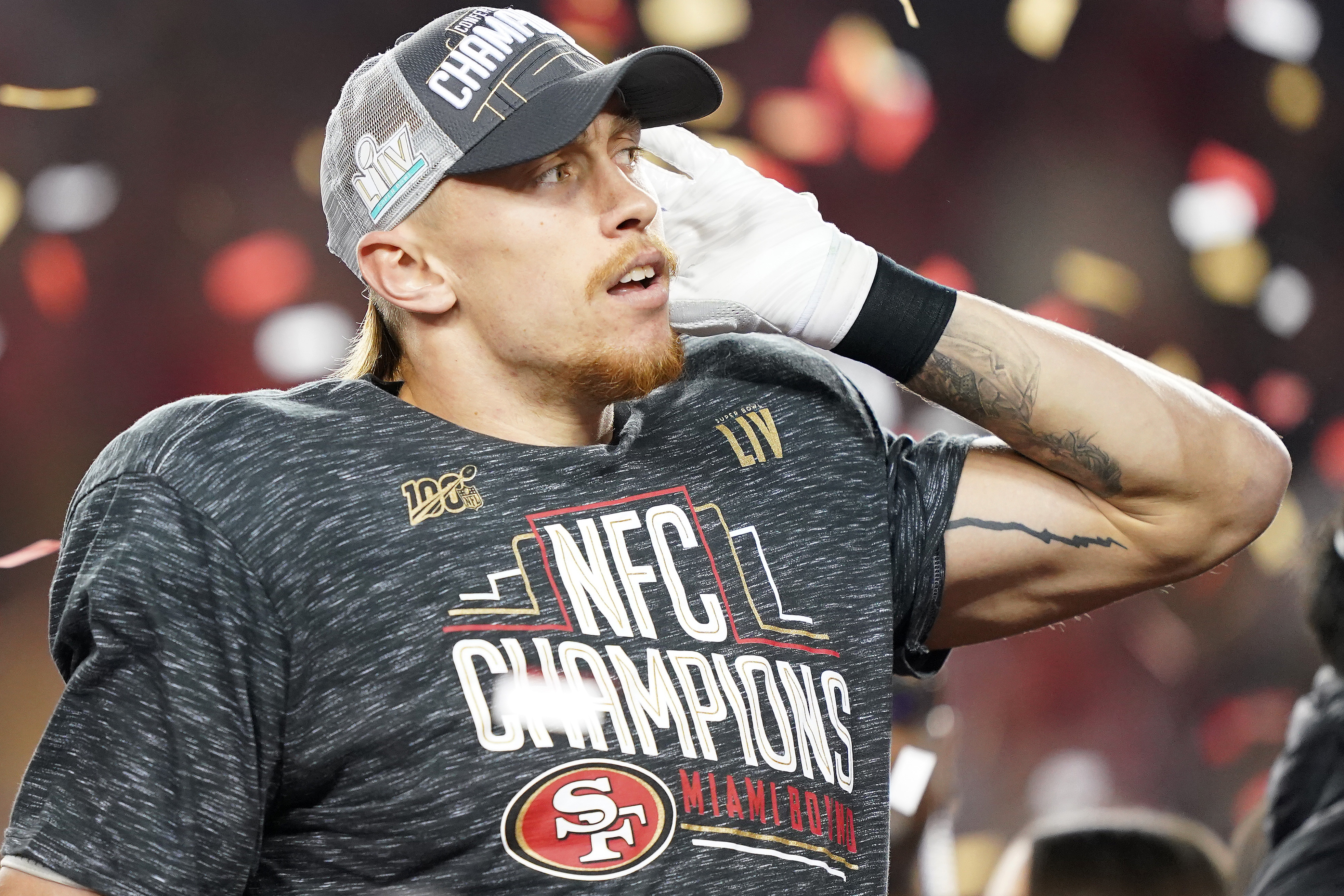 Tight end George Kittle is the emotional leader for the San Francisco 49ers. His unmatched energy gives a significant boost to his teammates.
Like many other players, Kittle is not a fan of the NFL's crackdown on taunting. He recently joined The Rich Eisen Show to express his sentiments.
"Oh, Rich," he said of the Cassius Marsh penalty. "Football is a very emotional sport. I think you try all day, all year round, to train as much as you possibly can. So you're going to be very emotional. I think it's hard not to let that emotion take over when you make a big-time play."
Kittle has noticed that increase in unsportsmanlike conduct penalties in 2021 and feels it's not necessarily fair to the players who have worked so hard to get where they are.
"At this point, I wouldn't be surprised if I got flagged for my first down celebration," he said. "It's tough that guys get flagged for that. The amount of time you put into this game, the grind, early mornings, late nights… Every once in a while you want to let that energy out. To be flagged for that in a pivotal time, I think it's brutal and kind of soul-crushing."
The NFL needs to make changes to its rule
George Kittle is a player who wears his heart on his sleeve, but he plays the game the right way. The same goes for a lot of players in the NFL.
There's nothing inherently wrong with the premise of the rule. Sure, kids worldwide watch the NFL and look up to the players as role models.
However, when referees impact outcomes of games for minuscule infractions, it takes away from the sport. Trash-talk and competitive spirit are part of football and sports in general.
There should be flags thrown for egregious offenses, especially when it leads to altercations. But that's not what's happening. Officials are getting trigger-happy and letting flags fly for guys showing emotion.
The refs are just doing their job, though. So, the NFL needs to clarify the rule.
The NFL is turning into the No Fun League. More and more players are speaking out, and it's not a good look. League officials may need to revamp the rule to eliminate some of these annoying and embarrassing moments for good.
Like Sportscasting on Facebook. Follow us on Twitter @sportscasting19.