49ers Pro Bowler Trent Williams Opens up on Trey Lance's Quiet Rookie Season: 'He Was Just Old Enough to Buy His First Beer or Pack of Cigarettes'
The San Francisco 49ers could be making a quarterback change in 2022. It appears that Jimmy Garoppolo might have played his final snap in the Bay Area, which opens the door for Trey Lance to take over the reins. Even though the sample size for the rookie quarterback was small in 2021, Pro Bowl offensive tackle Trent Williams believes that was the plan all along.
The Niners' veteran leader suggests Lance's first NFL season served as a learning experience for the potential franchise quarterback.
Trent Williams backs how 49ers handled Trey Lance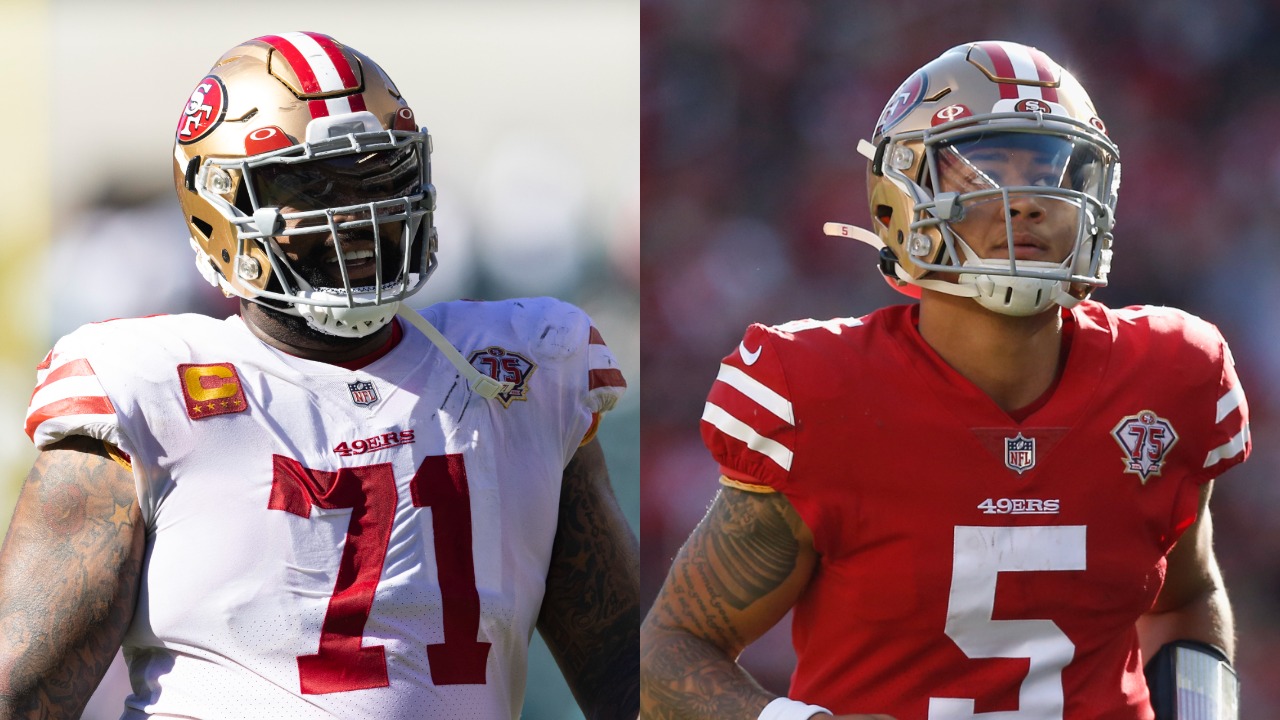 According to ESPN's Nick Wagoner, Jimmy Garoppolo is unlikely to return to the 49ers in 2022. General manager John Lynch and the front office will most likely be looking for a trade partner. As Jimmy G's time nears an end, the Trey Lance era seemingly begins.
Niners fans didn't get to see much of Lance during his rookie season. The North Dakota State product got some good reps in the preseason. However, Garoppolo earned the starting job while Lance made just two starts in the regular season.
Kyle Shanahan's plan for the 21-year-old quarterback wasn't always clear. Pro Bowl left tackle Trent Williams thinks the team's plan for Lance made perfect sense, though.
"I think this year, it played out how everyone in the organization thought it would," Williams said per the San Francisco Chronicle's Eric Branch. "They wanted to give [Lance] a year to kind of continue to develop, being a 21-year-old."
The All-Pro suggests the 49ers didn't want to rush it with Trey Lance, given his age.
"He was just old enough to buy his first beer or pack of cigarettes like a few months ago," Williams added. "We can't just put the weight of the world on his shoulders, even though he is a young man who can handle it. I think it went exactly how we wanted it to go."
What's the plan for the rookie QB in 2022?
The San Francisco 49ers' offseason officially began following their loss to the Los Angeles Rams in the NFC Championship Game. All eyes will be on the quarterback position during that time. It seems inevitable that the team will trade Jimmy Garoppolo and move forward with Trey Lance as the starter.
Given how little Lance played in the 2021 season, fans might be skeptical about heading into 2022 with the inexperienced signal-caller. However, head coach Kyle Shanahan seems to have a plan for his young quarterback.
"Trey's going to take a couple of weeks off," Shanahan said per 49ers Webzone's David Bonilla. "Then go down to Southern California, work with some guys throwing the ball, isolate on that, just his throwing motion, working on that all the time. I would say 80 percent of the quarterbacks in this league do that."
Shanahan added that Lance has been working hard all season, even dating back to the NFL Scouting Combine, and this could be a much-needed break from the hustle and bustle.
"It'll be real good for Trey to kind of get away from us and just focus on those things," he added. "We'll be in touch through the whole thing, and we'll get him back here and start talking X's and O's, and scheme, and footwork, and things like that. Just preparing for, hopefully, to have a good phase one, two, and three of OTAs."
If Trey Lance is the Niners' starting quarterback in 2022, he should have every opportunity to succeed in his new role.
Why Lance should thrive in Kyle Shanahan's system
Trey Lance garnered a lot of attention coming out of North Dakota State. He didn't play for a Power Five school, but he came from FCS powerhouse North Dakota State, which also produced Carson Wentz.
The 2021 No. 3 overall draft pick appeared prime to compete with Jimmy Garoppolo for the starting quarterback job. Instead, Kyle Shanahan opted for Jimmy G. Considering the 49ers' late-season success, he made the right decision. Still, Lance's upside is through the roof, and San Francisco cannot afford to wait much longer to get him on the field.
As Trent Williams suggested, the year behind Jimmy G probably served the first-year quarterback well. He got the opportunity to learn behind a veteran. Being part of the playoff run added another layer to his development.
Now, Lance will work on improving his skills with a clear head. The Niners are hoping he'll come back as a much better player and a guy who's ready to lead the team.
The Marshall, Minnesota native's skill set should work seamlessly with Shanahan's offense. Lance has a cannon for an arm, but he's also mobile, which serves him well when plays break down. San Francisco loves to run the football, and his insertion into the lineup adds a dimension that Jimmy G couldn't bring.
With playmakers like Deebo Samuel, George Kittle, Elijah Mitchell, and Brandon Aiyuk around him, Trey Lance should have the necessary tools to thrive in year two.
All stats courtesy of Pro Football Reference
RELATED: Emotional Jimmy Garoppolo Bids 49ers Adieu Pending Inevitable Trade