NFL: Are the 49ers Real NFC and Super Bowl Contenders in 2019?
One of the biggest surprises of the 2019 NFL season is the San Francisco 49ers. Head coach Kyle Shanahan has the team playing extremely well, leading a very competitive NFC West division.
But the real question is: are the 49ers real NFC contenders in 2019? And do they have it in them to make a run to the Super Bowl?
A recap of the 49ers' 2019 so far
Heading into 2019, it was a make-or-break year for the 49ers. Coming off a rough year in 2018 where they went 4-12, it was time for Shanahan to finally put up a winning season in San Francisco. With newly acquired quarterback Jimmy Garoppolo healthy after an injury-shortened season last year, there were no more excuses.

The Niners haven't just rebounded, they've actually already outperformed last season's win total as they started the season 6-0. Here's who they've defeated so far:
Tampa Bay Buccaneers, 31-17
Pittsburgh Steelers, 24-20
Cleveland Browns, 31-3
Los Angeles Rams, 20-7
Washington Redskins, 9-0
Several of those wins appear less than impressive. Tampa Bay, Cincinnati, Pittsburgh, and Washington have struggled this year, while Cleveland has been inconsistent. But the victory over Los Angeles was a dominating one over a division rival and last year's NFC champion. They've also won in convincing fashion most weeks.

To get a real look at how the 49ers have fared so far, it helps to look at the numbers.
The 49ers offense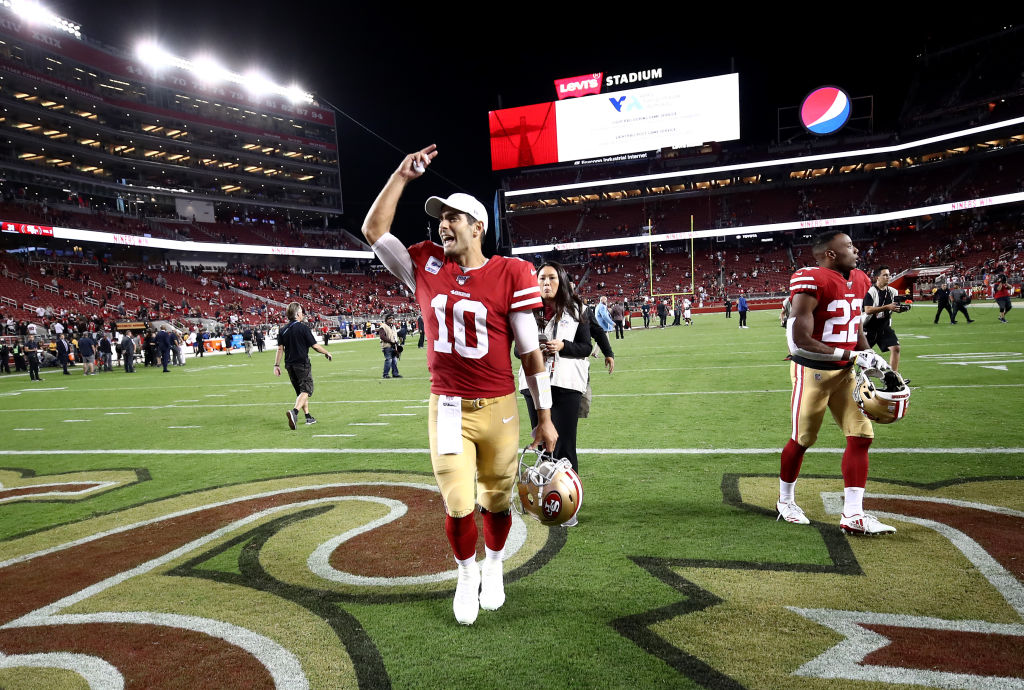 The 49ers offense has been both effective and efficient so far – no surprise under Shanahan, known for his ability to get creative with his offensive game planning. Here's where the team ranks offensively so far in the 2019 season:
Third in points with 147
Second in yards with 2,040
Eighth in first downs with 114
21st in passing yards with 1,141
17th in passing touchdowns with seven
Second in rushing yards with 899
Second in rushing touchdowns with eight
What's a bit surprising is that the Niners' running game has been more effective than their passing attack. That is mainly due to leading rushers Matt Breida and Raheem Mostert, who have 376 and 249 yards, respectively. At quarterback, Garoppolo has shown himself to be capable, if not outstanding. He has a completion percentage just a shade below 70% and seven touchdowns to five interceptions. Tight end George Kittle has been their most reliable receiver with 31 catches for 338 yards.
The offense playing well comes as no great shock. What is a little more surprising, however, is how good the defense has been.

The defense is impressive
In 2019, the 49ers have been nothing short of phenomenal on defense. They're near the top of the league in many statistical categories under defensive coordinator Robert Saleh. Here are their numbers and rankings thus far:
Second in points allowed with 64
Second in yards allowed with 1,187
Second in first downs allowed with 65
First in passing yards allowed with 751
Sixth in passing touchdowns allowed with five
Sixth in rushing yards allowed with 436
Second in rushing touchdowns allowed with one
Where the offense has been reliable, the defense has been spectacular. They have yet to surrender more than 20 points in a single game.
A look at the rest of the 2019 schedule
The remainder of the 49ers schedules looks like this:
Carolina Panthers
Arizona Cardinals (twice)
Seattle Seahawks (twice)
Green Bay Packers
Baltimore Ravens
New Orleans Saints
Atlanta Falcons
Los Angeles Rams
There are plenty of tests in there, and the 49ers certainly won't be challenging the '72 Dolphins undefeated record. But the next few weeks feature some relatively easy competition. The Redskins, Panthers, and Cardinals have struggled. That's possibly nine wins barring an upset (certainly possible in today's NFL). The rest of the schedule, while challenging, is sure to have a few victories in store.

The 49ers have shifted their expectations based on the first quarter of the season. They initially wanted to be competitive. Now they're looking ahead at getting home-field advantage in the NFC playoffs. If the Niners can continue their offensive steadiness and defensive dominance, the Super Bowl may be exactly where they're headed.