49ers Reveal Concerning Trey Lance Blueprint as Jimmy Garoppolo Continues to Push San Francisco Into a Playoff Berth
When will Trey Lance finally become the San Francisco 49ers starting quarterback?
This question has been popular since the 49ers drafted him third overall in the 2021 NFL Draft. Jimmy Garoppolo and Lance battled it out in training camp before the incumbent was named the starter.
Then, Garoppolo went down with a calf injury and Lance was thrown into the starting lineup only to go down with a knee injury. Since then, Garoppolo has remained the starter and fans are left wondering if Lance will ever see the field again in the 2021 season.
Well, it looks like the 49ers do have a plan, although it isn't exactly encouraging for Lance.
The 49ers revealed the Trey Lance blueprint but are waiting to roll it out
Everybody has been wondering when — or if — Lance will be back on the field this season. Over the past weekend, Ian Rapoport of NFL Network answered those questions and revealed the 49ers' future plans for the two quarterbacks.
"Absent a Super Bowl run, which at this point is still theoretically possible, this is the 49ers' plan next season: start Trey Lance, trade Jimmy Garoppolo. Not a surprise there, they've been pretty up front about that. What Garoppolo is doing now is increasing the value of picks the 49ers get in a trade involving him, and they make it more likely that a place he wants to go would want to take him."

Ian Rapoport on 49ers plans with Lance and Garoppolo
So, there it is, the answer everybody has been waiting for.
With the 49ers still alive in the playoff picture, it looks like Garoppolo will remain the starter. San Francisco has rattled off three straight wins to sneak into the Wild Card race, and Garoppolo hasn't played poorly, either.
The veteran has 2342 yards with 13 touchdowns and six interceptions on the year. It isn't great, but it has been good enough to lead the 49ers to victory over the past few weeks.
Lance has played in just five games and hasn't been out there since October 10, which has been somewhat surprising considering his ability to run the football. Nonetheless, for now it is Jimmy Time in San Francisco.
The 49ers plan is somewhat concerning, especially if they continue to win football games with Jimmy Garoppolo
On the surface, the 49ers are doing whatever it takes to raise Garoppolo's trade value heading into the offseason. The quarterback market will be fluid with stars such as Aaron Rodgers, Russell Wilson, and possibly Deshaun Watson being available.
Garoppolo would undoubtedly be much cheaper than those, and he can still provide capable quarterback play. But, there is a concern for the 49ers here.
What if Garoppolo leads them to a deep playoff run? As Rapoport mentioned, barring a Super Bowl run, the plan is to trade Garoppolo.
Yes, a run to the Super Bowl is highly unlikely, but crazier things have happened in the NFL — especially this season. You never know, although the injury to Deebo Samuel makes things more difficult.
Now, flip the script. What if nobody wants to pay up to acquire Garoppolo this offseason? That is an entirely different scenario and a genuine possibility.
There are just so many factors to this, and as long as the 49ers keep winning with Garoppolo under center, the more uncertain things get for the future of Lance.
Kyle Shanahan moving away from Trey Lance altogether is another problem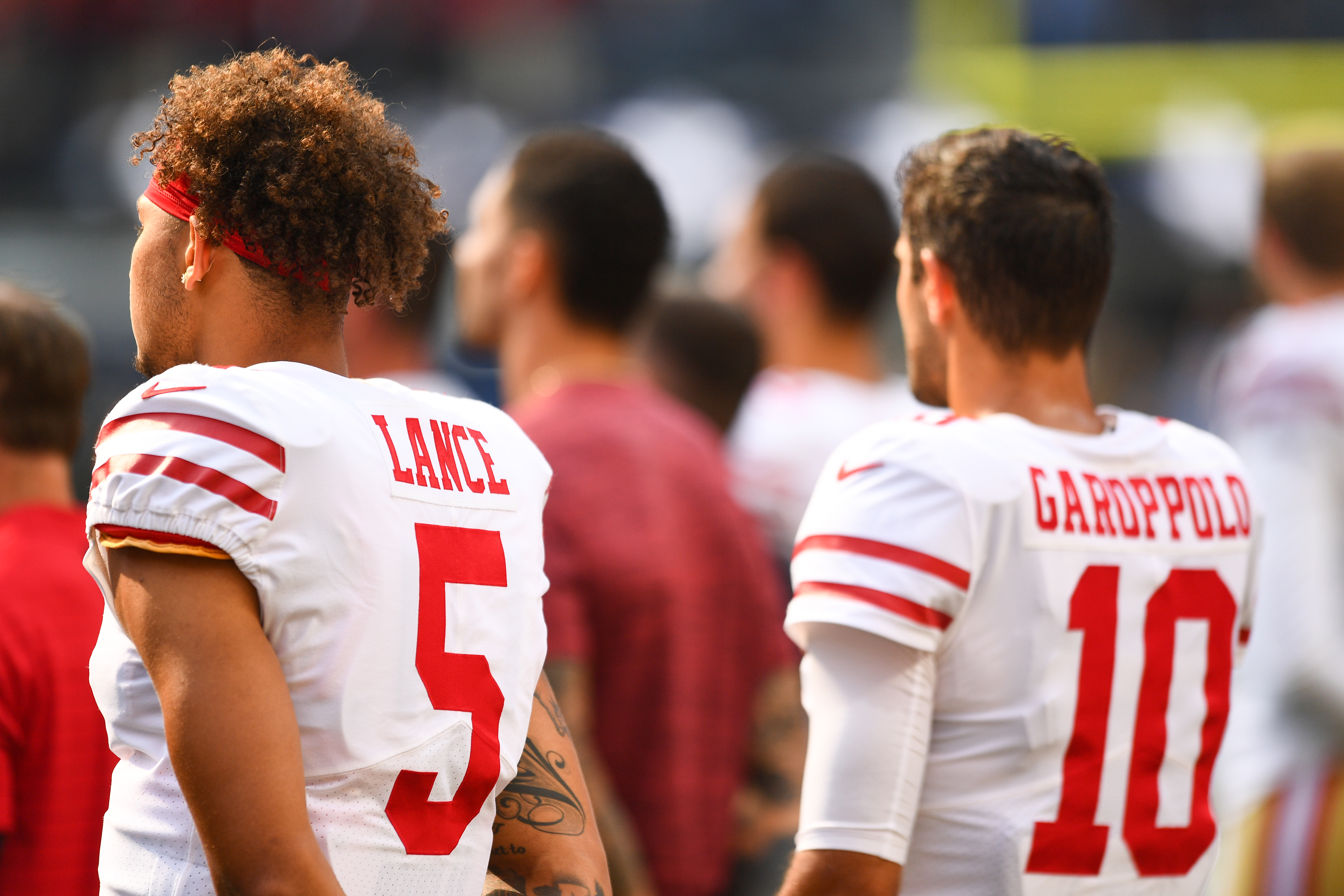 As long as the 49ers are winning football games, it makes sense to leave Garoppolo in. On the other hand, going away from Lance entirely is a concern in itself.
Ahead of the 49ers matchup with the Seattle Seahawks, Shanahan explained why he has drifted away from the Lance packages (h/t Jennifer Lee Chan of NBC Sports).
"It's more about me to tell you the truth. In terms of calling plays, We get into a rhythm of attacking a defense and what fronts they are playing and what coverages. Every play kind of plays off the next play and you get a feel, our players do and I, of what we are going to."

Kyle Shanahan on straying away from Trey Lance packages
Well, that's an interesting tidbit from Shanahan, who has been full of them when discussing Lance.
So, it isn't Lance's fault, but it is the head coach's fault? That doesn't sound good on Shanahan's end as far as making adjustments.
Ultimately, that isn't promising for Lance at all for the remainder of 2021, or as long as the 49ers keep stacking up victories.
It is looking like a frustrating season for Lance fans, but a 49ers playoff bid would ease the pain a little bit.
The ongoing Garoppolo-Lance situation will be one to monitor for as long as Jimmy remains on the roster.
Stats Courtesy of Pro Football Reference