49ers Star Arik Armstead Raves About Jimmy Garoppolo for 'Saving' the Franchise
The San Francisco 49ers could be looking at a quarterback change in 2022. Jimmy Garoppolo's future with the organization is up in the air, and Trey Lance is waiting in the wings. Even if Garoppolo has played his last down in a Niners uniform, you can't discredit his leadership over the years.
Defensive end Arik Armstead thinks highly of Jimmy G and believes San Francisco would not have enjoyed as much success without the veteran signal-caller. In a recent interview, Armstead opened up on what Garoppolo has meant to the franchise since he stepped foot in the building.
Arik Armstead credits Jimmy Garoppolo for saving the 49ers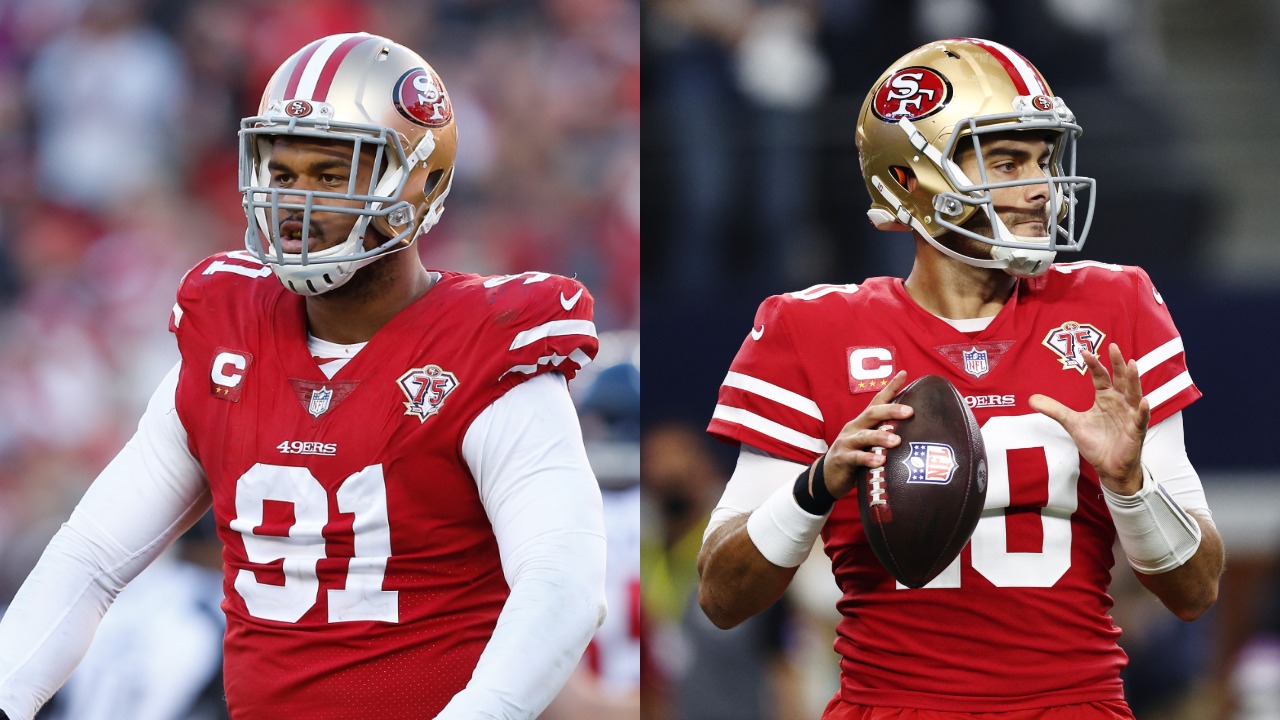 It was unclear what to expect from Jimmy Garoppolo when the San Francisco 49ers acquired him from the New England Patriots in 2017. While he didn't quite solidify himself as the franchise quarterback, the Eastern Illinois product certainly won over his teammates.
Arik Armstead believes Garoppolo has received more criticism than praise during his tenure, and he can't wrap his head around why. The seventh-year defensive end recently spoke with NBC Sports Bay Area and gave Jimmy G his flowers.
"Man, I think people got short-term memory loss or something," said Armstead. "Because, before Jimmy came… he saved us. I won two games, four games, and when Jimmy came, he really turned it around, brought us to the point where we're at now. I have nothing but love and respect for Jimmy, being able to see what goes into it, what he goes through day in and day out. I wish nothing but the best for him, and that's my guy."
Armstead was heading into his third NFL season when Garoppolo arrived. For all the knocks on Jimmy G's game, he thrived in Kyle Shanahan's offensive system. He's thrown for 11,162 yards, 66 touchdowns, and 38 interceptions in 46 games. He also posted a 31-14 record as a starter.
Despite his success, Jimmy Garoppolo has clear limitations, which is why the 49ers haven't committed to him long-term.
The veteran QB appears unlikely to return to San Francisco
Jimmy Garoppolo is heading into his ninth season in the league, but it's uncertain which team he'll play in 2022.
Kyle Shanahan dominated headlines heading into the 2021 season because he was vague about the quarterback competition. He ultimately settled on Garoppolo, as it was clear that Trey Lance still had some learning to do. Still, it's difficult to imagine the veteran starting when the new season kicks off.
The 30-year-old signal-caller enjoyed a solid 2021 campaign. He threw for 3,810 yards, 20 touchdowns, and 12 interceptions while completing 68.3% of his passes. Pro Football Focus gave him a grade of 75.2 on the season.
Despite helping the Niners to the playoffs, it always seemed inevitable that the franchise would turn to Lance in the near future. As a result, general manager John Lynch could be actively looking for a trade partner to ship Garoppolo elsewhere.
Aaron Rodgers, Russell Wilson, and Carson Wentz are officially off the market. However, multiple teams could still be looking to upgrade the quarterback position. The Indianapolis Colts, Pittsburgh Steelers, and Tampa Bay Buccaneers should be in the market.
As Arik Armstead suggested, Jimmy G could be an asset to either of those squads in their current state.
Should the Niners feel comfortable handing Trey Lance the keys?
When the San Francisco 49ers selected Trey Lance with the No. 3 overall pick in the 2021 NFL Draft, many people believed that was the end for Jimmy Garoppolo. However, the veteran outlasted the North Dakota State product. Ultimately, things likely played out how the front office planned.
Lance appeared in six games but started just two of them. He completed 41 of 71 pass attempts for 603 yards, five touchdowns, and seven interceptions. The rookie added 168 rushing yards and one score. While those aren't numbers to write home about, he didn't have enough reps to get into a rhythm as the starter. Not to mention, the rest of the first-year quarterbacks experienced growing pains.
If the 49ers move on from Jimmy G, it will officially be Lance's time as the guy. Is he ready? Well, that's unclear, but it won't take long to find out.
The 21-year-old seems to have the support of his teammates, including Arik Armstead.
"Trey's a young guy who's very talented and has a great demeanor," Armstead said. "He came in and didn't say too much, just willing to learn and try to figure out how to play the position, and I'm excited to see it."
The Niners drafted Trey Lance for a reason. Considering the capital used to land him, expect to see a lot more of him in year two.
All stats courtesy of Pro Football Reference
RELATED: George Kittle Won't Rule out Tom Brady Joining the 49ers