49ers Surprising Turnaround Dealt Major Blow With Key Injury to Kyle Shanahan's New Favorite Weapon
Can you believe that the San Francisco 49ers are right in the think of the NFC playoff picture?
Well, here we are. After a poor 2-4 start to the year, the 49ers have turned it around and won four of the past five games — including three straight. Kyle Shanahan's team is clinging on to an NFC Wild Card spot and is trending in the right direction after defeating the Minnesota Vikings.
But, the 49ers have been dealt yet another massive injury blow that could put an end to the winning streak.
The 49ers have gone from pretender to playoff contender in just a matter of weeks
The Vikings lost a close game against the 49ers, 34-26, in a game where head coach Mike Zimmer expressed his frustrations with some calls.
Jimmy Garoppolo continues to do just enough, throwing for 230 yards and a score while rookie standout Elijah Mitchell rushed for 133 yards and a score on 27 carries.
Kittle is back, and Brandon Aiyuk has shaken off his early-season struggles to emerge as the top wide receiver option for the 49ers. Things are going well in Santa Clara, and the Trey Lance debate can be put to rest as long as this group continues to rattle off wins.
But, the 49ers will be without gadget player Deebo Samuel for some time after he injured his groin.
Deebo Samuel diagnosed with groin injury after emerging as Kyle Shanahan's favorite weapon
On the surface, Samuel's injury doesn't look to be a major blow. However, even being without him for one week is a huge loss.
The NFC playoff picture is crowded with five teams all separated by one game. If Samuel misses two weeks, it could cost the 49ers a spot when things are said and done.
Moreover, Samuel has been a massive spark plug to this offense time and time again. He is doing it on both ends, rushing and receiving.
The former South Carolina star has four games with 100+ yards receiving. Of course, the running game guru in Shanahan has gotten the most out of Samuel on the ground as well. In the past four games, he has scored five rushing touchdowns.
Even though Samuel's targets have decreased, he has become a massive factor on the ground and is giving opposing defenses headaches.
Kyle Shanahan will have to dig deep to overcome the absence of Deebo Samuel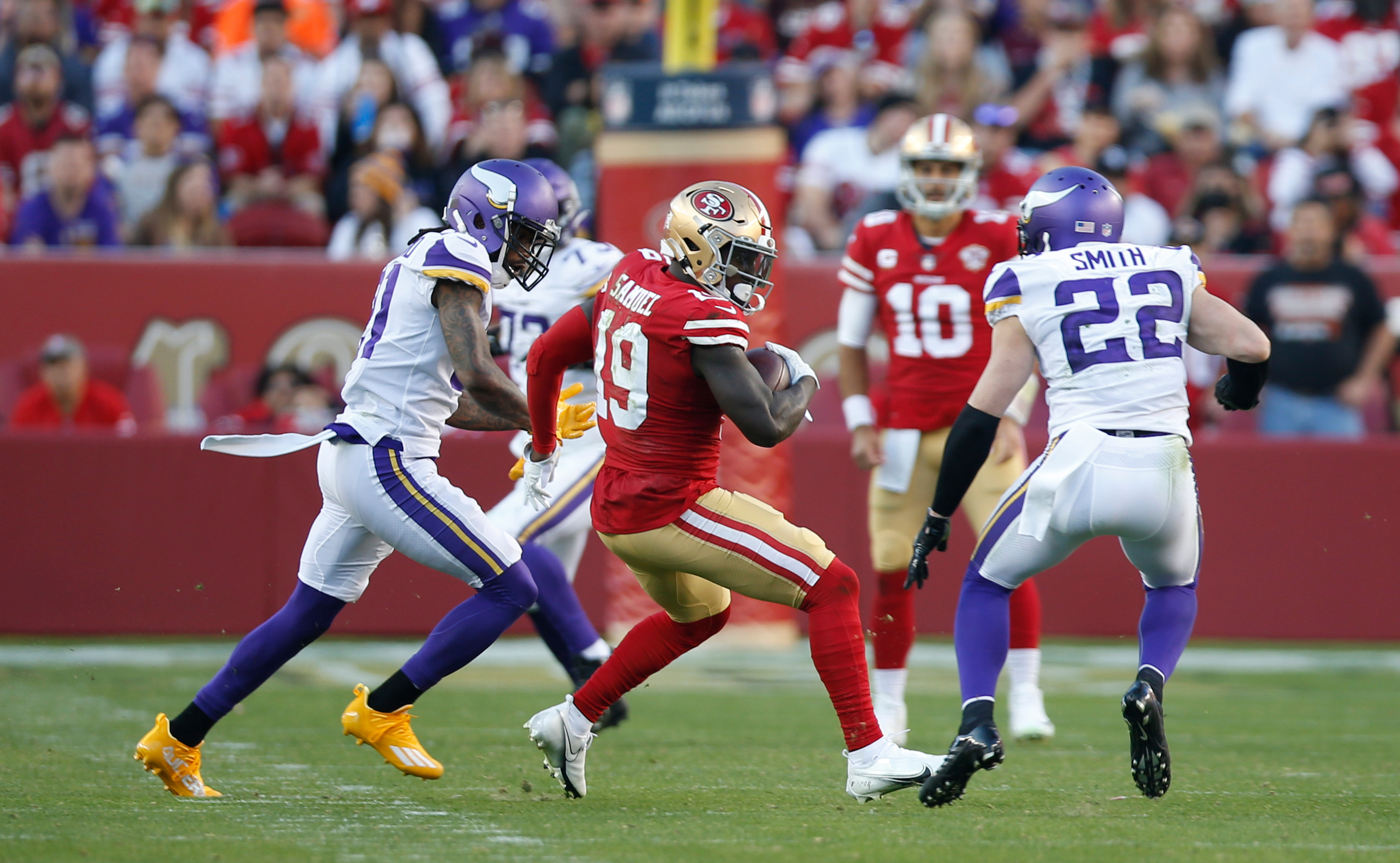 Again, it is only 1-2 weeks — for now. There is a chance he misses more time depending on how everything progresses. However, the good news is that the 49ers should expect their star back soon.
The question is, where does Shanahan go from here? Samuel had quickly emerged as the 49ers' secret weapon this season after a down year in 2020.
Will he lean more on Garoppolo or perhaps shift Aiyuk to a Samuel-like role?
The 49ers face the struggling Seattle Seahawks and then the Cincinnati Bengals before Samuel is expected to return. Either way, this is a costly blow to a white-hot team.
Stats Courtesy of Pro Football Reference