The 5 Greatest NBA Players of All Time By Position
The greatest teams in NBA history are the ones that, while made up of individuals, are able to come together to form the perfect cohesive unit. Fans often envision these clubs operating as a five-man jazz ensemble; each member spacing the floor to improvise, deliver pinpoint passes, and score. On the other end of the court, this group coordinates traps, rotates to the ball on dribble drives, and recovers back in to help on defense for timely rebounding off the glass.
When these teams take the floor, it truly is poetry in motion. And yet, as great as some of these teams are when they come together as a group, that doesn't mean we aren't going to give credit to certain players who possess incredible individual talent. These players are the ones who do more than just pass the "eye test." Most of the time, the word "dominant" doesn't do them justice. Simply put, they are "transcendent."
By all accounts, it can be difficult to adequately describe individual greatness with mere words. After all, the aura of excellence is best observed through eyewitness accounts. Therefore, basketball fans tend to simplify the meaning of greatness to a collection of first names: Wilt, Larry, Magic, and Michael. While the following list of great players for each position involves some opinion, the way we see it, this composition cannot be defeated.
Center: Wilt Chamberlain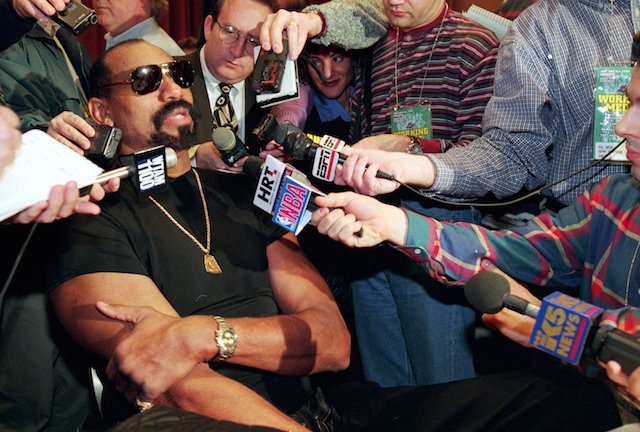 Wilt Chamberlain's video-game-like dominance over the NBA was completely comical. In 1973, the Big Dipper completed his 14-year career with an unreal 30-point/22-rebound/4-assist per game average. As an offensive force, 7-foot-1 Chamberlain led the league in scoring during his first seven NBA seasons.
Chamberlain's multiple scoring crowns included his signature 100-point game, during which he abused the 1961-62 New York Knicks in every way possible in Hershey, Penn. That year, Chamberlain averaged 50 points and 25 rebounds per game for the regular season.
Stung by early criticism of operating as a selfish black hole in the paint, Chamberlain was to further develop his playmaking talents as he matured. Remarkably, Chamberlain led the NBA in assists as a 31-year-old center, with 702 total dimes. However, some say that Chamberlain was more concerned with accumulating statistics than he was with winning titles.
Many historians casually categorize Chamberlain's body of work as the antithesis of his bitter rival Bill Russell. Through moxie, hustle, and determination, Russell took home 11 championships in 13 seasons with the Boston Celtics. Chamberlain, of course, performed in Philadelphia and Los Angeles without the benefits of Bob Cousy, John Havlicek, or Sam Jones as teammates.
He did bring home two titles for the 76ers and Lakers in 1967 and 1972, respectively. In 1972, Chamberlain claimed Finals MVP honors as an elder statesman who proved to be the missing link for the championship dreams of Gail Goodrich and "The Logo," Jerry West.
Power forward: Tim Duncan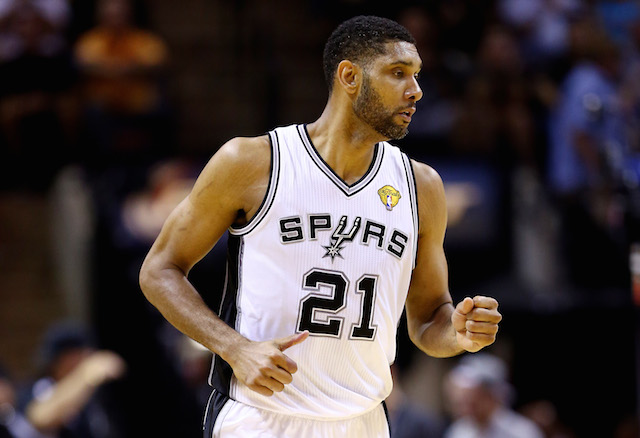 Tim Duncan was so good for so long that he is almost boring. A technically sound big man who has combined the lateral quickness of David Robinson with the precise footwork of Kevin McHale to go to work in the low post. On the block, Duncan could reach deep into his bag of tricks on every possession to destroy the opposition with an assortment of drop steps, up-and-under moves, spins, hook shots, and turnaround jumpers.
In space, Duncan was equally effective from his triple-threat stance. From the wing, Duncan could either put the ball on the floor to blow past lumbering stiffs or pull up to hit sweet mid-range jumpers off the glass from 18 feet and in. On the defensive end, he played the angles to cut off post moves, rotate on the weak side, and recover back into the lane to box out and clean up the glass for rebounds.
In 19 seasons as a San Antonio Spur, Duncan has turned in workmanlike averages of 19 points, 10.8 boards, three assists, and 2.2 blocks per game. A winner, Duncan represents the centerpiece of a Spurs dynasty that has claimed five championships during his tenure at starting power forward.
Small forward: Larry Bird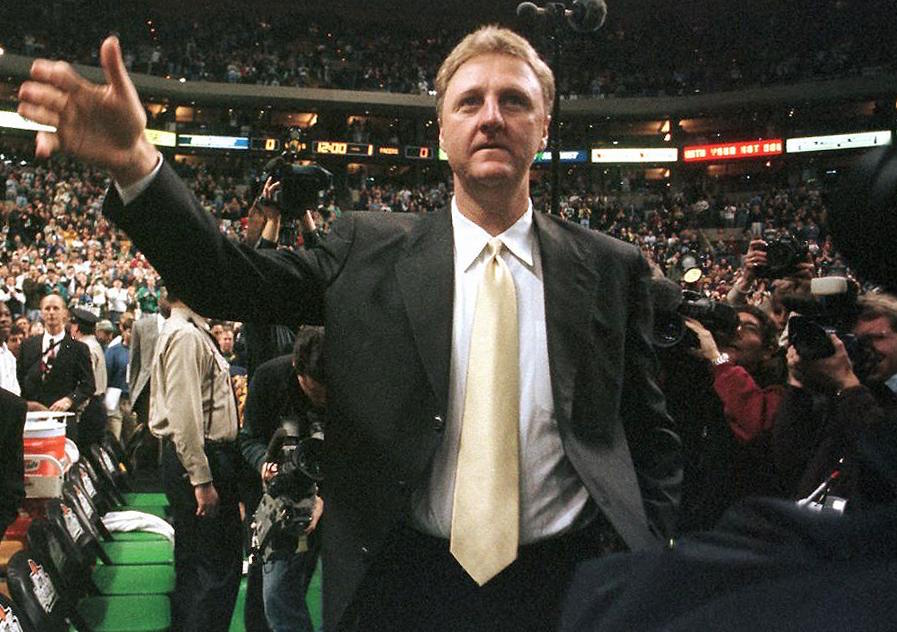 Larry Bird redefined the small forward position. As a shooter, the Hick from French Lick was automatic from nearly all points within his side of the half-court line. With a quick feint or forearm shiver, the crafty Bird would work to keep defenders off balance and create just enough space to rise up and drain his patented overhead jump shot.
In the post, Bird was equally as unstoppable. He could pin smaller opponents on his back to knock down fadeaway jumpers or spin into the lane for easy layups and dunks. As a passer, Bird rivals LeBron James as the greatest front-court playmaker of all time. Through his 13-year career, Bird played the angles to feed his Celtic teammates for easy scores from their favorite spots on the floor.
In the 1987-88 season, Bird put it all together as he ran roughshod over the league to rack up 29 points, nine rebounds, and eight assists per game. As a three-time champion, Bird was especially dangerous in the clutch, when he would carry the city of Boston on his back and will its storied franchise to glory.
During the '88 Eastern Conference semifinals, Bird squared up and went toe-to-toe to match a red-hot Dominique Wilkins bucket-for-bucket in the fourth quarter. When the smoke cleared, Bird walked away with 34 points (20 in the fourth quarter) and yet another Game 7 triumph. Beyond that, Bird, of course, will forever be linked to Magic Johnson atop the grand marquee of the Lakers-Celtics rivalry.
Point guard: Earvin "Magic" Johnson
Magic Johnson's Showtime Lakers served as the perfect contrast for the gritty team play of Larry Bird and his Boston Celtics. With Magic flashing his trademark smile, Kareem Abdul-Jabbar, James Worthy, Byron Scott, and Michael Cooper were all too happy to run the floor, fill the lanes, and catch crisp passes that led to easy transition buckets.
At point guard, Magic could completely dominate the flow of the game without even scoring. As a 20-year-old kid, he burnished his image as one of the greatest winners in all of sports. As a rookie, Johnson put together one of the most memorable postseason performances of all time to close out the Philadelphia 76ers in the Game 6 Finals clincher.
While playing all five positions, Magic torched Philadelphia for 42 points, 15 rebounds, and seven assists, earning himself Finals MVP in the process. From there, he collected four more championship trophies for Los Angeles against the 76ers, Celtics, and Bad Boy-era Pistons.
Starting from his days as a Michigan State star, Magic was always in rare form against rival Larry Bird. His sweeping hook shot across the lane to seal a Finals victory on the Boston parquet hardwood will forever remain burnished as part of NBA lore.
Shooting guard: Michael Jordan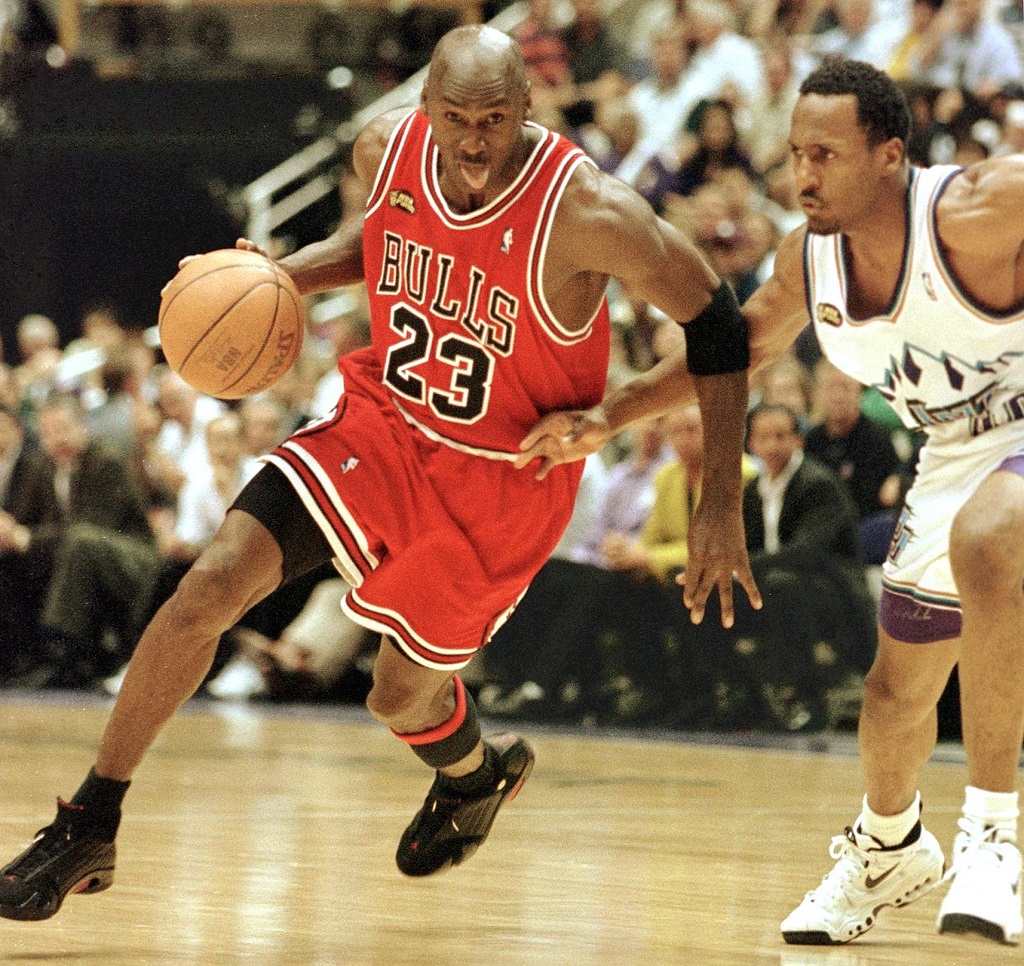 Without question, Michael Jordan is the baddest man to ever put on a pair of basketball shorts. A fierce competitor, Jordan took pleasure in breaking opponents' wills and making them eat their words at mid-court. For motivation, Jordan would manufacture perceived slights and disrespect before he would go ballistic, drop 50, and eventually muscle his way to six championships.
As a young star, Jordan was often ridiculed as a gunner out for his own stats. In the 1986-87 season, he averaged 37.1 points per game, as he largely refused to accommodate his own teammates. For years, the Bad Boy Pistons would install the "Jordan Rules" — they would collapse their defense upon No. 23, dare him to share the ball, and physically dominate the Bulls.
Jordan, of course, did not emerge as the ultimate winner until 1991, when he learned to trust the likes of Scottie Pippen, Horace Grant, John Paxson, and head coach Phil Jackson. That year, Jordan and his supporting cast finally swept the Pistons out of the playoffs en route to establishing a Bulls dynasty.
By then, Air Jordan had transformed his game to that of a complete player. He ultimately closed out a 15-year career having posted averages of 30.1 points, 6.2 rebounds, 5.3 assists, and 2.3 steals per game. In his prime, Jordan had no weaknesses on the floor.
Statistics courtesy of Basketball-Reference and Hoophall.