The 5 Best College Quarterbacks Turned NFL Wide Receivers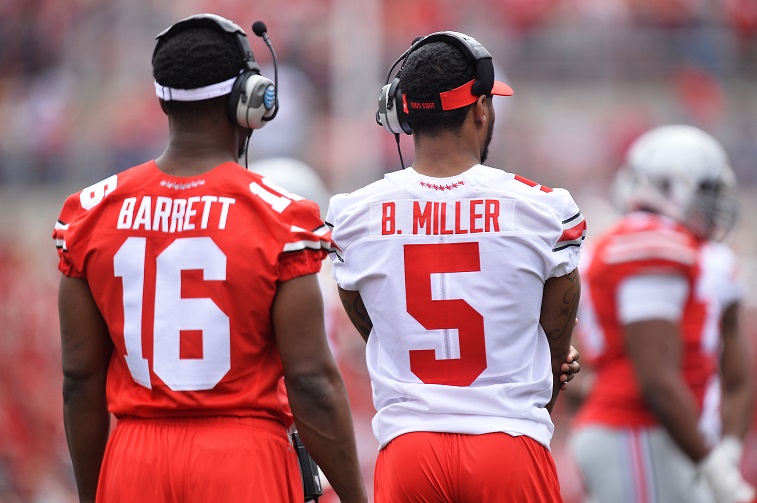 When Braxton Miller decided that he would play wide receiver for Ohio State in 2015, it came as a surprise, but not entirely. The Buckeyes had a log jam behind center with three quarterbacks on the roster who all could be All-Americans if given the chance to start. So when Miller, who threw for more than 2,000 yards passing as a sophomore and a junior, chose to become a wide receiver, he wasn't the first player to ever do so. Athletic quarterbacks such as himself have been doing this for years in order to make it to the National Football League.
While there are still plenty of pro-style quarterbacks at the collegiate level, as college football has evolved into more and more teams implementing some sort of spread, fast-pace offense, it seems that there are less pro-ready quarterbacks entering the draft each year. However, many of those players—spread offense quarterbacks, for example, who succeed in college not because of their arm strength but because they're the most dangerous player on the field as long as the ball's in their hand—have found a spot for themselves on an NFL team. Just not as a quarterback.
When a player has athleticism that many others (quarterbacks or not) don't have, they have worth in the NFL. Whether they're returning kicks, playing in the backfield, or catching passes as a receiver, if they're good enough, a team will be smart enough to find them a spot on the field. But going from college quarterback to professional wide receiver can't be easy.
Sure, you have the mindset and know what you look for in receivers, but running routes and catching hard-thrown balls isn't something a player just picks up on the fly. And that's why it's all the more impressive when a successful college quarterback converts into an equally successful professional wide receiver. Whether or not Miller will succeed remains to be seen. But until then, here are the five best quarterbacks who successfully converted into NFL wide receivers.
1. Hines Ward
Ward was never a full-time starting quarterback at Georgia, but he had his moments. Ward earned the starting job in the Bulldogs' bowl game, the Peach Bowl, during his sophomore season and went on to throw for a record-setting 413 yards. But when Pittsburgh drafted him, his quarterbacking days ended as quickly as they started.
During his 14-year career with the Steelers, though, he amassed 1,000 receptions and 12,083 yards—both of which are franchise records. Furthermore, he helped the Steelers to two different Super Bowl titles (2005 and 2008). When the Steelers defeated the Seahawks in Super Bowl XL, Ward earned the game's MVP honors due to his five catches, 123 yards and one touchdown—which just so happened to come from another quarterback turned receiver, Antwaan Randle El.
2. Josh Cribbs
Cribbs went undrafted in 2005 following a successful tenure at Kent State. Upon finishing his career, he left the Golden Flashes as the school's all-time offensive leader with 10,893 yards and also all-time passer with 7,169 yards. But his style of play at Kent State—run and pass with ease—and the lack of elite competition he saw, resulted in scouts not believing he'd be a successful NFL quarterback.
Though Cribbs didn't amount to a prolific wide receiver—he tallied just a little more than 1,000 total career receiving yards—he was by far one of the league's, if not the most, best punt and kick returners. During his time as the Browns return man, Cribbs made two Pro Bowls and also two All-Pro teams. He also holds the league record for total kick returns for touchdowns with eight in his career.
Sure, Devin Hester might have been a better overall return man (evidenced by his 14 career punt returns for touchdowns), but Cribbs always seemed to make it happen mid-kickoff return.
 3. Julian Edelman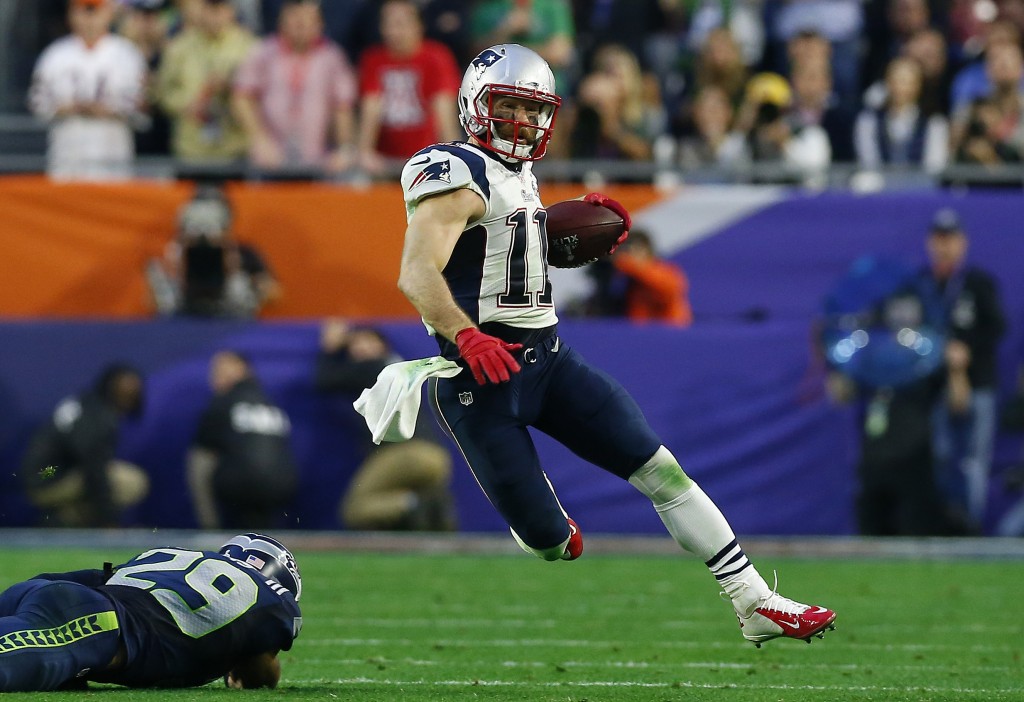 Similar to Cribbs, Edelman also played quarterback for Kent State. And also similar to Cribbs—albeit not as prolific—Edelman excelled under the Golden Flashes' offensive system. But his skills and attributes have allowed him to excel more so than Cribbs as a receiver. Yes, it helps that he's had Tom Brady throwing him the ball.
But following a slow professional start and the fact that he was a seventh-round draft pick, Edelman has found his niche in New England's offense. In the last two seasons he has 197 receptions, 2,028 receiving yards and 10 touchdowns. At 29 years old, Edelman's stock is on the rise, and despite his smaller six-foot frame, his trustworthy hands and no-fear mentality have made him Mr.Reliable for Brady in the slot.
4. Antwaan Randle El
Despite playing for an Indiana team that was never atop the Big Ten standings from 1998-2002, Randle El was one of the conference's best college quarterbacks. However, the Steelers drafted him in 2002 and immediately moved him to receiver, very similar to what they had done with Ward years before.
While he was never the go-to guy, he had four successful seasons in Pittsburgh and also played an important role in the team's Super Bowl Championship in 2005. When Randle El went to the Washington Redskins in 2006, he played the same kind of role he had in Pittsburgh: mostly in the slot and returned some kicks and punts. But both the Redskins and Steelers utilized his ability on reverse, wide receiver passes.
Randle El finished his career 22 for 27 on passing attempts—all as a receiver—323 yards, and six touchdowns. By far his best moment, though, came in his 43-yard touchdown pass in the Super Bowl during a reverse pass. After all, the Steelers did love the trick play that year.
5. Gene Washington
By far the oldest player on this list, Washington played quarterback at Stanford and was later drafted by the San Francisco 49ers in the first round of the 1969 NFL draft. Though San Francisco took him as a quarterback, he was quickly converted into receiver.
But he flourished at wide receiver, making the Pro Bowl in each of his first four seasons, and also leading the NFL in receiving in 1970 with 1,100 yards. In an era where the passing game was nowhere as prevalent as it is today, Washington was well ahead of the curve in terms of best college quarterbacks turned NFL wide receivers.