5 Biggest Advertisers Going for a Super Bowl Touchdown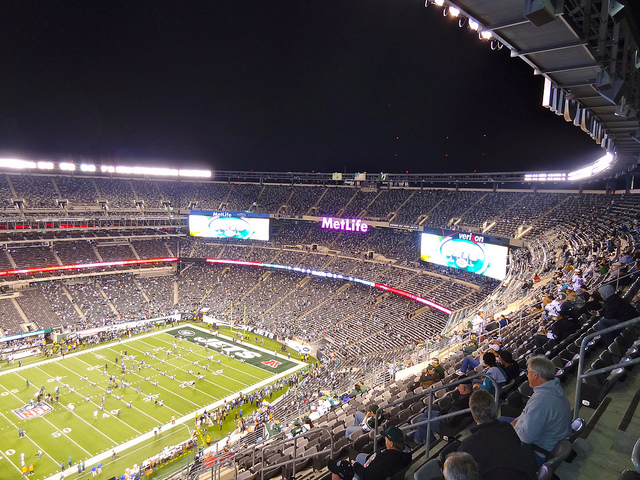 Superbowl XLVIII is nearing its kick-off time. What are you most excited for: the sport, the food, or the commercials? That much may be up for debate, but if you're one of the Super Bowl advertisers putting the finishing touches on your outrageously expensive advertisements, we know what you're most wired for.
Kantar Media released its latest marketing progress report for the 2014 Super Bowl Tuesday, and the firm's data illuminated that companies are still more willing than ever to cough up the big bucks to get their name on the big screen when there is a break in the football action. Kantar reports that from 2004 through 2013, the Super Bowl game has generated $2.01 billion of network advertising sales from more than 130 marketers, and this year is not expected to upset any kind of sales. The average rate for a 30-second advertisement in the big game has increased by more than 70 percent during the past decade, reaching $4.0 million in 2013, and the firm expects even slightly higher pricing for the 2014 game on account of sustained healthy demand.
So, who has already put down the deposit for the expensive face-time at this year's Super Bowl? Here are the top five Super Bowl advertisers that have spent $437 million on advertising during past games, and will make an appearance again on the first Sunday of February. Though the broadcaster of this year's championship game, Fox , has already enjoyed the payoff from a host of new first-time advertisers this year, these five companies highlighted by Kantar Media have continued to shell out the most cash and deliver the most memorable commercials.

5. Coca-Cola Co
Coming up first is a company that has won favor from both kids and adults: the Coca-Cola Company. This beverage and snack food giant is the fifth biggest Super Bowl advertiser, and spent $62.3 million on its ads in the time period from 2009 to 2013. Within those five years, its ads have appeared on the Super Bowl big screen all five times.
That's a hefty amount of money for just about any company to hand over for advertising purposes, especially for five consecutive years, but Coca-Cola has been known to maintain a significant focus on its marketing efforts, and its biggest rival PepsiCo , isn't exactly a shy advertiser, either. This year, both companies will go after the Super Bowl spotlight once again as they currently navigate the effects of  consumers switching over from their sugar-laden drinks to more healthful beverage options. It is now more important than ever for these companies to make a lasting impression on viewers, and consdering the Super Bowl provides the one time that audiences have been known to stick around during commercial breaks, Coca-Cola is ready to take advantage. Kantar Media reports that in the 2013 game, the percentage of audience tuneaway during the average commercial was only 0.7 percent, making the high price tag that much more worth it for companies like Coca-Cola.
4. Chrysler Group LLC
Switching gears (no pun intended) to the auto industry, we come to Chrysler Group LLC, the company that takes the spot for fourth biggest advertiser at the big game. Headquartered in Auburn Hills, Michigan, this auto company has made four Super Bowl advertising appearances during the past five years from 2009 to 2013, and it has spent a whopping $64.3 million, up $2 million from what Coke paid for its five appearances. Auto companies have been known to especially take advantage of the commercial air-time during Super Bowl games, and Chrysler's big commercial in 2013 drew significant attention, from all farmers and non-farmers alike. It'll be interesting to see what the auto giant comes up with this year, as past history would dictate that it'll probably be something worth watching.
3. Hyundai Corp
Next up, we come to another auto company that even pulls ahead of Chrysler's investment in Super Bowl advertisements. Hyundai Corp stands as the third top advertiser at the Super Bowl, according to Kantar Media, and has its five consecutive appearances from 2009 to 2013 and $67.4-million expense to thank for that. That's quite a price tag for the South Korean auto company to swallow, but Hyundai is expected to make yet another splash on the TV screen this year on February 2, and interestingly enough, Ad Week reports that it has even enlisting celebrities to help it do it this time. Hyundai has typically shied away from featuring celebrities in its ads, but this year, those who tune in to the game should expect three celebrities to star in one of two Hyundai's 30-second commercials.
2. PepsiCo 
Back to the food and beverage industry, we come to Coke's biggest rival, Pepsi. Despite taking second place to Coke when it comes to global domination of the soda market, Pepsi blows past its competition in the Super Bowl advertising game, spending more than $3 million more on its expensive advertisements from 2009 to 2013. Kantar Media reports that Pepsi has enjoyed five consecutive appearances during those 5 years, and it has a $97-million tab to prove it.
This year, Pepsi will make its mark on the Super Bowl again, sponsoring yet another halftime show, and it is likely that the company will show up big. As aforementioned, it is now more important than ever for Pepsi to connect with viewers and pull them back in under the Pepsi roof, and the beverage giant recognizes the Super Bowl as the perfect time to do just that.
1. Anheuser-Busch InBev
Coming in first as the top Super Bowl advertiser is Anheuser-Busch InBev, the brewer of the beverage that many will be enjoying at next month's big game. The St. Louis, Missouri-based brewing company nabs the top spot with its five game appearances from 2009 to 2013 and $145.9-million price tag. Let that sink in a little. Anheuser's investment is more than double what Hyundai, Chrysler, and Coca-Cola have all paid, and it is almost $50 million more than what its closest competitor, Pepsi, has shelled out for the big game.
It's difficult to understand how one company can justify that significant of a payoff for a few 30-second ads, but Anheuser Busch continues to do so year after year, and somehow, we think the beer giant probably know what it's doing. The brewer has maintained that one of its biggest drivers of success continues to be its innovating marketing and advertising efforts, and considering the entertaining commercials Anheuser has rolled out as of late, we're certainly not complaining.