5 Brands With Andrew Wiggins Endorsement Deals
It is a great time to be Andrew Wiggins. The Golden State Warriors wing has long been considered an underachiever considering the expectations he faced as a No. 1 draft pick. But this season, he became an All-Star and NBA champion for the first time. Wiggins has rewritten the book on what he can provide. He's focusing on playing great defense, improving rebounding, and playing a supporting role as a scorer. 
As the offseason sets into motion, there is renewed talk about what Wiggins' next contract will look like after improving his reputation. He's made over $100 million directly from the NBA, but like many pro ballers, endorsement deals also pay him. Here is a rundown of the most notable endorsement deals garnishing the high flyer's bank account.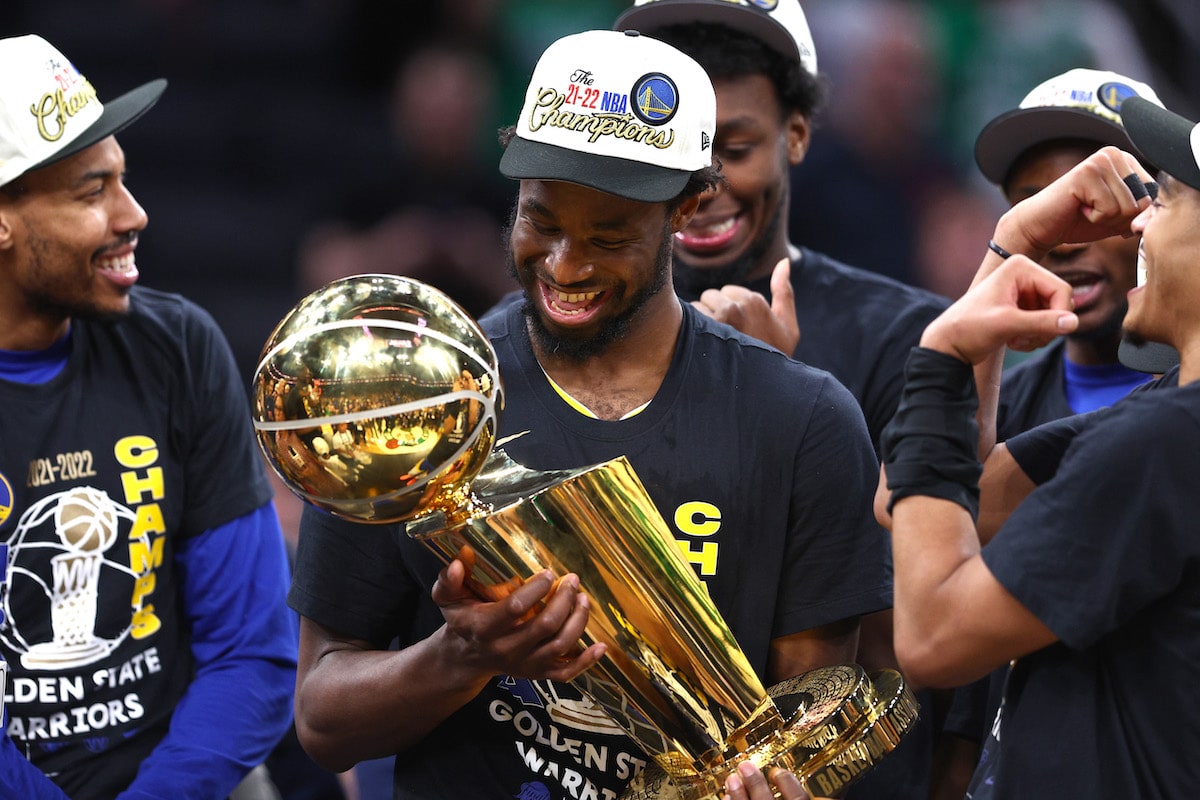 According to Essentially Sports, Wiggins earns $600,000 from sponsorships with other companies. These business deals include:
1. Adidas
Wiggins was hailed as a future superstar from a young age. His high school highlights remain incredible, and his sole season at Kansas furthered gave further credence to his lofty nickname "Maple Jordan." As a result, the desire for shoe companies to attach themselves to Wiggins hit a fever pitch.
In the end, he chose Adidas shortly after the 2014 NBA Draft. The forward/guard called is a "blessing and an honor." Wiggins said in a press release, "Our collaboration couldn't be more organic both personally and professionally and I look forward to moving to the next level with the brand."
Initial rumors indicated that Adidas was willing to pay $180 million over 10 years to secure Wiggins' signature. But NBC Sports confirmed that the contract was closer to $10-12 million for five years — still the biggest contract the company had ever signed with a rookie.  
2. BioSteel
BioSteel is a sports nutrition brand that sells drinks, protein powders, and other nutritional goods to help athletes recover and retain their energy at a faster rate. The company endorses many athletes across different sports, including Wiggins. Terms of the deal were not released.
Being a Canadian company, BioSteel honed in on Wiggins earlier than other brands, sponsoring his AAU teams from the age of 14. As a part of the contract, they filmed Wiggins' first ever commercial at his elementary school to shoot some hoops with the kids and inspire the next generation. 
3. Fitbit
Wiggins became a brand ambassador for Fitbit in 2018. This came months after the fitness tracker brand signed a contract with his old team, the Minnesota Timberwolves, to put their logo on the team's jerseys. Terms of the deal aren't public. However, part of it included Wiggins writing blog posts (or at least hiring a ghostwriter) for FitBit's website about how he keeps himself physically and mentally sharp off the court. He also gave tips for kids to stay active.
4. Foot Locker
As part of his Adidas contract, Wiggins also made endorsement money by advertising for the shoe retailer Foot Locker. The partnership resulted in two pretty good commercials; the first one being the one above where he inadvertently earns the ire of a kid's mom after his comment that the child looks like a pro in his Adidas gear immediately goes to his head.
The other commercial features fellow three-stripes wearer Damian Lillard as they watch a soul patch-wearing Jimmy Kimmel throw up ridiculous shots while engaging in some comedically weird trash talk. You can watch it here. 
5. Peak (replacing his Adidas deal)
Before the start of the 2020-21 season, Wiggins announced that he signed a deal with Chinese shoe manufacturer Peak. (The amount and the length of the contract were again not officially confirmed.) The brand created a signature shoe for him called the Peak Team Attitude 2, a variant on their "Great Triangle" line of basketball shoes.
Despite the contract, there were a few instances this year, including in the playoffs, where Wiggins wore Kobe Bryant's signature shoes with tape covering the iconic swish. The explanation for this was that Wiggins' feet grew a size over the summer and that Peak was preparing new shoes for him in the meantime. 
Wiggins has also had endorsement deals with Best Buy and Monster Energy. 
RELATED: The Warriors' Willingness to Write an $80 Million Check Is Bad News for Andrew Wiggins