NFL
NFL: 5 Breakout Stars in 2015
Last season, it was Le'Veon Bell — who reported back to camp in the best shape of his life after committing to a rigorous offseason training program — to rip off a total of 2,215 yards from scrimmage and 11 touchdowns through the 2014 regular season, while establishing himself as one of the best all-around backs in the game of football.
For this 2015 season, many of the breakout stars are key cogs for modern, shotgun-spread attacks, which demand versatility out of backs and receivers to make quick reads and decisive moves in traffic.
On the other side of the football, defensive studs are called upon to pressure the quarterback, seal the edge in run support, or even drop back off into underneath coverage. From here, only time will tell whether the five following breakout stars are merely one-year wonders and flashes in the pan, or legitimate contenders for Hall of Fame busts.
5. Amari Cooper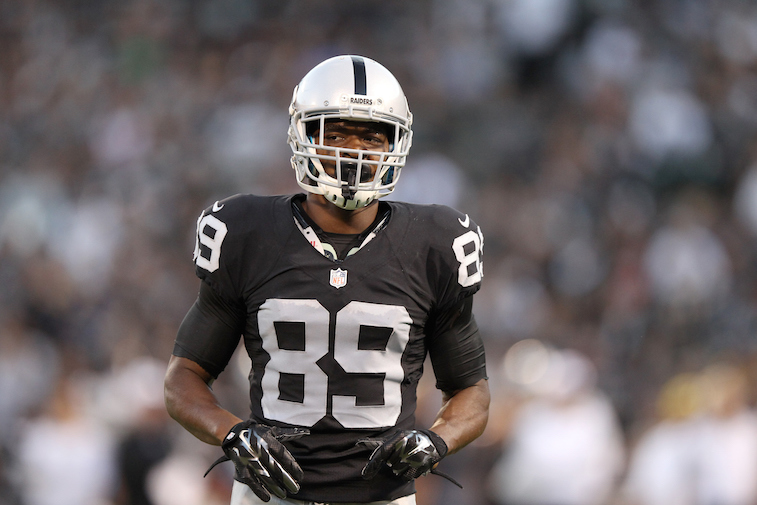 The Oakland Raiders have not been relevant since 2002, when the franchise last made the playoffs and took a 48-21 Super Bowl XXXVII blowout loss to former head coach Jon Gruden and his Tampa Bay Buccaneers. In recent years, the Raiders have been more notable for high-profile draft busts, front office dysfunction, and an apparent coaching carousel on the sidelines. The Silver and Black have largely lacked any semblance of identity since the 2011 death of iconic Al Davis, who reinvented football in the 1970s, through his embrace of the vertical passing game, physical play, and open recruitment of apparent misfits.
The Raiders, however, got it right with Amari Cooper, who the team took with the fourth overall pick in the 2015 Draft. Cooper won the Biletnikoff Award as a junior, after racking up 124 receptions for 1,727 yards and 16 touchdowns that season at Alabama. Scouts were then already touting Amari Cooper as a polished, NFL-ready prospect for his top-end speed, smooth route running, and ability to snag the football in traffic.
Amari Cooper, as a rookie, has already established himself as one of the best receivers in the NFL. By Week 8, Cooper has hauled in 45 catches for 653 yards and four touchdowns, and has somehow had fans largely forget about Odell Beckham, Jr., who put up 91 receptions for 1,305 yards and 12 touchdowns as a first-year pro in his own right. Taken together, Amari Cooper and Derek Carr form AC-DC, as one of the more exciting combinations in all of football. For his part, sophomore starter Carr has completed 64% of his passes for 2,094 yards and 19 touchdowns against only four interceptions, through the midway point of this season.
4. Chandler Jones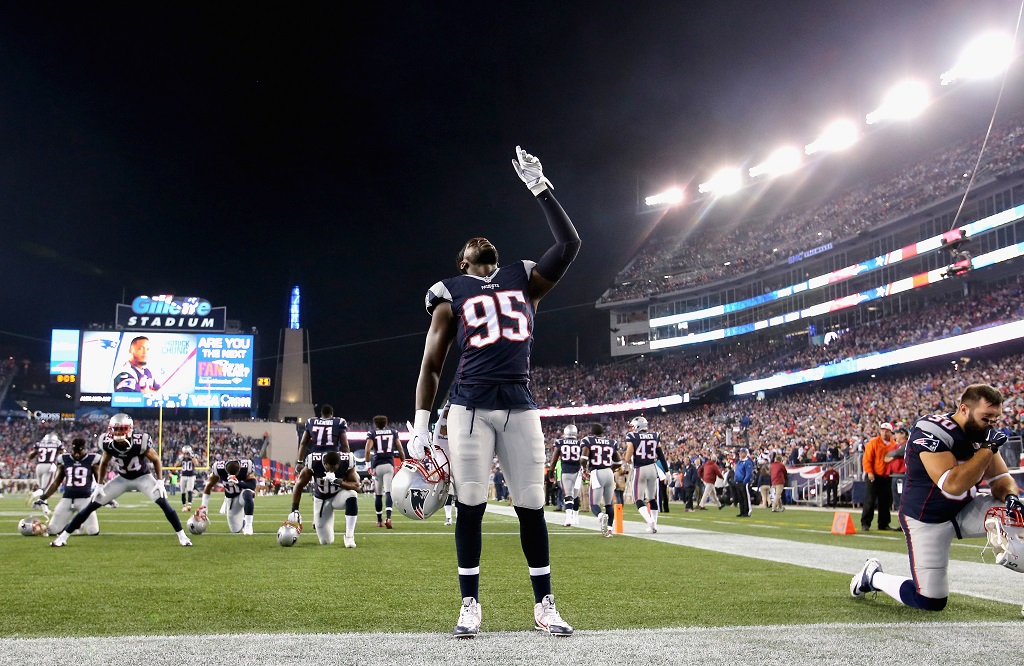 It appears that Bill Belichick, defensive genius, has drafted and developed yet another weapon in Chandler Jones. In 2012, the New England Patriots picked up Jones with the 21st overall pick in the draft, out of Syracuse. From there, Chandler Jones immediately began to wreak havoc, with a Week 1 strip sack of Jake Locker, which then fellow rookie picked up and ran back for a touchdown. Jones went on to start 13 games that year and was credited with a solid six sacks and 24 tackles at right defensive end.
Last season, Chandler Jones missed one month of action and went under the knife to repair a nagging hamstring injury. Still, Jones accounted for another six sacks through the regular season, before being credited with another sack and seven tackles through New England's latest Super Bowl run.
For 2015, Chandler Jones has upped the ante even more and is now often mentioned within the same breath as the likes of J.J. Watt and DeMarcus Ware. Jones does lead the league in sacks, with 9.5, through eight games. In breaking out, Jones has added and retooled an array of bull rush, spin, and hump moves to his pass-rushing repertoire. The Dynast Patriots now stand at 8-0, with Chandler Jones rapidly emerging as the MVP of the defensive unit.
3. Devonta Freeman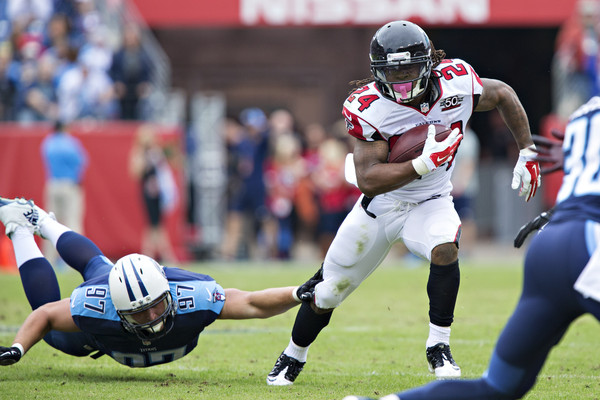 Devonta Freeman is the latest great rags-to-riches story out of the NFL. In 2014, the Atlanta Falcons took Freeman in the fourth round, with the 103rd pick of the draft out of Florida State. While in Tallahassee, Devonta Freeman shared carries out of a stacked backfield alongside the likes of James Wilder, Jr. and Karlos Williams. This season, Karlos Williams is leading the league, with 6.6 yards per carry, in his own right.
Last year, as a rookie, Devonta Freeman put up a rather pedestrian 248 rushing yards and one touchdown, off 65 carries. At that time, many league observers may have largely written off Freeman as a career backup, who at 5-foot-8 and 200 pounds lacked the size and speed to ever emerge as the featured workhorse back at the next level. Freeman did not actually start until the third game of this season, after supposed starter Tevin Coleman was sidelined with cracked ribs in New York.
Devonta Freeman, after seven games as the starter, now leads the NFL in total touchdowns and yards from scrimmage, with eleven and 1,141 yards, respectively. Freeman, at running back, has been especially adept at setting up his blocks, before bouncing the football off the edge for big chunks of yardage. For passing situations, Freeman will also stay on the field as a ready and willing blocker and outlet receiver. As a group, Devonta Freeman, Matt Ryan, and Julio Jones have quickly replaced DeMarco Murray, Tony Romo, and Dez Bryant as the most dangerous set of triplets in the NFL this season.
2. Todd Gurley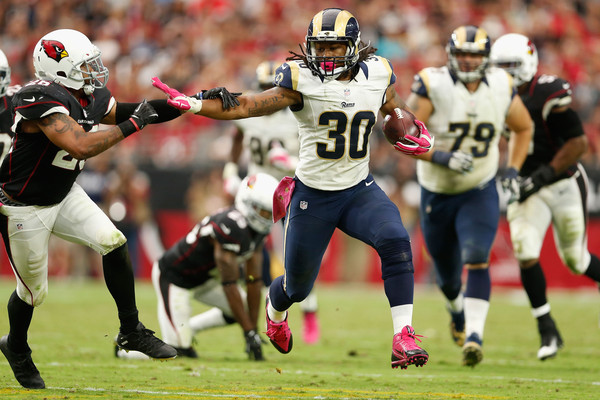 Todd Gurley, former Heisman Trophy candidate, endured a disastrous junior year at the University of Georgia, after he was initially suspended indefinitely, pending an NCAA investigation. The NCAA went on to suspend Gurley for four games, after the rules committee discovered that Gurley had sold his autographed memorabilia for $3,000. Gurley, in his first game back on the field, blew out his knee against Auburn.
From there, Todd Gurley fell to the 10th overall slot in the 2015 NFL Draft, where he was picked up by the St. Louis Rams as a somewhat forgotten man. The Rams worked Gurley into the program slowly, in sitting him out of full contact practices and preseason games. With this approach, Todd Gurley did not actually see in-game action until Week 3, when he picked up a very pedestrian nine yards, off six carries. For Week 4, Gurley was held to a mere two yards by halftime against the Arizona Cardinals.
In Todd Gurley, a star was born in the second half in his second game in the NFL. After halftime, Gurley ripped off 144 rushing yards, leading the Rams to a 24-22 victory over the previously undefeated Cardinals. From there, Gurley went on to torch each of his next three opponents for more than 125 yards rushing. Todd Gurley, in taking the league by storm, is the most electric rookie performer out of the backfield since Adrian Peterson.
1. Andy Dalton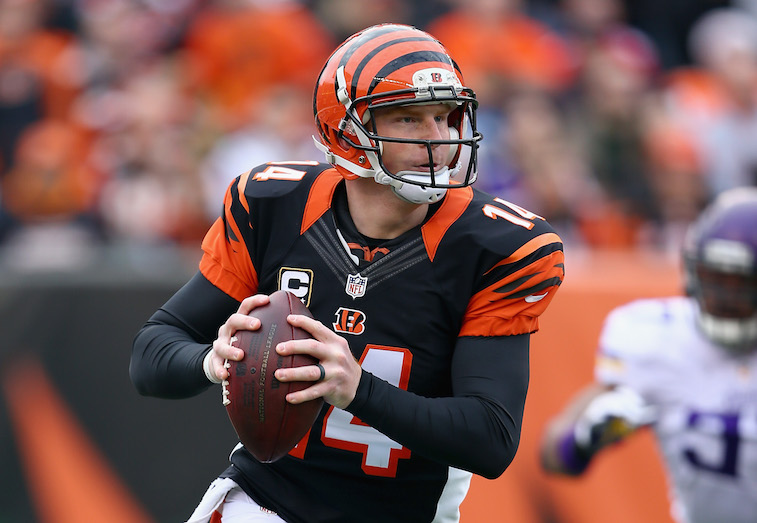 What in the world has gotten into Andy Dalton? The Red Rifle, through eight games, has completed 67% of his passes, for 2,226 yards and 18 touchdowns, against only four interceptions. A confident Dalton, formerly written off as a mere "game manager," is now taking his shots downfield, hooking up with A.J. Green and Tyler Eifert. Most importantly, of course, is the fact that the Cincinnati Bengals are now 8-0 after their latest blowout win over the Browns, in winning the Battle of Ohio.
Heading into this season, many NFL analysts assumed that it would be Andrew Luck who was poised to make "the leap" up and out of Tom Brady's shadow. The Colts, after losing out in Deflate-gate, did hit the free agent market to surround Luck with new weapons — veterans Andre Johnson and Frank Gore. The Colts, however, have sputtered to 4-5, with Luck regressing to chuck interceptions and missing significant time due to injury.
Still, Andy Dalton must win one playoff game to finally complete the circle from total laughing stock to serious contender. In recent years, the Bengals have clawed their way back to respectability by making four straight trips to the playoffs behind a swarming defense and smart quarterback play. Dalton, however, has fallen apart in the postseason and is 0-4 in the playoffs after tossing six picks against only one touchdown. Dalton, at 28, still has plenty time to rewrite his career story as a gamer, with one deep postseason run.