5 Can't-Miss College Football Bowl Games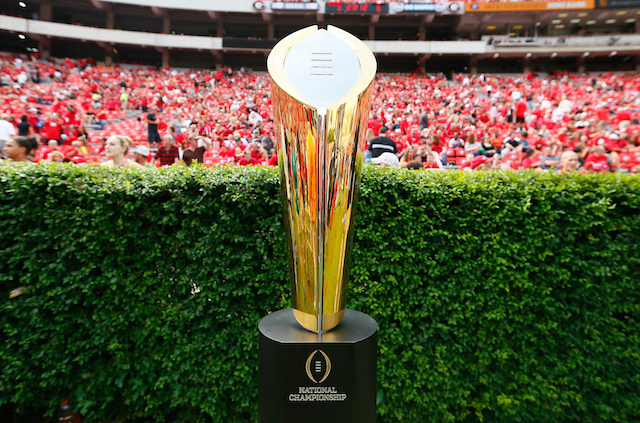 Bowl games are some of the most exciting and anticipated features of every college football season, and with 36 of them scheduled in 2014, there will certainly be some matchups that stand out over others. Many people believe 36 bowl games — 39, if you include the College Football Playoff — are far too many.
On the other hand, there are thousands, if not millions, of football fans around the world who will tune in to every single one of the bowl games this year. We've put together a list of five can't-miss bowl games for fans who are not interested or simply don't have the time to watch every bowl game this season.
Side note: We chose not to include either of the CFP bowl games or the CFP National Championship Game because the vast majority of sports fans will already be tuned in for them.
Here's our list of five must-watch college football bowl games in 2014.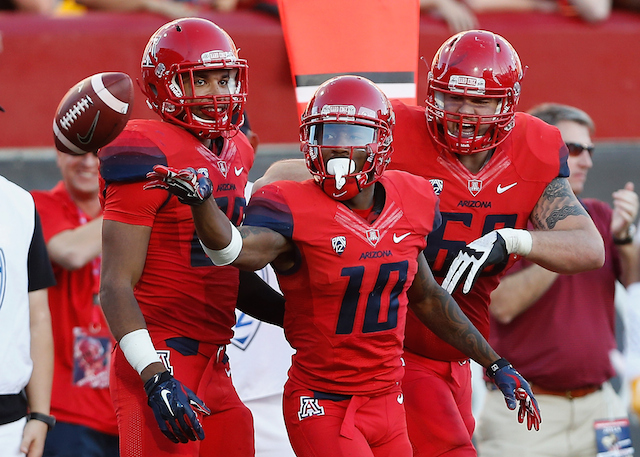 5.  Fiesta Bowl – Arizona (10-3) vs. Boise State (11-2)
Date

: December 31

Location

: University of Phoenix Stadium – Glendale, Arizona

Sponsor

: Vizio

Point spread

: Arizona favored by 3.5 points
This game has the makings of an offensive shootout. The Boise State Broncos are averaging 39.8 points per game and the Arizona Wildcats are averaging 34.8 points per game this season, while neither team has been particularly effective defensively in 2014. The Broncos are no strangers to playing the Cinderella role in major bowl games, and this year will be no different. The Wildcats have proven that they can play with anybody in the country when they play well, and they have arguably the best defensive player in the country in Scooby Wright III. Don't be surprised if this game is decided in the closing minutes.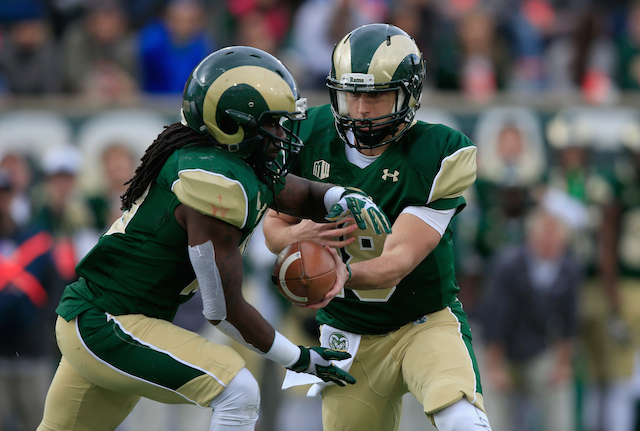 4. Las Vegas Bowl – Colorado State (10-2) vs. Utah (8-4)
Date

: December 20

Location

: Sam Boyd Stadium – Las Vegas, Nevada

Sponsor

: Royal Purple

Point spread

: Utah favored by 3.5 points
These two programs know each other well, dating back to Utah's time as a member of the Mountain West Conference. The Rams of Colorado State will be without head coach Jim McElwain, who was hired away by Florida, but will be led by interim head coach Dave Baldwin, who is treating this game as an audition for the full-time job.
Colorado State has one of the best offenses in the NCAA, led by quarterback Garrett Grayson, the Mountain West Conference Offensive Player of the Year; wide receiver Rashard Higgins, a Biletnikoff Award finalist; and running back Dee Hart.
The Utah Utes' defense was among the best units in the Pac-12 this season, and their offense, led by quarterback Travis Wilson and running back Devontae Booker, has averaged more than 30 points per game this season. Expect to see these former Mountain West Conference rivals to come out swinging in one of the first bowl games of the 2014 college football postseason.
3. Alamo Bowl – Kansas State (9-3) vs. UCLA (9-3)
Date

: January 2

Location

: Alamodome – San Antonio, Texas

Sponsor

: Valero

Point spread

: Even
Nobody — including the oddsmakers in Las Vegas — knows which team holds the advantage in this game. Situations like this usually result in some of the most entertaining football games of the season. Kansas State has been among the top teams in the country on both sides of the ball this season, and all three of the Wildcats' losses have come against teams that were ranked in the top six. When UCLA has shown up and played a complete game, the Bruins have been a top five-caliber team in 2014. This game should be close throughout and could come down to whether UCLA comes to play.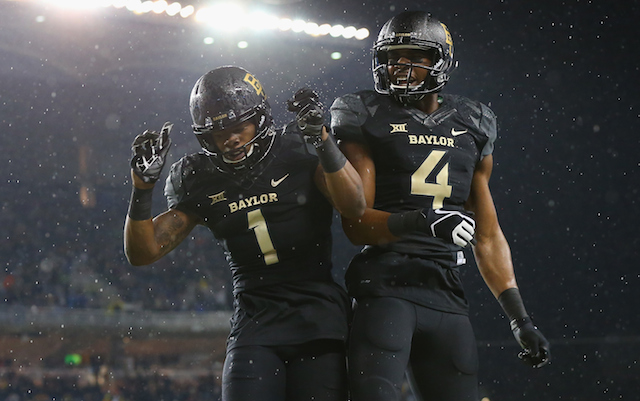 2. Cotton Bowl – Baylor (11-1) vs. Michigan State (10-2)
Date

: January 1

Location

: AT&T Stadium – Dallas, Texas

Sponsor

: GoodYear

Point spread

: Baylor favored by 3 points
The Baylor Bears and head coach Art Briles have made it no secret that they are upset about being left out of the College Football Playoff. Expect to see the Bears' high-flying offense — they are averaging 48.8 points per game in 2014 — and their underrated defense play this game like they have a point to prove. Michigan State has been almost as dominant as Baylor offensively, averaging 43.1 points per game this season; the Spartans also have one of the best defenses in college football. They will likely look to physically best the Bears in this game, just like they did to Stanford in the Rose Bowl a year ago. This game has the potential to be the best matchup out of all of the 2014 bowl games.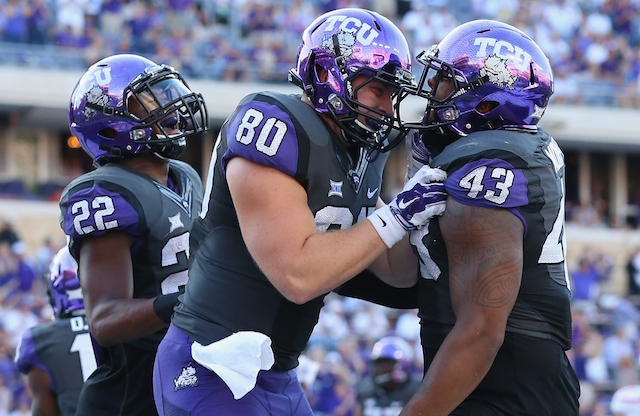 1. Peach Bowl – TCU (11-1) vs. Ole Miss (9-3)
Date

: December 31

Location

: Georgia Dome – Atlanta, Georgia

Sponsor

: Chick-Fil-A

Point spread

: TCU favored by 3 points
Much like Baylor, TCU is understandably upset that it was left out of the College Football Playoff. The Horned Frogs have the second-ranked scoring offense and 16th-ranked scoring defense in the country. When their quarterback, Trevone Boykin, is playing well, the TCU offense is nearly impossible to slow down. On the other side of the ball, the TCU defense is arguably the fastest defense in the country and has made several big-time plays throughout the season.
Despite their 9-3 record, the 2014 season has been somewhat disappointing for the Ole Miss Rebels. They got off to a 7-0 start to the season, which included a win over top-ranked Alabama, but lost three out of their final five games of the season. The Rebels are one of the most talented teams in the country and come into this game with the top-ranked scoring defense in the country, giving up an average of 13.8 points per game. The X factor in this game will likely be Ole Miss quarterback Bo Wallace. If Wallace can limit his turnovers and play the position efficiently, the Rebels are talented enough to beat anybody in college football.
These are two of the most athletic teams in the country, which should make this one of the most entertaining bowl games of the 2014 season.