5 College Football Coaches Who Are on the Hot Seat
As the 2014 college football season wears on, the losses will inevitably begin to pile up for coaches across the country. Some will accumulate more than their share, and with the win-now-or-else impatience of 21st century fan bases, these coaches' seats will get hotter and hotter by the weekend as the weather (well, in most places) gets colder and colder.
Here are five coaches who need to start winning games at an impressive clip if they want to continue to hold their title and position by the time the 2015 season rolls around. We've listed them in alphabetical order, and all win-loss records are through September 19, 2014. Stats come from Sports-Reference.com.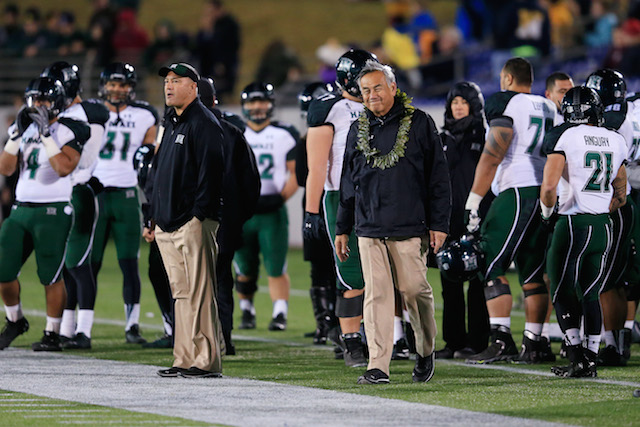 Norm Chow, Hawaii
The Hawaii Warriors' football program has fallen on hard times since an undefeated 2007 regular season and Sugar Bowl appearance, only posting one winning record in the six completed seasons since. Norm Chow, now in his third year on the Warriors' sideline, is coming off a 1-11 season that hasn't earned him much wiggle room. The Hawaii 2014 schedule doesn't do him any favors, as Chow's Mountain West Conference team had to face three Pac-12 schools in its first four games. Three of the Warriors' last four games of the season will be on the road, and by the time November rolls around, Chow may very well need wins in several of them just to keep his job.
Brady Hoke, Michigan
At most schools, winning two-thirds of your games would be enough for a coach to receive an extension, a raise, or perhaps even a statue. Michigan isn't most schools. Wolverines coach Brady Hoke is 28-14 on the U-M sideline, but is coming off a 7-6 season (which is the exact same record predecessor Rich Rodriguez posted in his final season in Ann Arbor before he was fired). Hoke needs to win and win big in 2014, and a 31-0 shutout loss to longtime rival Notre Dame — the worst margin of defeat for the Wolverines in the historic series — has made Hoke's seat very warm, very fast.
Will Muschamp, Florida
The Florida Gators hadn't had a losing season since 1979 before Will Muschamp's 2013 team went a disappointing 4-8. When you're responsible for the worst record in 35 years at a proud football school like Florida, a hot seat comes in short order. Muschamp is now 24-16 in his Gators career after a very fortunate triple-overtime win over Kentucky, and with dates against Alabama, LSU, Georgia, and Florida State looming this season, Muschamp needs to get things turned around in Gainesville sooner rather than later if he wants to remain head coach.
Ron Turner, Florida International
It's been said that you never get a second chance to make a first impression, and the first on-field impression Ron Turner made at Florida International was a miserable one. The Panthers finished 1-11 in Turner's first season at the helm, and even though FIU is far from a football power — the university won a total of one game in the 2006 and 2007 seasons combined — Turner will be expected to make significant improvement in Year 2 of his regime if he wants there to be a Year 3 of said regime. On the bright side, Turner's team has already equaled its 2013 victory total with a 34-3 win over Wagner.
Charlie Weis, Kansas
How the mighty have fallen? After leading Notre Dame to back-to-back BCS bowl appearances in his first two years as a head coach, Charlie Weis has only posted one winning season in his last five attempts (a 7-6 campaign in 2008 with the Fighting Irish that required a Hawaii Bowl win over Hawaii). Weis is  now in his third year at Kansas, and has won a total of five games with the Jayhawks — yes, that says total — since taking over in 2012. A 41-3 loss to Duke is merely the latest sign that Weis might not be the right man for the job in Lawrence.