5 College Football Teams Who Need a New Star Quarterback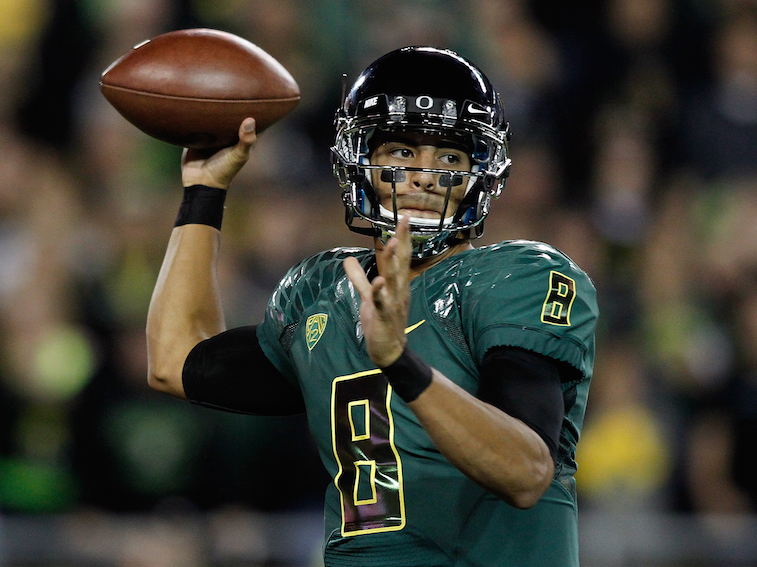 There may be no more valuable position in all of sports than football's quarterback. At once the key to an offense's orchestration and execution, it is the position more than any other that can change a team's fortunes, making the bad ones good and the good ones elite. While college football can somewhat buck this bit of conventional wisdom with other exceptional units, such as Arkansas's tremendous Bret Bielema defense or Paul Johnson's relentless Georgia Tech rushing attack, the fact remains that, all things being equal, you'd like to have confidence in the guy taking the majority of your snaps.
To that end, continuity is also crucial to getting the best results from your quarterback and, ostensibly, your offense. And while professional teams have the luxury of extending lucrative contracts to their signal callers to keep them around for a decade or more, college teams and their coaches get four years of their at the maximum — and very rarely that many.
Quarterback turnover regularly means that last year's highest ranked teams might have to endure a lean year or two, before their next star under center arrives or comes of age. For systems with strong player development, however, that doesn't have to be the case. Immediately contending for another National Championship might be out of the question, but remaining relevant and near the top certainly is not.
These five teams were all in the mix for the College Football Playoff last season, with two making it in, four ranked within the top four at some point, and all occupying a spot in the top 10 for at least a week. Forced by the NFL Draft or graduation to say goodbye to their stars, let's take a look at how Oregon, Florida State, Baylor, UCLA, and Ole Miss are setup to move forward at QB. 
1. Oregon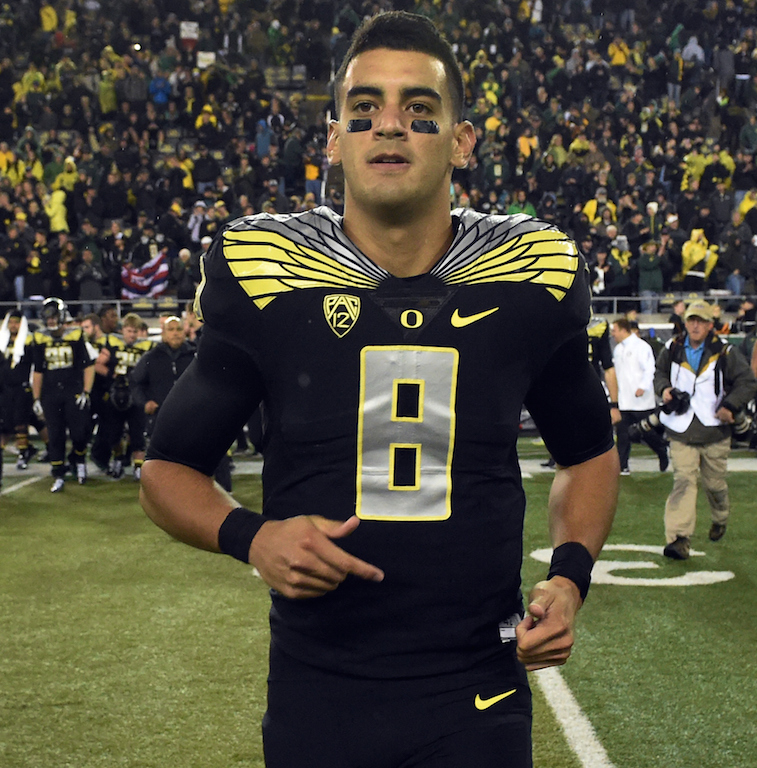 America's favorite quirky, high-scoring offense has already shown in the past two seasons that its system is bigger than who's coaching it. Now we'll find out if the same holds true for the player running the show on the field.
Replacing Marcus Mariota, the school's all-time leader in career passing yards, touchdowns, and total offensive yardage (not to mention the Pac-12 Conference's all-time total touchdowns, will be no easy feat for last season's National Title Game runner-up, but the Ducks' string of five straight 11-win seasons stretches beyond his tenure.
Candidates to fill the void are Jeff Lockie, a redshirt junior who's been in the system but has little game experience, and Division I Football Subdivision star and Eastern Washington transfer Vernon Adams, Jr. While Adams has a skillset and pedigree that would seem to make him a fit, 80% of life is showing up and in order to start for Oregon, he has to get there. 
2. Florida State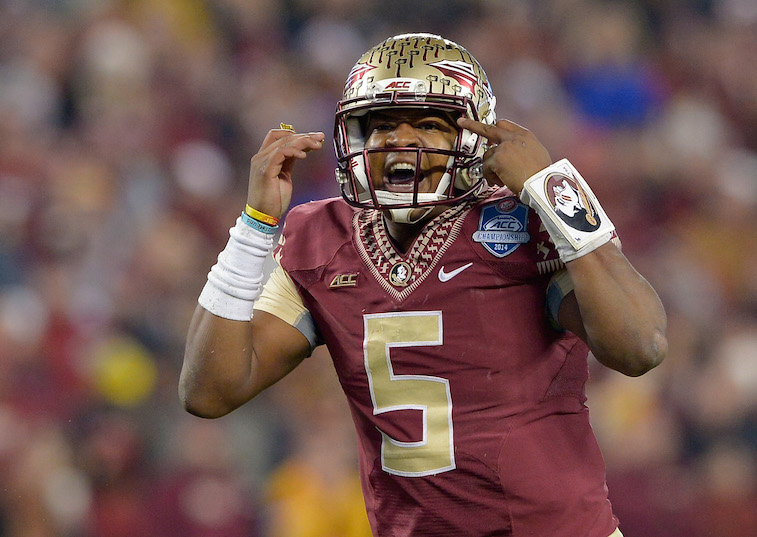 Ahh, Famous Jameis and the national nightmare that was Florida State football, 2013-2015. Let's see that fumble again — college's equivalent of the Buttfumble. Okay, enough. It's over.
In his brief, tumultuous, but also wildly successful tenure at FSU, Jameis Winston lost only one game, won a Heisman Trophy and a National Championship, and brought the Seminoles back from over a decade of latter day and post-Bobby Bowden irrelevance.
In his place steps Sean Maguire, who you may remember as the guy who played competently enough against Clemson last fall to put the Tigers in a position to totally blow a winnable game, or possibly Notre Dame transfer and turnover machine Everett Golson.
Golson clearly made a strong impression while playing against the Seminoles for Notre Dame last fall, in another game Florida State should have lost, but Maguire is a better fit for this pro-style offense. For his part, Coach Jimbo Fisher is saying all the right things about the competition and giving each of these guys an opportunity to take this job by the crab legs. 
3. Baylor
The nation's highest scoring team two years running, the Baylor Bears figure to once again spread opponents out, make their games exciting, and compete for the only Power 5 crown you can't win in a championship game.
While Bryce Petty is off to become the latest in a string of unfairly maligned mid-round draft pick New York Jets quarterbacks (Deadspin columnist Drew Magary is even predicting "Petty Boy" headlines after he inevitably supplants Geno Smith and loses his first start), Baylor is beginning again with junior Seth Russell.
Let's be honest: even if Seth Russell doesn't prove to be a "freak QB," but merely a competent one, does anyone really have any doubts that Baylor's offense under Art Briles will continue operating like the well-oiled machine that it is? Furthermore, have you seen Russell's superhuman teammate on the other side of the ball, Shawn Oakman? Yeah, Baylor will be fine. 
4. UCLA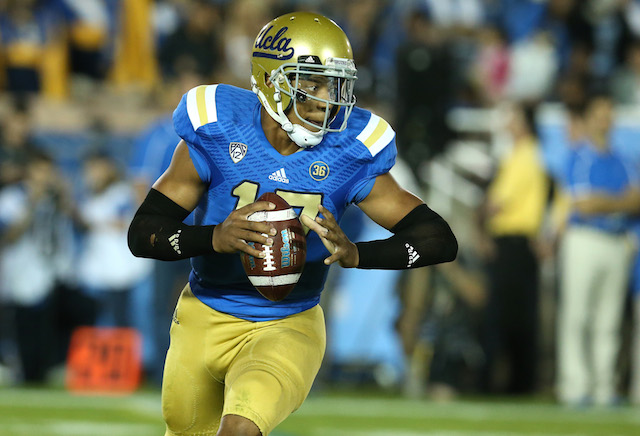 UCLA is a weird team. Under Jim Mora, Jr. they've been a steadily improving squad that has flown under the radar. While northern rivals Oregon and Stanford have continued to rule the Pac-12 for the past several years, UCLA, in the mixed bag that is the Pac-12 South division, has failed to get much in the way of national recognition.
Brett Hundley seemed to epitomize the Bruins during his time there, as the best quarterback in the country you probably didn't know much about. After three strong seasons as a starter — two with at least ten wins — who was both a rushing and passing threat, Hundley has moved on and left Mike Fafaul, Jerry Neuheisel, Josh Rosen and Asiantii Woulard to sort out who ultimately takes his place.
With a competition Mora says could linger into the season, UCLA is a question mark and the only real question is whether or not the answer will loud enough for those of us not living on the West Coast to hear? 
5. Ole Miss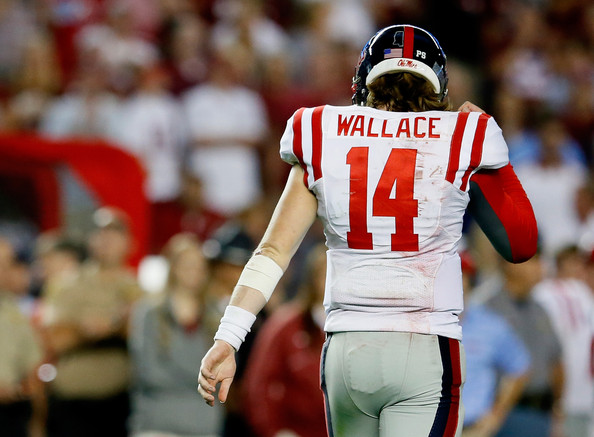 Remember all those annoying "Good Bo and Bad Bo" articles and commentaries from last year? Mercifully, with Bo Wallace's graduation and departure, they're done. The Rebels, however, are not.
In spite of the manner in which their fairy tale rise last season came undone, with a very visual representation in the form of Laquon Treadwell's gruesome injury, the Rebels return playmakers (including a recovered Treadwell) on both sides of the ball who will help ease the transition of whoever takes over the reigns this year.
The three-man race, including junior Chad Kelly and sophomores Ryan Buchanan and DeVante Kincade, is expected to yield a successor who can lead a team with legitimate College Football Playoff and National Championship aspirations once again.
In a division with the great Nick Saban and his Crimson Tide, Auburn, LSU, and fellow upstart Mississippi State, the Rebels nonetheless have every chance to run the SEC West in 2015, provided their competition doesn't yield the second coming of Bad Bo.
Statistics and information provided by ESPN.
Follow Tamer on Twitter @iamtamerabouras