5 Craziest MLB Brawls Since 2010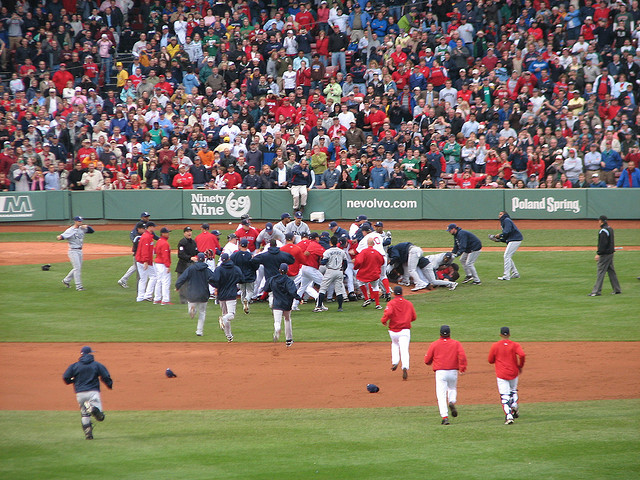 Baseball is a non-contact sport played at such a leisurely pace at times that it's easy to miss the animosity brewing. Pitchers who have a tendency to throw inside make sworn enemies, while hot-dogging batters "pimping" too long after a home run can make themselves unpopular around the league in a heartbeat. Major League Baseball players are known for swearing by the unwritten rules that try to prevent public humiliation and further repercussions by trading hit-batsman for hit-batsman during games or over the course of several years (seriously).
There are times when the system breaks down, leading to anarchy and what is usually a nasty brawl. In baseball, you can't hack a player on his next layup or lay him out when he's going down the field for a long pass. It may take months or years to retaliate against someone who wrongs you according to the code, and this may explain why baseball brawls tend to go from zero to 60 in a flash.
These days, ballplayers risk long suspensions and hefty fines for fighting between the lines, but it doesn't seem to matter. Prohibitive penalties have not stopped some of the biggest brawls in memory from taking place in recent years. Here are the five craziest brawls between MLB players since 2010.
5. Boston Red Sox vs. Baltimore Orioles: July 8, 2011
In a terrific article by ESPN's Tim Kurkjian, veteran players tried to explain why it's unacceptable for younger players to go too far after hitting a home run while hitters with more MLB service (and success) get more leeway. Take Boston's David Ortiz for example. While many pitchers have remarked that his home run trots are routinely too long and self-indulgent, few have thrown beanballs the designated hitter's way.
Things did come to a head at Fenway Park in early July 2011. Baltimore's Kevin Gregg went out of his way to drill Ortiz for some prior beef but succeeded only in brushing him back. On a 3-0 pitch up by seven runs (which is a no-swing moment according to baseball's unwritten rules), Ortiz took a big hack and popped up the ball. Neither player wanted the moment to end, so as Ortiz jogged up the first-base line Gregg told him to move himself along at a quicker pace (only less pleasantly). Ortiz took exception to the advice and a brawl between the two big fellows ensued.
Gregg and Ortiz both received four-game suspensions and fines, while others from both teams received lesser penalties. As with most MLB brawls, these division rivals bring out a higher level of aggression in one another. Familiarity breeds a unique form of contempt on the baseball diamond.
4. San Diego Padres vs. Los Angeles Dodgers: April 11, 2013
This brawl happens fast and furious after the Dodgers' Zack Greinke hits the Padres' Carlos Quentin high on the arm. Quentin had been a perennial leader in hit-by-pitches over the years but took exception to this pitch, which came on a 3-2 count with no one out and the Dodgers leading the game 2-1 in the sixth inning. Obviously, it was not the time for a pitcher to put anyone on base.
There was no stopping Quentin, who took a full head of steam into Greinke and broke the Dodgers pitcher's collarbone with the blow. The Dodgers organization was irate about the event that came early in the 2013 season. Greinke had just signed a long-term deal worth $147 million before he was sidelined for over two months. He didn't do anything wrong except try to counter Quentin's charge.
3. Mexico vs. Canada (WBC): March 13, 2013
Just because it's the World Baseball Classic doesn't mean MLB players won't throw down when the rules are broken and pride is offended. There were some hard, late slides by Team Canada catcher Chris Robinson earlier in this WBC elimination game, but things got ugly when Robinson bunted for a base hit in the ninth inning up by six runs. In terms of timing and "the code,"  Robinson's move couldn't have been more provocative. He was ready for action. Third baseman Luis Cruz fielded the Robinson bunt and openly instructed Team Mexico Pitcher Arnold Leon to drill the next batter.
Leon did exactly that — nailing Team Canada's Rene Tosoni in the back —  before a wild brawl ensued. Among the many participants, Alfredo Aceves could be seen in several skirmishes on the fringes  of the action. Former MLB legend Larry Walker, serving as Canada's first base coach, had the most memorable quote when he said he grabbed Aceves during the fight and "saw Satan in his eyes." No suspensions were issued, though seven players were ejected on the spot. The WBC ruled that "disciplinary measure would not have a meaningful corrective impact."
2. St. Louis Reds vs. Cincinnati Cardinals: August 10, 2010
St. Louis and Cincinnati are passing through another testy period in their longstanding rivalry. The Reds and Cardinals both play in Midwestern cities, they play in the same division, and both normally have contending teams. In other words, one has to get through the other in order to advance. On this particular night early in 2010, the usual animosity got hotter from comments made by Reds second baseman Brandon Phillips.
"All they do is bitch and moan about everything, all of them. They're a bunch of little bitches," Phillips said ahead of the contest. "Let me make this clear: I hate the Cardinals." (Tell us how you really feel, Brandon!) Considering the sharp tone, it's easy to see why Yadier Molina was not in the mood to play nice when Phillips went to tap his shin guard for the typical MLB pregame "hello." Molina kicks away Phillips's bat and the benches quickly clear.
Chris Carpenter, Johnny Cueto, and Scott Rolen were among the most active participants. This brawl gets bonus points on the crazy meter for happening before the game even started. Clearly, baseball was of secondary concern for the two teams on that August day in Cincinnati.
1. Los Angeles Dodgers vs. Arizona Diamondbacks: June 11, 2013
There was too much bad blood between the Dodgers and Diamondbacks in June 2013 for this game's multiple beanings to go unanswered. Benches had already cleared when Zack Greinke hit Miguel Montero in the back as a response to the Diamondbacks' Ian Kennedy hitting Yasiel Puig in the face with a fastball earlier in the game. Kennedy planted one near Greinke's head in yet another beaning, which brought the teams onto the field for a wild fistfight and wrestling match.
After a general struggle, Puig tries to ram through about half the Diamondbacks team. At one point, someone slugs Puig in the head, though it doesn't seem to bother him. Next, Dodgers skipper Don Mattingly body slams Diamondbacks manager Kirk Gibson. Hitting coach Mark McGwire soon has Matt Williams clutched in one hand and Gibson in the other. Ronnie Belisario, Turner Ward, Juan Uribe, Eric Hinske, Miguel Montero, and Puig continued scuffling in the scrum that was imposible for umpires to contain.
Eight men (five players) were suspended and four more were fined for the melee, which tops the crazy scale for the number of beanballs (one in the face), the amount of suspensions, and the manager-on-manager scuffle, not to mention the violent brawling between players and bench coaches.