5 NBA Players Who Could Play Football in the NFL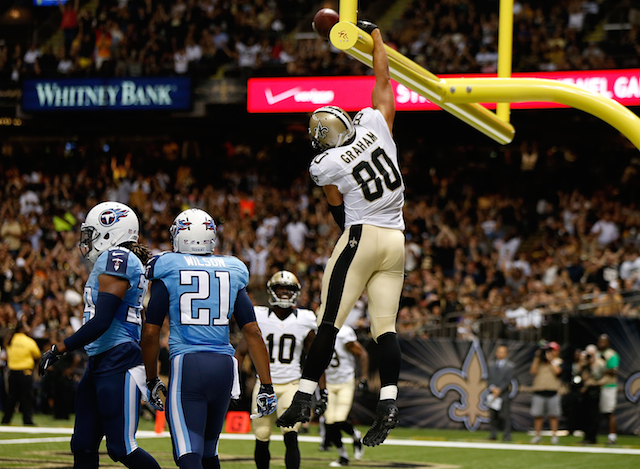 The list of college basketball players with limited football experience taking their athletic talents to the football gridiron seems to grow every year. It started with Tony Gonzalez, who was a two-sport star in college, and has continued with current All-Pro caliber tight ends Antonio Gates, Jimmy Graham, and Julius Thomas.
When an avid football fan watches an NBA game, it's undoubtedly hard for them not to imagine some of the amazing athletes of the NBA in an NFL uniform. Many professional basketball players possess a rare combination of size, speed, agility, and body control that is, for lack of a better word, freakish. Recently, former University of Miami basketball player Erik Swoope decided to hang up his high tops, lace up a pair of cleats, and attempted to reinvent himself as a tight end in the NFL, and NBA staple Nate Robinson has made  waves by saying he'll try out for any NFL teams this offseason. Here, then, is a look at five NBA players who could make the transition to playing in the NFL.
Glen Davis, power forward, free agent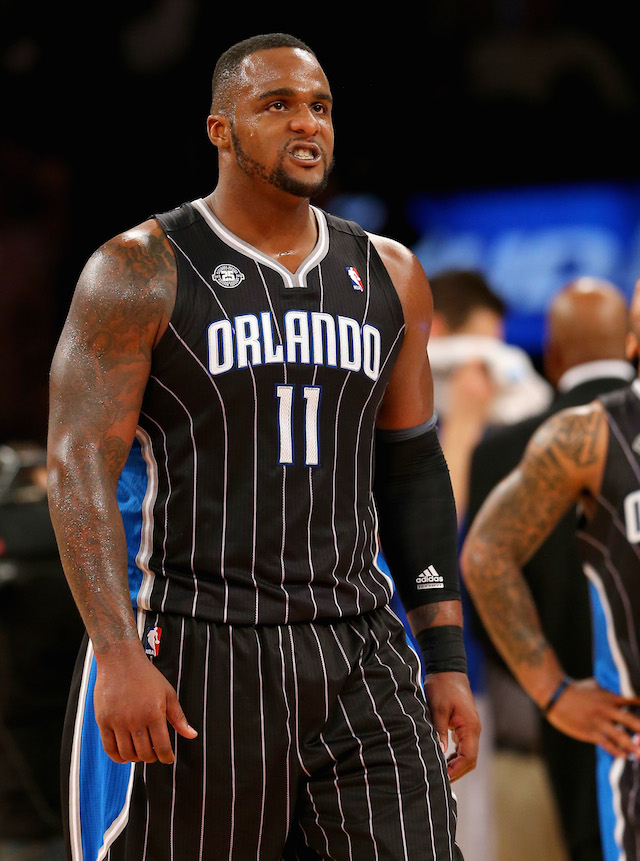 Height: 6 feet, 9 inches
Weight: 290 pounds
Through nine NBA seasons, Glen Davis averaged a modest 8.7 points and 4.7 rebounds for his career. Had Davis chosen the football route when he was a blue-chip recruit in both football and basketball as a high school senior, we could be talking about a perennial All-Pro left offensive tackle instead of a NBA role player. With Davis's size, strength, body control, length, and agility, he could easily neutralize the best pass rushers in the NFL today.
LeBron James, small forward, Cleveland Cavaliers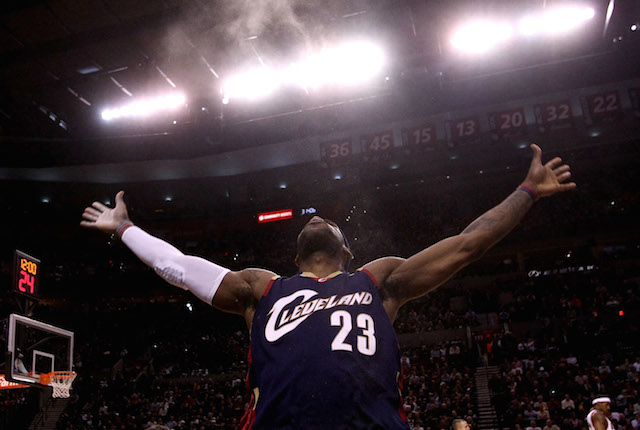 Height: 6 feet, 8 inches
Weight: 250 pounds
LeBron James's football potential has been in the limelight ever since video of him as a wide receiver in high school went viral a few years back. As probably the most gifted athlete in the NBA in terms overall size, speed, and strength, James could almost surely make a living in the NFL as either a tight end or wide receiver. Imagine a player with Rob Gronkowski's size and Dez Bryant's speed and agility. That may be an over-exaggeration, but it's hard to imagine any defender in the NFL being able to cover King James.
John Wall, point guard, Washington Wizards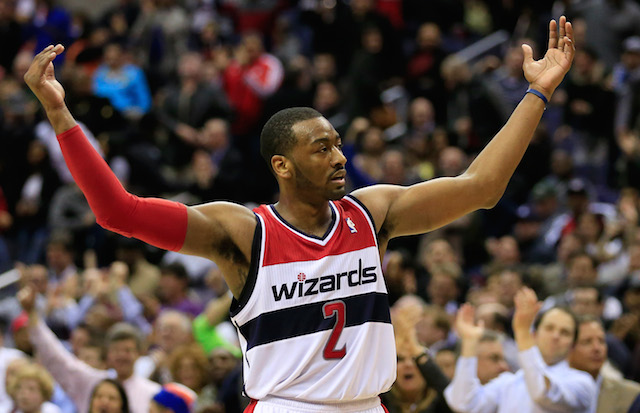 Height: 6 feet, 4 inches
Weight: 195 pounds
John Wall is arguably the fastest player in the entire NBA, which means the guy can flat-out fly. Throw in the fact that he is 6-foot-4 with long arms and you have the makings of another Randy Moss-type of wide receiver.
Andre Iguodala, shooting guard, Golden State Warriors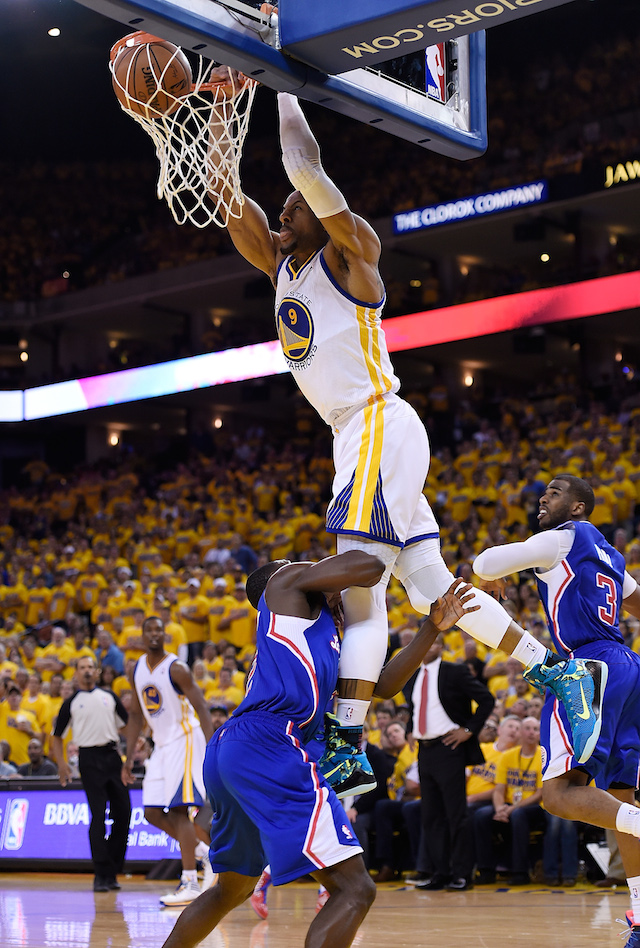 Height: 6 feet, 6 inches
Weight: 215 pounds
Andre Iguodala is athletic enough and big enough to guard four positions in the NBA. He also happens to be one of the most explosive, slashing athletes in the league, as well. He has the body to be either a wide receiver or tight end in the NFL, and a lot like LeBron, there would be very few players currently in the NFL that would have the ability to cover Iguodala on a consistent basis.
Kenneth Faried, power forward, Denver Nuggets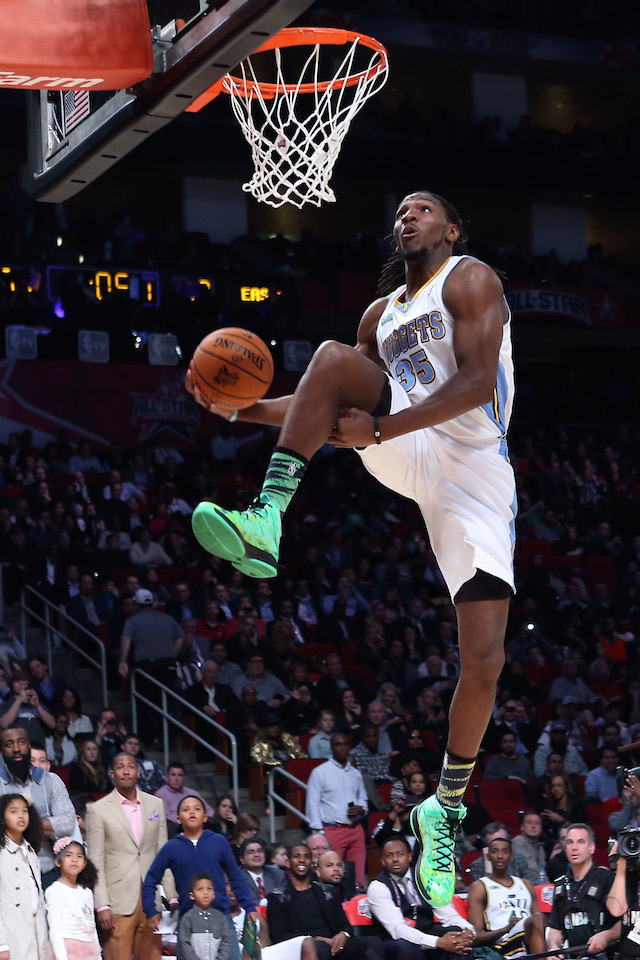 Height: 6 feet, 8 inches
Weight: 228 pounds
Kenneth Faried is an absolute freak of nature. He has the type of size and athletic ability that would translate well to several positions in the NFL. Watching him play basketball, one can't help but think about what kind of defensive end or linebacker he would make, but you also cannot deny that his speed, length, and leaping ability would come in handy offensively in the red zone. If Faried were to take part in the NFL Combine, even if it was just for fun, he would have scouts and coaches salivating at his football potential.