5 Fast Facts About James 'Shack' Harris, the First Black QB to Start an NFL Season-Opener
Long before the Los Angeles Rams hoped Matthew Stafford would be their savior at quarterback, the team had James "Shack" Harris under center.
Younger football fans likely aren't familiar with Harris, a Grambling State product who spent over a decade in the NFL. However, those who watched football in the 1970s may vividly recall the trendsetting signal-caller.
James 'Shack' Harris made NFL history in Week 1 of the 1975 season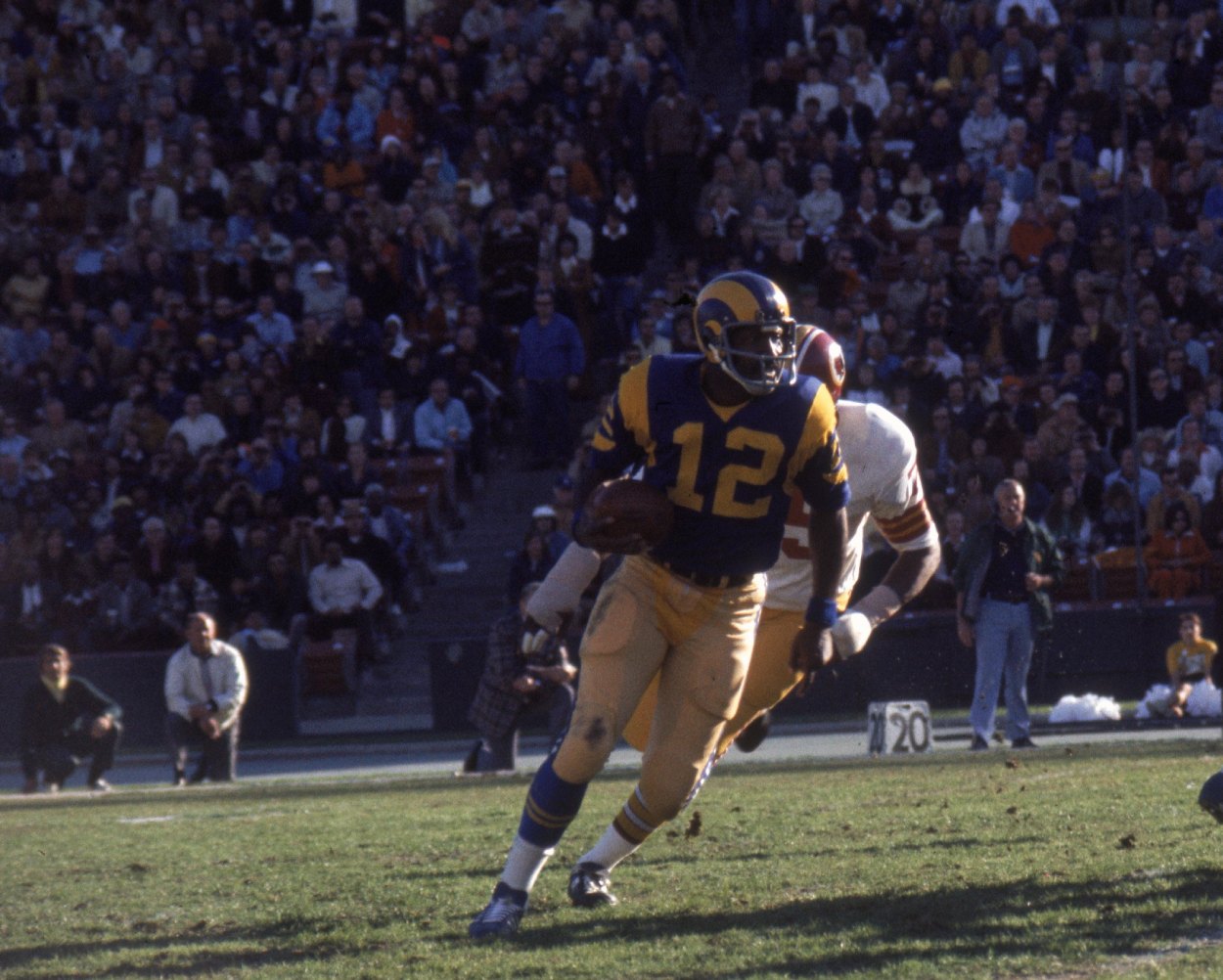 Harris had already been in the NFL for six full seasons when the 1975 campaign began. However, he made NFL history when he took the field against Tom Landry and the Dallas Cowboys on Sept. 21, 1975.
The Texas Stadium crowd witnessed an unforgettable sight as Harris became the first Black quarterback to open a season as his team's starting quarterback. Unfortunately for the veteran signal-caller, he completed only one of his 10 pass attempts for five yards and three interceptions in an 18-7 loss.
Harris previously became the first Black starting QB in the NFL postseason
That fateful Sunday in Dallas wasn't Harris' first brush with history. A season earlier, he took over as the Rams' starting quarterback midway through the year and completed 53.6% of his passes for 1,544 yards, 11 touchdowns, and six interceptions en route to a Pro Bowl berth. He also ran for five touchdowns in 11 games and nine starts.
When Harris started against the now-Washington Football Team in the Divisional Round, he became the first Black starting quarterback in league history. He threw a touchdown and two interceptions in the Rams' 19-10 victory at Los Angeles Memorial Coliseum. The Minnesota Vikings defeated the Rams in the NFC Championship Game.
Harris later won a Super Bowl with the Baltimore Ravens
After 13 NFL seasons, Harris eventually transitioned into an NFL executive career. He served as the Baltimore Ravens' director of pro personnel from 1997-2003 and won a Super Bowl ring following the 2000 season.
Maybe we're wrong, but we think Harris should be extremely grateful he never had to face Ray Lewis and that stout Ravens defense. Then again, he had to face the likes of Alan Page and Joe Greene in his own career. Point withdrawn.
After leaving the Ravens, he served as the Jacksonville Jaguars' vice president of player personnel from 2003-08. He later worked as a senior personnel executive with the Detroit Lions from 2009-15. Needless to say, no Super Bowl appearances came out of those tenures.
Harris remains among the most successful Rams quarterbacks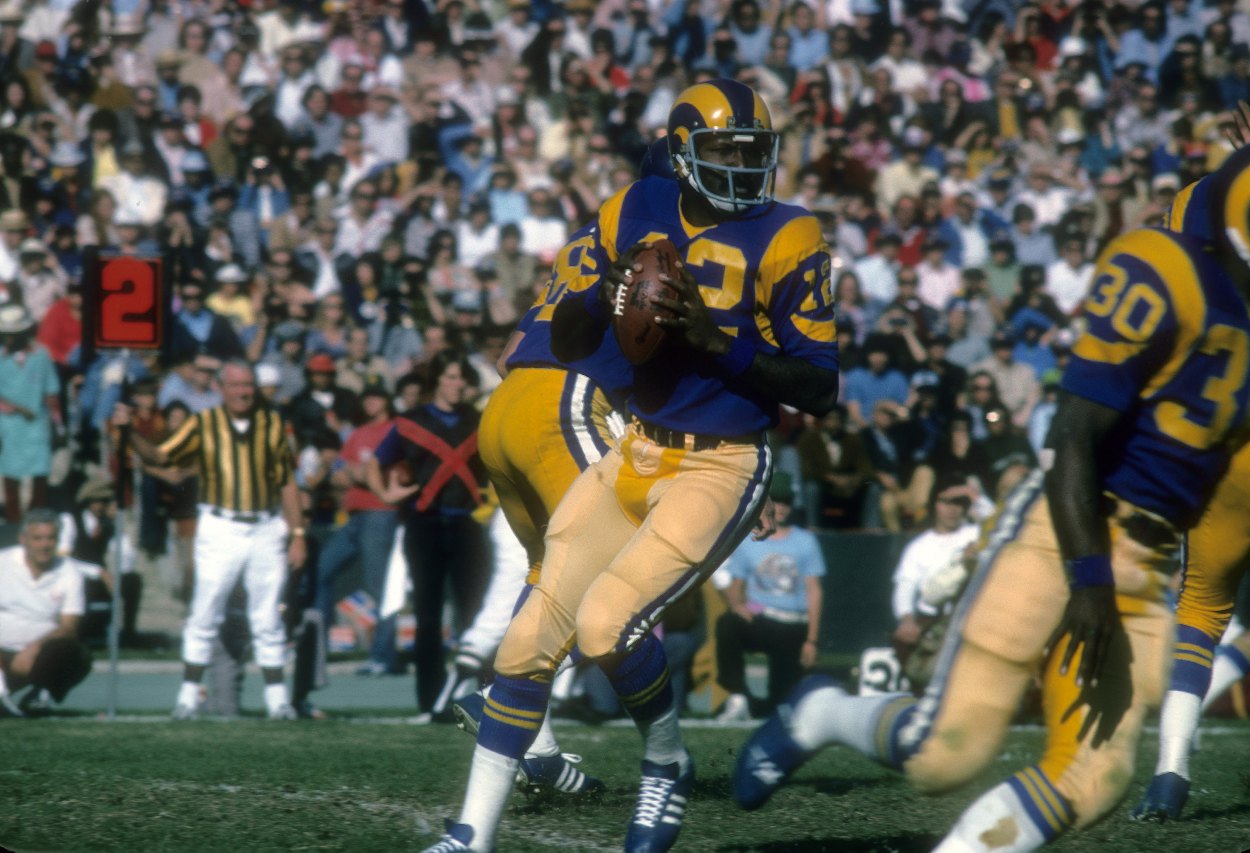 All eyes are on Stafford to see if he can finally win a playoff game after failing to do so in 12 seasons with the Lions. It will also be interesting to see if he can pass Harris in a key statistic.
Back in 2015, the NFL Network shared a graph ranking Rams quarterbacks' winning percentages since 1950. Harris ranked atop the list of all quarterbacks in franchise history who made at least 25 starts, even ahead of Kurt Warner. The former Pro Bowl selection won 77.8% of his 27 starts.
Warner, who won an even 70% of his 50 starts with the Rams, finished second. Jared Goff, who the Rams traded to the Lions for Stafford, won 60.8% of his 69 starts in six seasons with the franchise. That is the sixth-highest score among eligible quarterbacks.
Harris has become an advocate for HBCUs over the years
Long before he made NFL history, Harris starred at Grambling State University, an HBCU in Louisiana. He broke numerous passing records en route to becoming an eighth-round pick in the 1969 NFL Draft.
As time has gone on, Harris has teamed up with other HBCU products, including longtime Washington quarterback Doug Williams, in promoting those schools. His alma mater faced Tennessee State University, now coached by former Pro Bowl running back Eddie George, in the Black College Football Hall of Fame Classic on Sunday, September 5, at Tom Benson Stadium in Ohio.
Grambling, as they often did in Harris' tenure, walked away with a 16-10 victory.
Like Sportscasting on Facebook. Follow us on Twitter @sportscasting19.