5 Favorites to Win 2014-2015 NBA Rookie of the Year
With the NBA preseason getting underway, it's the first real chance for pro basketball fans around the world to get their first glimpse of the league's next crop of stars. After a loaded draft this summer, the Rookie of the Year race seems wide open for the 2014-2015 season. Who will shine? Who will surprise? Who will dominate? Here are the top favorites to take home the Rookie of the Year trophy, according to Bovada's latest odds.
5. Doug McDermott (12/1)
Doug McDermott was the 11th overall draft pick in 2014, first taken by Denver and then promptly traded to Chicago. The Creighton product knows how to score: He poured in 3,150 points during his college career while playing for his father, Greg. If McDermott can perform on the other end of the floor up to noted defensive guru Tom Thibodeau's expectations at the next level, the rookie should get plenty of minutes this year (which equals plenty of chances to put up the big numbers he's known for).
4. Julius Randle (7/1)
Kentucky freshman Julius Randle averaged 15 points and 10 rebounds a game in his only season of college basketball, which translated to the big man becoming the No. 7 overall draft pick. Now a Laker, Randle will be trying to help Los Angeles bounce back after a rare non-playoff season. If the rookie can earn the respect and trust of veteran guards Kobe Bryant and Steve Nash early on, he should find more than enough opportunities to finish at the rim for easy hoops thanks to the veterans' creative assists and playmaking skills.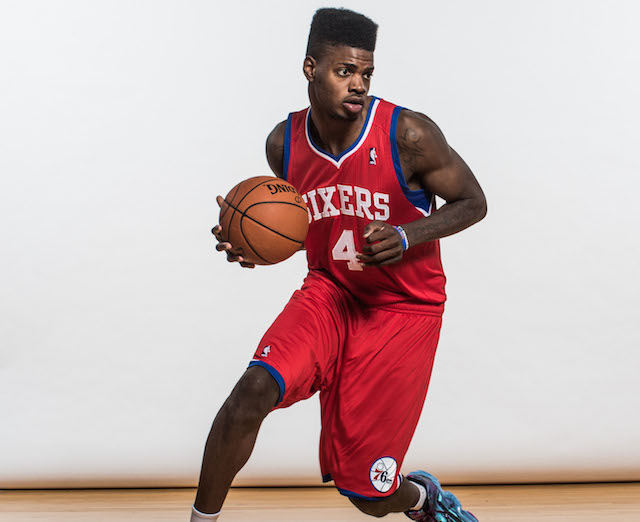 3. Nerlens Noel (6/1)
The 76ers rookie Nerlens Noel hasn't played a meaningful basketball game since tearing his ACL in February 2013 during his freshman season at Kentucky. The Sixers acquired Noel, the sixth overall pick in 2013, in a draft night trade and took a cautious and patient approach to his recovery. Now 100% and ready to tackle the next challenge in his career, Noel will attempt to give Philadelphia back-to-back Rookie of the Year winners as he teams up with fellow 2013 first-round pick Michael Carter-Williams on a youthful 76ers roster.
2. Andrew Wiggins (4/1)
The No. 1 overall draft pick of this — or any — summer is obviously going to be one of the favorites to win the next season's Rookie of the Year award, and that's the case with Minnesota's Andrew Wiggins. Wiggins, who averaged more than 17 points in his freshman season at Kansas, spent most of the summer uncertain what NBA team he would play for due to the swirling rumors about a deal for Kevin Love. Now that Wiggins is officially with the Timberwolves (not the Cavaliers), he can turn his focus and attention to helping Minnesota reach the playoffs for the first time since 2004 — and living up to his No. 1 draft ranking in the process.
1. Jabari Parker (3/1)
The favorite to win the 2014-2015 NBA Rookie of the Year is No. 2 overall pick Jabari Parker of the Milwaukee Bucks. Parker will be hoping to match his college scoring average (over 19 points a game) as a professional, and he'll need to have a big season if the no-name Bucks are going to improve on last year's 15-win season. (Think 'no-name' is too harsh? Quick: How many of Milwaukee's top six 2013-2014 scorers can you name? If you came up with Brandon Knight, Ramon Sessions, Khris Middleton, Ersan Ilyasova, John Henson, and O.J. Mayo, kudos to you.) Bottom line: Parker will have all the chances he needs to show off his scoring, rebouding, passing, and defending skills on a rebuilding team this winter.