5 Fights With the Most Pay-Per-View Buys in UFC History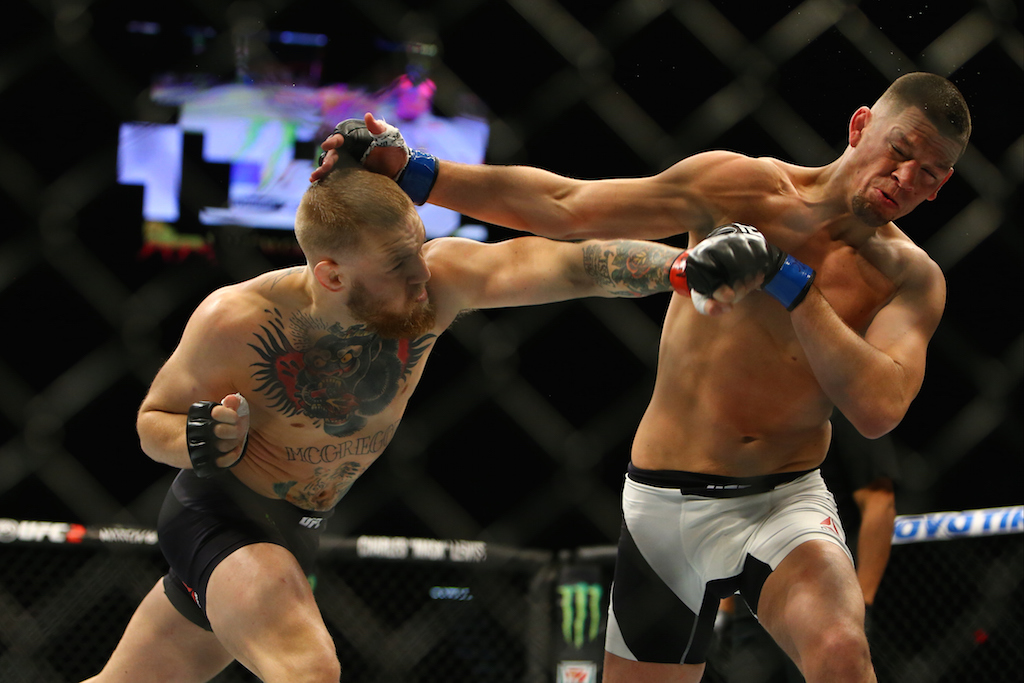 Contrary to popular belief, sports are completely unpredictable. Whether it's a team game or an individual competition, the favorites aren't always destined to win. In athletics, the possibility of an unbelievable upset is part of the reason we keep coming back for more. And as UFC fans are well aware, UFC 196 featured the sort of shocking upset that most probably didn't see coming: The defeat of UFC featherweight champion Conor McGregor.
While McGregor did move up to a higher weight class to take on Nate Diaz, who wasn't even his original opponent, it seemed like a foregone conclusion that the brash Irishman would still handle his business. Yet, even though he lost by submission, you have to give McGregor some credit.
He handled his defeat with dignity and grace. "I took the chance in going up to 170," said McGregor. "I was inefficient with my energy. I'm humbled in victory and defeat. He took the fight on short notice and done the job. He was efficient. I was not. These things happen. I'll learn, and I'll grow. I'll face it like a man."
For a person as driven and competitive as McGregor, we're sure the loss will sting for a little while. However, at least he didn't leave Las Vegas empty handed. As noted by Forbes, McGregor will receive a record purse of $1 million for the fight. Of course, that figure will go up once the revenue generated from the most pay-per-view buys comes in.
The question is: How much will that end up being? We may not know the answer to that right now, but we do know which events throughout the sport's existence have had the most pay-per-view buys. Here's a look at the five biggest draws in UFC history.
5. UFC 91, November 2008
Pay-per-view buys: 1.01 million
UFC 91 featured a heavyweight title bout between the then-champion Randy Couture and a man who will be featured multiple times on this list, Brock Lesnar. While ultimate fighting fans probably know that Lesnar went home victorious thanks to a second-round TKO, they may not be aware that while he earned $450,000 for winning the contest, according to Forbes, this fight also generated 1,010,000 pay-per-view buys. Of course, if that figure doesn't impress you, fear not. We're just getting started.
4. UFC 168, December 2013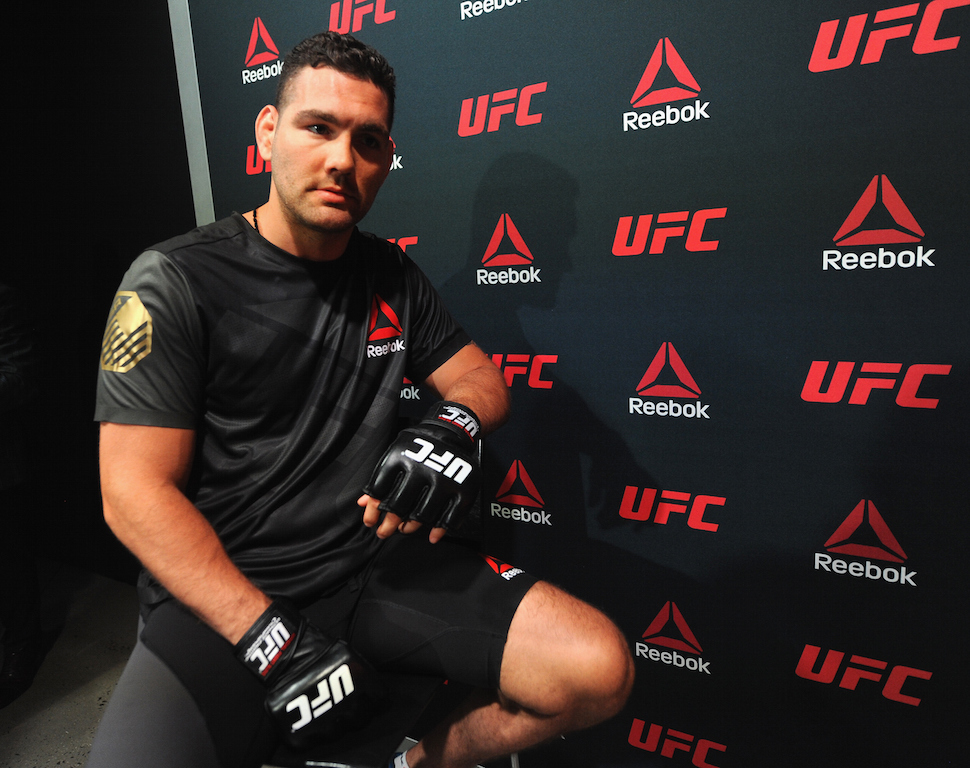 Pay-per-view buys: 1.025 million
Fans at home who shelled out the cash for UFC 168 were treated to something special: two for the price of one. This event, which took place at the MGM Grand in Las Vegas, featured a rematch between reigning middleweight champion Chris Weidman — who would come out victorious (again) — and Anderson "The Spider" Silva, as well as a women's bantamweight fight between then-champion Ronda Rousey and Miesha Tate (the former won). Aside from garnering 1,025,000 pay-per-view buys, this event also earned $6.2 million from the gate revenue, the second-most in the history of the sport.
3. UFC 66, December 2006
Pay-per-view buys: 1.05 million
At UFC 66, when Tito Ortiz and Chuck Liddell squared off in the octagon, who could've imagined the sort of response it would get. With a third-round knockout, Liddell was crowned the light heavyweight champion, and the sport would topple the standing record for live gate revenue by $2,000,000, while also securing the third most pay-per-view buys at 1,050,000. Even back in 2006, the UFC was clearly on its way to becoming much-watch entertainment.
2. UFC 116, July 2010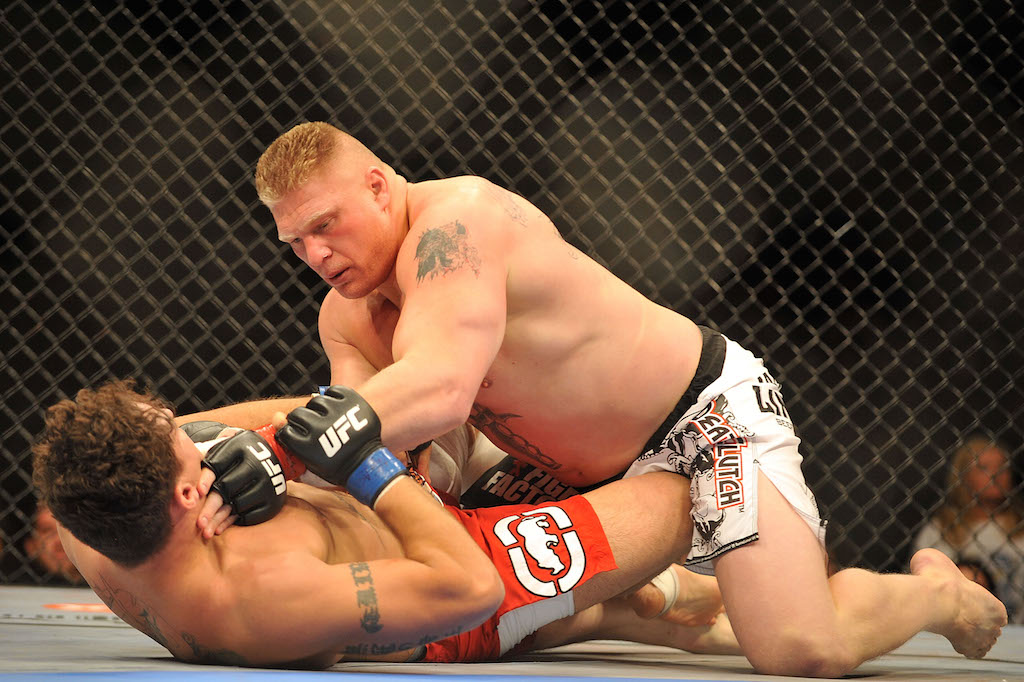 Pay-per-view buys: 1.06 million
Once again, at UFC 116, Lesnar (above right) took his talents to the octagon. And surprising no one, the folks at home threw down the cash to watch the action. Lesnar defeated Shane Carwin in the second round by submission, and the UFC came away with 1,060,000 pay-per-view buys. When it came to these two forces of nature finally facing off, clearly the third time was the charm.
1. UFC 100, July 2009
Pay-Per-View buys: 1.06 million
We told you Lesnar would dominate this list, and we meant it. Per Forbes, UFC 100, which featured the heavyweight fight (pictured above) between Lesnar and Frank Mir — as well as the welterweight showdown between Georges St-Pierre and Thiago Alves — brought in the most pay-per-view buys in UFC history. Given the popularity of the sport, we have a feeling it's only a matter of time before this record is broken. The only question is: Who will be the ones to take the crown?
Information courtesy of Forbes.com and ESPN.com.