NFL: 5 of the Best Players on Some of the Worst Teams
The National Football League is filled with the best football players in the world, and everyone is competing for the same thing: the Lombardi Trophy. There is no point in going through all the blood, sweat, and tears if you aren't doing it with the sole intention of winning the Super Bowl at the end of the season. Unfortunately, no matter how talented a lot of players are, they may never find themselves in that position when it's all said and done.
The simple fact is that some organizations are better than others. These franchises not only know what it takes to build a champion, but they tend to do it on a consistent basis. As a player, you hope to find yourself on a championship contending team, but it doesn't always work out that way — no matter how talented of a player you are. If your organization isn't able to surround you with the pieces you need to win, then you may spend the majority of your career fighting an uphill battle. Although the landscape does sometimes shift in the NFL, there will always be very skilled players on less than solid teams. That's just the way it is. And right now, here are five great players on bad teams.
1. Matt Ryan, quarterback, Atlanta Falcons
Statistics 2014: 66.1% completion, 4694 passing yards, 28 TD, 14 Int, 93.9 quarterback rating
Current team's record in 2014: 6-10
Matt Ryan has been the starting quarterback for the Atlanta Falcons since they took him with the third-overall pick in the 2008 NFL Draft. In his seven seasons as a pro, Ryan has accumulated 28,166 passing yards, 181 touchdowns, and a career 64% completion. He has been selected to the Pro Bowl three times and led the Falcons to the playoffs on four different occasions. Unfortunately for Ryan, the last two seasons in Atlanta have been filled with more lows than highs.
The Falcons ended 2013 with a 4-12 record, and they followed that up with a 6-10 record in 2014. Ryan may have put up Pro Bowl numbers last season, but they weren't enough to keep Atlanta from finishing near the bottom of the NFC South Division. Hopefully the hiring of new coach Dan Quinn, along with new offensive coordinator Kyle Shanahan, will be enough to reverse the course in Atlanta. It would be a shame for Ryan to waste all that talent in a losing environment.
2. Drew Brees, quarterback, New Orleans Saints
Statistics 2014: 69.2% completion, 4,952 passing yards, 33 TD, 17 Int, 97.0 quarterback rating
Current team's record in 2014: 7-9
For all the talk surrounding Drew Brees's regression as a quarterback, the former Purdue Boilermaker was still selected to his seventh straight Pro Bowl. Although he only threw 33 touchdowns and tacked on 17 interceptions in 2014, Brees continued to put up ridiculous passing yards. His 4,952 yards in the air were good enough to place him in a tie for the league's best. With Brees under center, the New Orleans Saints can trust that they'll continue to get quality quarterback play. However, that doesn't mean the future Hall of Famer will get the same support in return.
The Saints have finished two out of the last three seasons with a 7-9 record, and who knows what's in store for the organization in 2015. With Brees now 36 years old, the Saints clearly have an eye on the future. They spent this offseason unloading some of the quarterback's top weapons, including trading All-Pro Jimmy Graham to the Seattle Seahawks, so we can't believe he's too thrilled with the team's new direction. And yet, when Brees and the Saints joined forces in 2006, it was a match made in heaven — a union that would eventually yield a Super Bowl in 2009. Brees is clearly at the end of his fantastic career. Perhaps he and the Saints can figure out a way to make sure he goes out on top.
3. Darrelle Revis, defensive back, New York Jets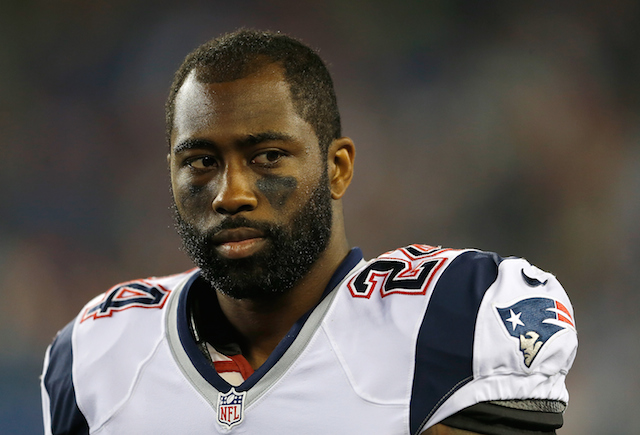 Statistics 2014: 44 tackles, 6 assists, 2 Int, 1 forced fumble, 1 fumble recovery
Current team's record in 2014: 4-12
Darrelle Revis is considered by many to be the best cornerback in the NFL. Eight years in the league and Revis has already been selected to six Pro Bowls and been named a First-Team All-Pro four times. The former Pittsburgh Panther is unrivaled in his ability to handle one-on-one coverage. He's not called "Revis Island" for nothing. This man was born to stick a receiver all by himself; just put him out on an island and let him go do his thing. We'd say it worked out pretty well for the New England Patriots in 2014. We're not so sure that 2015 will play out the same way.
After signing a five-year, $70 million deal with $39 million fully guaranteed, Revis will once again be taking the field as a member of the New York Jets. This may not be the same team that took him 14th overall in the 2007 NFL Draft, but they are coming off a tumultuous 2014 campaign. With a 4-12 record, the Jets finished in the cellar of the AFC East Division. They had a solid defense, but a disorganized and inefficient offense. And it was ultimately time to make a change. Todd Bowles is now the man calling the shots for the Jets. He is a smart, defensive-minded coach who will know exactly how to best utilize Revis's strengths. No one doubts that the cornerback will do his part. The question is, will the rest of the team do theirs?
4. Adrian Peterson, running back, Minnesota Vikings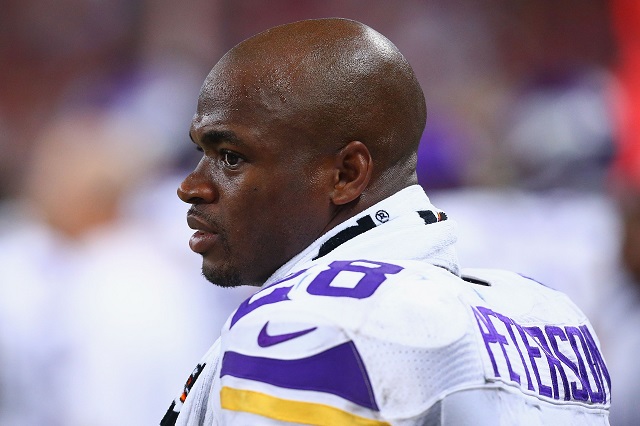 Statistics 2014: 21 carries, 75 rushing yards
Current team's record in 2014: 7-9
Running back Adrian Peterson played one game in 2014 before being suspended without pay for the remainder of the season. But now that that decision has been overturned, Peterson looks to return to his elite status in 2015. Since coming into the league in 2007, Peterson has been a massive force running the football for the Minnesota Vikings. He has 10,190 rushing yards for his career, 86 rushing touchdowns, 1,715 receiving yards, and 5 touchdowns catching the football. On top of that, the former Sooner has rushed for more than 1,200 yards in six seasons, including leading the league in both 2008 and 2012. These numbers were good enough to send him to the Pro Bowl six times and make him a three-time First-Team All-Pro. Despite Peterson's impressive play on the field, it hasn't been enough to make the Vikings a consistent contender.
In 2014, Minnesota finished with a 7-9 record, and ended up third in the NFC North Division. They were 27th in the league in total yards, 28th in passing, and 14th in rushing. However, it was a transition year, with Mike Zimmer in just his first season as the head coach. There was also promise for the Vikings at the quarterback position, with rookie Teddy Bridgewater adjusting quite nicely to the demands of the NFL. Should Peterson return to Minnesota, these two stars could potentially work well together. But according to the running back's agent, the Vikings are not the right fit for his client. Unfortunately, while Peterson wants out of Minnesota, the team is steadfast on keeping him there. It should be interesting to see how this all plays out.
5. Ndamukong Suh, defensive tackle, Miami Dolphins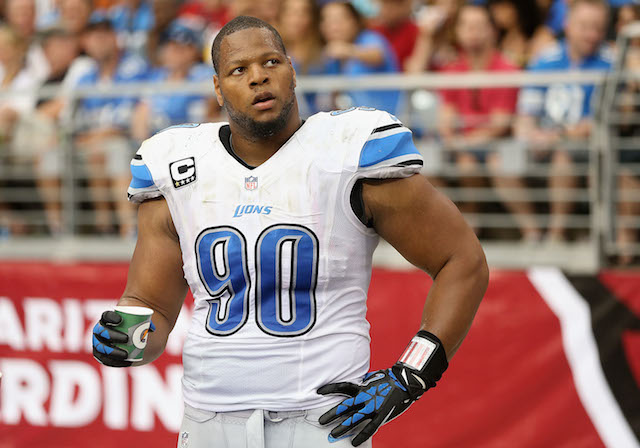 Statistics 2014: 46 tackles, 8 assists, 8.5 sacks
Current team's record in 2014: 8-8
In his five seasons with the Detroit Lions, defensive tackle Ndamukong Suh has become one of the most disruptive forces in the NFL. He is aggressive, mean, and downright dominating on the football field. A four-time Pro Bowler and three-time First-Team All-Pro, Suh helped turn football around in Detroit and made the Lions one of the more competitive teams in the NFC North. But his time as a Lion is now a thing of the past. This offseason, after signing a massive six-year, $114 million contract, with $60 million guaranteed, Suh will now be scaring opposing offenses in the AFC East as a member of the Miami Dolphins. Given how things have been going in Miami the last few seasons, Suh may find himself dealing with more than just a change in the weather.
Not only did the Dolphins finish third in the AFC East last season with an 8-8 record, but this is an organization that hasn't made the playoffs since 2008. In 2014, Miami was sixth in the NFL in pass defense and 24th in the run. The addition of Suh should greatly improve the Dolphins' ability to stop the run, but will it be enough to make them a contender in their division? Clearly the defensive standout was ready for a change in scenery, but only time will tell if Miami was the right place to take his talents.
All statistics are courtesy of Pro-Football-Reference.com and ESPN.go.com.