NBA: 5 Players Who Other Players Should Be Afraid Of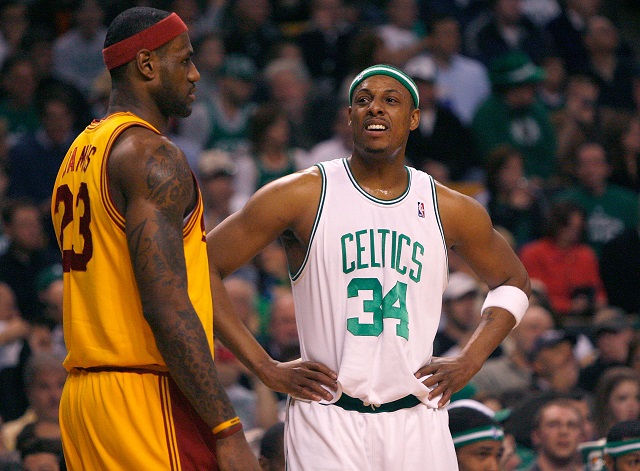 When Los Angeles Clippers' small forward, Paul Pierce, wrote "The Five Toughest Players I've Ever Guarded," the first-person account from an NBA superstar who's constantly been tasked with containing the opposing team's top player was an exciting insight into the mindset of the best in the business from somoeone who knows firsthand.
Pierce is an ultra-competitive athlete who's always loved to be challenged. That trait is one of the reasons why he garners such respect as a player. To be the best, you have to beat the best. Pierce was always up for the challenge, even if that meant playing against someone who held an unfavorable advantage over him. But this is the NBA, and that happens often.
The league is filled with a number of talented players, and many don't exactly fit the archetype of the position they play. This is an evolving game, and players are more well-rounded than ever before. Point guards score at an alarming rate, power forwards knock down outside shots, and some big men lead the fast break. That's the NBA in 2015. And as a spectator, it's exciting to watch. Unfortunately, for many players, it's not as easy to defend. In fact, it can be a downright nightmare.
With that in mind, we took a look at some of the modern-day players who present the biggest problems for their opponents. In our opinion, based on the position they play, these are the five hardest matchups in the NBA today.
1. Stephen Curry, point guard, Golden State Warriors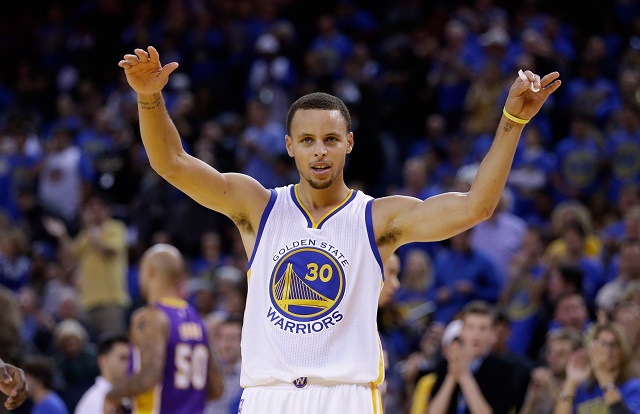 2014 statistics: 23.8 PPG, 7.7 APG, 4.3 RPG
When debating the most difficult matchups in the NBA, a strong argument can easily be made for Russell Westbrook. After all, there aren't many players who are capable of consistently handling his sheer athleticism. He is a nightmare for defenders because of his ability to beat you off the dribble, get to the rim at will, and adjust his shot while absorbing contact. He is fierce on the basketball court. However, when it comes down to it, the fact remains that there is no one quite like Stephen Curry.
This fifth-year pro out of Davidson College is a talent who can beat you in so many different ways. As a point guard, Curry possesses all the traits one would look for in the position: an incredible handle, spectacular vision, top-tier IQ, and great decision-making skills. On top of that, he has the purest shot in the NBA — all of which contributed to his 2014 MVP nod and helped the Dubs take home the title.
It's a shot he can knock down with a defender's hand in his face, and a shot he can get off from anywhere on the court. The kid plays hard and physical and with a chip on his shoulder, like he's got something to prove. On any given night, one can expect Curry to drop 40 points and dish out 10 assists. He is spectacular to watch, and a nightmare to defend.
2. James Harden, shooting guard, Houston Rockets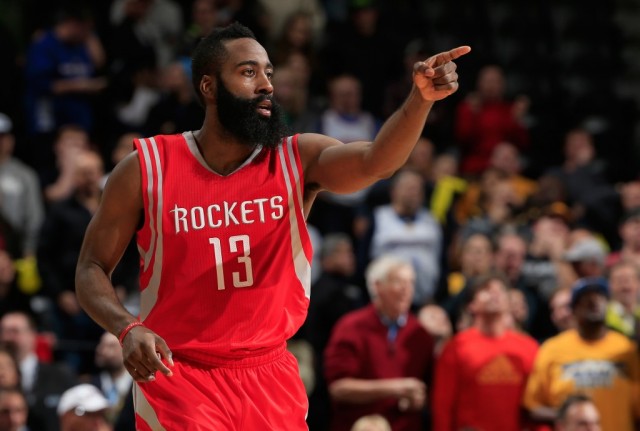 2014 statistics: 27.4 PPG, 7.0 APG, 5.7 RPG
James Harden is an offensive juggernaut. At 6-foot-5 and roughly 225 pounds, the fifth-year stud out of Arizona State is nearly impossible to contain from a defensive perspective. He plays with unabashed confidence and has the strength to go along with a super-smooth lefty stroke.
There was a period of time when Harden was third option on a very competitive Oklahoma City Thunder squad that was built to challenge for titles every season. Harden, however, was well aware of his superstar status and knew he was meant to be "the guy." So when he couldn't work out an extension with the Thunder, they shipped him to Houston in a deal that shocked the league. All he's done since then is prove his worth.
In the 2014-2015 season, Harden took his already explosive offensive game to the next level. He was second in the NBA in scoring, at 27.4 points per game, and is averaging career highs in almost every major offensive category. You get the feeling that, at just 25 years old, Harden hasn't yet scratched the surface of what he is capable of achieving. He's so strong and shifty that, from an offensive standpoint, you can pretty much expect him to have his way with you.
Quite frankly, the only thing more impressive than his scoring repertoire is his facial hair. It's true what they say: Fear the beard.
3. Kevin Durant, small forward, Oklahoma City Thunder
2014 statistics: 25.4 PPG, 4.1 APG, 6.6 RPG
Kevin Durant spent 2014 as the reigning NBA Most Valuable Player. He is natural scorer with multiple scoring titles under his belt. He is long and smooth and works with a flawless jumper. KD is definitely on the lean end, but he has underrated strength and can hold his own in the post.
There is also one other thing to mention: Durant is 6-foot-9. Good luck expecting to get a hand in his face. He will get his jump shot off whenever he wants. Also, once he starts heating up from the floor, there is almost nothing anyone can do to stop him.
KD arrived in the NBA from the University of Texas and began to showcase a skill set that would immediately catapult him into the upper echelon of the league's talent pool. It had been a while since anyone had witnessed a player with such length and finesse, who, while also gifted with a point guard's skill with the rock, was blessed with an incredible stroke.
It's safe to say that Durant is among the best scorers in the National Basketball Association. He will also probably go down as one of the most prolific scorers in league history. Quite frankly, the Durantula is near unguardable.
4. Anthony Davis, power forward, New Orleans Pelicans
2014 statistics: 24.4 PPG, 2.2 APG, 10.2 RPG
There aren't many big men in the NBA who can dribble like a guard. Their large stature makes them better equipped to bang on the inside, provide an interior presence, and utilize their size to their advantage. That is the NBA big man.
And then there's Anthony Davis, a power forward who can do it all. Over 18 months, between his sophomore and senior years of high school, Davis experienced an 8-inch growth spurt. He has the mindset and skills of a guard, only he's trapped inside the body of a big. How is one expected to stop that? The answer: You're not.
The former Kentucky Wildcat has the highest Player Efficiency Rating in the NBA today, at 30.08. He finished 2014 fourth in the NBA in scoring and eight in rebounding. He shoots nearly 54% from the field, gets to the free-throw line almost seven times a game, and shoots a little over 80% from the charity stripe. He is a combination of strength and grace on the basketball court. He has the ability to extend the floor and hurt you away from the basket with his jumper.
But he can also dominate you from the inside with his power, finishing acumen, and ability to get above the rim. There is no one like him in the league right now. And for good measure, let's not forget that Davis is only 21 years old. That's just not fair.
5. DeMarcus Cousins, center, Sacramento Kings
2014 statistics: 24.1 PPG, 3.6 APG, 12.7 RPG
DeMarcus Cousins always had the tools to be a dominant force in the league; the biggest obstacle he faced was himself. Cousins was considered a head case with a bad attitude. Oftentimes, he was deemed "uncoachable." It was such a shame.
And then the 2014 FIBA Basketball World Cup happened, and it's as if something clicked inside Cousins's head. He was starting to put it all together. He decided to get out of his own way. Cousins turned a corner, and the 2014-2015 season was going to showcase that. And boy, has it ever.
At 6-foot-11 and 270 pounds, Cousins is a force to be reckoned with down on the block. He is big, strong, effective, and punishing. His stats are up in almost every offensive category, and he is a rebounding machine, at 12.1 per game. As if it wasn't hard enough to try and control this behemoth of an individual who has enough control over his frame to punish you inside, you also have to contend with his exceptional footwork, great hands, and ability to find the open man.
Yeah, "Boogie" Cousins can pass the rock. Look out. No one ever doubted that Cousins had talent. With him, it was always going to be the "other stuff" that scared teams off. But now that it appears he's trying to shed himself of that negative label, teams should be scared of Cousins for entirely different reasons.
All statistics are courtesy of Basketball-Reference.com and ESPN.com