5 MLB Players Who Injured Themselves (And Others) While Celebrating
For the most part, when it comes to getting hurt playing professional sports, young and old MLB players alike aren't subject to the same type of heavy-hitting injuries suffered from bone-crushing blows regularly occurring on football fields. No matter the sport, injuries are simply part of the game, For players of all sports, taking part in an unplanned celebration after an amazing play or following a victory is commonplace.
Many in the NFL take these jubilations to the next level with well-rehearsed, choreographed, post-touchdown dances to the delight of fans and watchful eyes of referees.

However, for baseball players, sometimes the celebrations inadvertently lead to injuries, which was not only unfortunate, but also a little embarrassing. So without any further adieu, here are five MLB players who took praising a good move or winning against another team a little bit too far and ended up getting injured or harming a fellow teammate.

5. Ramon Ramirez, New York Mets
In a rush to congratulate Johan Santana, who pitched the first no-hitter in Mets history, Ramon Ramirez sprinted onto the playing field. Unfortunately, his dash to the mound resulted in a pulled hamstring before he reached the mob of players celebrating Santana's victory. Mets manager Terry Collins watched the odd-ball injury occur and commented:
"He was just running in. He hadn't even gotten to the pile where they were jumping on [Santana]. [Ramirez] was just so excited. He was running in, running hard and all of a sudden, his leg grabbed him. I've never seen that."

For a longtime baseball person to say he's never seen such an injury makes Ramirez's fall one of the most embarrassing among any MLB players.

4. Chris Coghlan, Florida Marlins
Following a walk-off triple by teammate Wes Helms against the Atlanta Braves, 2009 AL Rookie of the Year Chris Coghlan delivered a pie in the face to the batter. Before launching the pie at the player, Coghlan went airborne, and he landed roughly on his leg.

An MRI revealed the athlete had torn his meniscus, and manager Edwin Rodriguez wasn't pleased when he said there would be "no more such celebratory antics."

Coghlan wholeheartedly agreed when he spoke to the press in the locker room following the incident when he said in part, "Hopefully players around the league will be able to realize even though we're all excited just be a little more cautious, a little more safe when you celebrate."

3. Aubrey Huff, San Francisco Giants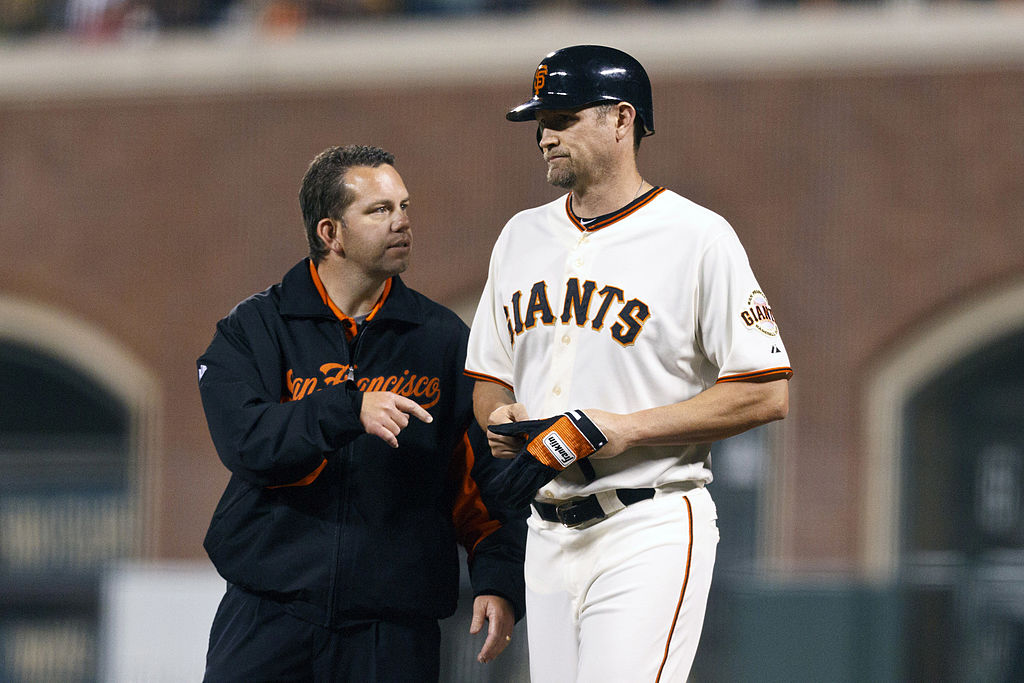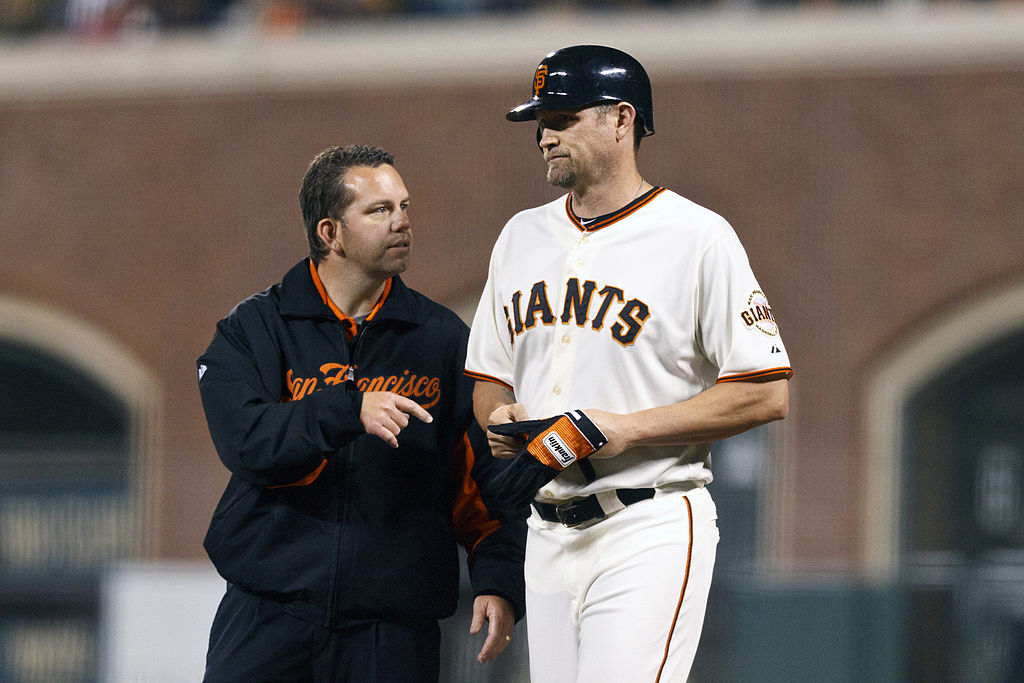 Another player to injure themselves over the accomplishment of a fellow teammate was the Giants' Aubrey Huff. After witnessing his teammate Matt Cain pitch a perfect game in 2012, Huff left the dugout by leaping over the railing and bruised his knee. Also suffering from an anxiety disorder, Huff's time on the field dwindled to next to nothing, and he left the league after the season came to a close.

2. Angel Guzman injures Derrek Lee, Chicago Cubs
If you've ever seen players hurl their helmets when they're heading for home base, it may be to avoid getting smacked too hard on this protective gear by an overly enthusiastic teammate. That's exactly what happened to Derrek Lee when Angel Guzman delivered a blow to the batter's helmet.

Mobbed by teammates in the dugout, relief pitcher Guzman slapped Lee's helmet with such velocity it caused Lee to have neck spasms that removed him from the game in 2009. It wasn't the first time Lee lost time on the field. He suffered neck and back spasms from an injury he received from a home-plate collision in 2006.
1. Kendrys Morales, Los Angeles Angels
You can't discuss MLB players who injured themselves celebrating without mentioning Kendrys Morales. Hitting a game-winning, walk-off grand slam is certainly worth celebrating, unless you break your leg stomping on home plate. Surrounded by his teammates after rounding third base, Kendrys Morales leaped into the air but didn't nail the landing when he scored the final run.

Being caught up in the heat of the moment is a thrilling experience, but if the exhilaration leads to injury, athletes should try to control themselves when praising themselves or their teammates' performances. We can almost hear the parental voice of reason saying, "It's all fun and games until someone gets hurt."