5 MLB Teams and Their 'Star Wars' Logos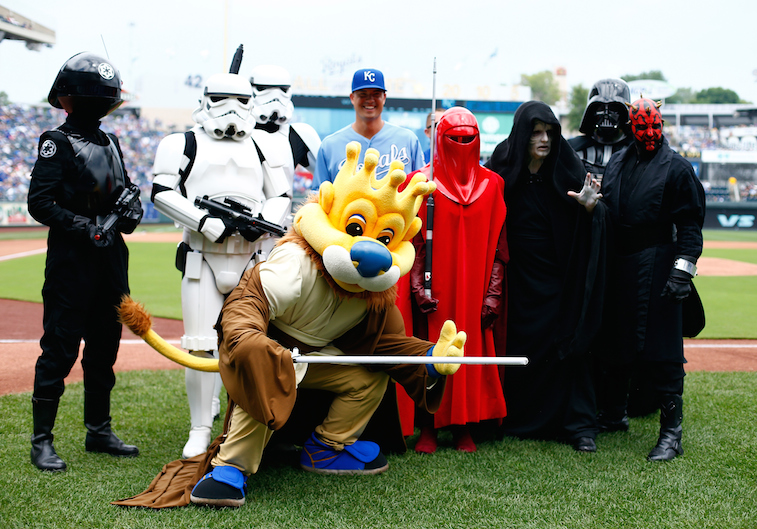 We don't know if you noticed, but Star Wars is back. Yeah, we know — stop the presses. The latest film was a massive success, and proved, if nothing else, that this particular brand of science fiction storytelling is enduring in it's popularity and reach. But sports fans have known that for years
We're, of course, talking about baseball parks, where MLB teams have been putting on Star Wars nights for years. If you thought Darth Vader had a stranglehold on the universe before, just wait until you see him attempt to throw out the first pitch. It's an absolute game-changer. And we're not the only ones to recognize the correlation between the Star War universe and the world of Major League Baseball.
Graphic artist Mark Avery Kenny had the foresight — and creativity — to fuse these two powerful entities into some pretty sweet redesigned logos. And if you're familiar with the work he did crafting video game-inspired logos for NBA teams, then you already know this guy doesn't mess around. So in honor of Disney's announcement that it will bringing the world of Star Wars to life, here's a look at 5 MLB teams and their Star Wars-inspired logos. 
1. Chicago Cubs
    Whether you're a diehard Star Wars fan or a newbie to the franchise, there's no way you can possibly look at an Ewok and not confuse it with a little teddy bear. It's just how it is. And  if some may feel it's too obvious to replace the Chicago's cub with that of George Lucas' feisty furry creation, perhaps they're right. Still, that doesn't make this new logo any less awesome — and utterly adorable.   
2. Atlanta Braves
Star Wars

: Atlanta Boba Fett Braves
While the colors don't necessarily match up between these two parties, the fact that the Atlanta Braves and Boba Fett got paired up together shouldn't come as a surprise to anyone. In this particular case, it's all about the "warrior" connection. And as a team associated with the rallying cry of the tomahawk chop, we couldn't think of a better counterpart for Atlanta's storied baseball franchise, than one of the most feared bounty hunters in all the land. Plus, the Boba Fett Braves has a pretty sweet ring to it.
3. Kansas City Royals
Star Wars

: Princess Lei Royals
    If this was a few years ago, we'd have a really difficult time with the Kansas City Royals getting the Princess Leia treatment. After all, the organization was more royally terrible than anything else. However, with the current club proving that their recent trip to the World Series wasn't a fluke, we wholeheartedly approve of the regal love being sent Kansas City's way.    
4. Toronto Blue Jays
Star Wars

: Toronto R2-D2s
This one may very well be our favorite. Not only do the blue and white color schemes of R2-D2 and the Blue Jays go hand in hand, but that little droid slides effortless into Toronto's shield. Seriously, if you never watched a single game of Major League Baseball in your entire life, this Star Wars-inspired design could very well pass for the real thing. It also doesn't hurt that, like the Blue Jays, you'd be a fool to ever underestimate this little robot. Both parties are always full of surprises.
5. New York Yankees
Star Wars

: The Empire Strikes Back
You had to have known this one was coming. The New York Yankees are massive, powerful, and crazy rich. This organization is all about winning — and winning at all costs. You can challenge the Bronx Bombers all you want, even knock them down on occasion, but they'll find a way to get back up and regroup. The dark side is strong with this one. The New York Yankees are the empire.
To see the rest of Mark Avery Kenny's 'Star Wars' and MLB logo mashups, check out his Instagram here.