5 MLB Teams With (Happy) Surprises to Start 2014 Season
There was plenty of cause for concern for Major League Baseball teams during spring training, with the Braves and A's pitchers taking the worst hits of anyone. However, by the time clubs broke camp and headed north, some surprises had changed their outlook for the better.
Spring training surprises don't exclusively involve young players finding their way in Cactus League or Grapefruit League action. In many cases, the revival of a MLB veteran's career will give a team a boost at great value. The low-risk, high-reward gambles GMs make allow players the chance to prove they can still produce on the big-league level. Players returning after missing years to injuries also have something to prove. Here are five teams that got pleasant surprises to start the 2014 MLB regular season.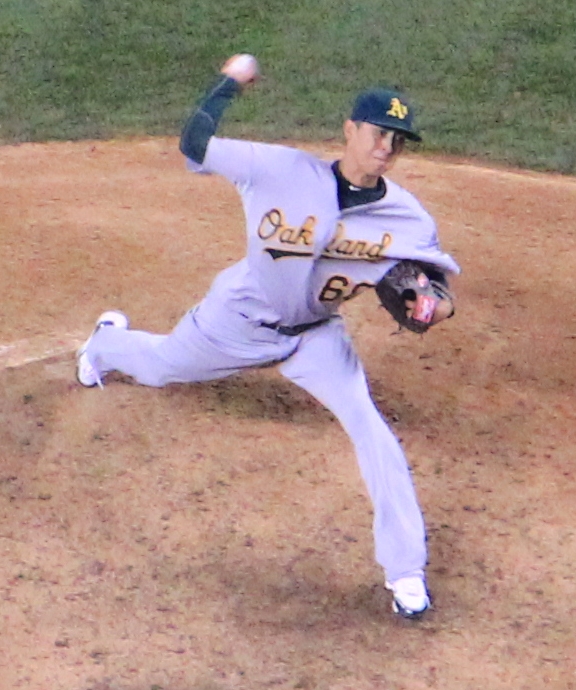 1. Oakland A's: Jesse Chavez has the goods to fill a rotation spot.
Oakland got terrible news in spring training about Jarrod Parker, who will miss over a year due to Tommy John surgery. Another injury to A.J. Griffin (expected to miss April) left the A's down two starters. Into that void stepped Jesse Chavez, the journeyman starter who shined in Cactus League action for Manager Bob Melvin. Chavez led all pitchers with four wins in the spring and an ERA of 2.74, which ballooned after one bad inning at the end of his final start.
At a salary below $500,000, the A's are ecstatic Chavez found his groove in 2014. They will need help at least three times through the rotation, but Chavez has the chance to force himself into the A's mix for the long term.
2. Red Sox: The early returns on Grady Sizemore are great.
When the Red Sox signed Grady Sizemore, most observers saw it as a way to take some of the pressure off star prospect Jackie Bradley, Jr. Sizemore saw it as an opportunity. After hitting .333 in spring, Sizemore won the starting center fielder job for Boston on Opening Day.
There's no guarantee he'll stay there, but the hot hitting and excellent defense Sizemore showcased in the Grapefruit League reminded many of his best days playing for Cleveland. So far, it's a most pleasant surprise for Boston.
3. Yankees: Michael Pineda is far from done.
To get fireballer Michael Pineda from Seattle, the Yankees had to part with star prospect Jesus Montero. Then Pineda had shoulder surgery and missed nearly two years, leading many to wonder if he would ever pitch for the Yankees. Pineda silenced his critics in Grapefruit League action by showcasing the great stuff the Yankees coveted years ago.
By the end of spring training, Pineda had notched 16 strikeouts in 15 innings and posted a microscopic 1.20 ERA. Manager Joe Girardi named him the team's fifth starter to start the season. It's not like there wasn't strong competition. David Phelps and Vidal Nuno both shined in spring outings, but Pineda's dazzling stuff won him the job.
4. Rangers: Prince Fielder has the power stroke back.
The Texas Rangers made a bold move in the offseason by trading Ian Kinsler and taking on Prince Fielder's huge contract. At the end of spring, Fielder looked quite comfortable in the middle of the order. In his first at-bat at The Ballpark in Arlington, Fielder launched a 424-foot home run, his fourth of the spring.
His new hitter-friendly home park should provide Fielder with plenty of chances to do damage. The Rangers are happy to see him finding his stroke as the season is in its early stages.
5. Tigers: There's no question about Cabrera.
When the best hitter in baseball is nearing the end of his contract, it's enough to keep a general manager up at night. Detroit Tigers GM Dave Dombrowski guaranteed himself another ten years of sweet dreams by extending Miguel Cabrera through 2023. It cost $248 million to make it happen, but Cabrera's leadership and mammoth production make him as safe a bet as any.
Of course, Yankees and Angels officials made the same respective bets on Alex Rodriguez and Albert Pujols. No matter what happens in the latter part of the deal (Cabrera will turn 40 in its last year), the Tigers are guaranteed a monster in the middle of the order while Justin Verlander and the rest of the core are in their primes.