5 Modern Day Quarterbacks Who Relied on Their Receivers the Most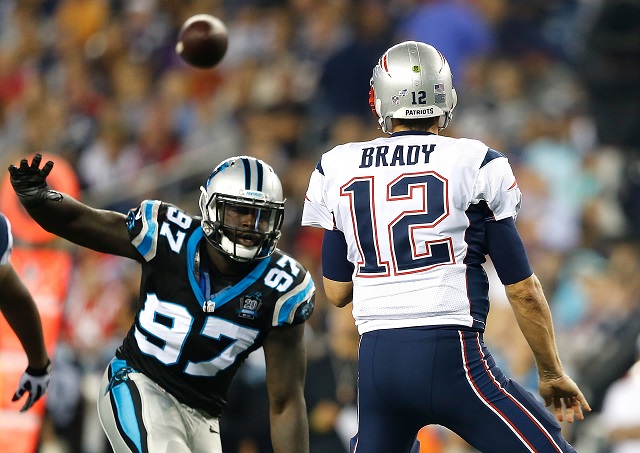 When is a massive pass not actually a massive pass? Most people who have followed football, and particularly football box scores, have come across this phenomenon — where a receiver breaks coverage and turns what was, for all intents and purposes, a fairly small throw, into a massive gain that goes into the books as a field-long bomb, even though it wasn't. This is maddening, for the people who care about these things, because actually throwing a football 75 yards is a lot harder than throwing a football for five yards and watching someone else run the length of the field. That's very little work, comparatively speaking, and it's part of the reason Yards After Carry can do so much to bolster a quarterback's reputation.
Luckily for us, the intrepid investigators over at Football Perspective have done a bit of mathematical pondering, and come up with a way to measure out how each NFL quarterback of the last twenty years or so has been helped by their receivers' quick legs, taking what they're calling the 'Marginal Yards After Carry' which is, essentially, comparing the average YAC of a given season to the individual signal caller's numbers. While mYAC doesn't have the catchiest acronym in the world, it is a pretty enlightening look into why all passes are not created equal.
Let's look back, then, and see which quarterbacks really leaned on their receivers in order to pad their stats — although, obviously, all QBs need their receivers to catch the ball, so to some pedantic degree they all dependent on them. Take the inaugural NFL game of the season, though — Seattle's first touchdown, Wilson to Lockette. Was that really a 33-yard pass, or was it really an 11-yard pass and a 22-yard run? You can find a gif of that touchdown here, courtesy of Deadspin.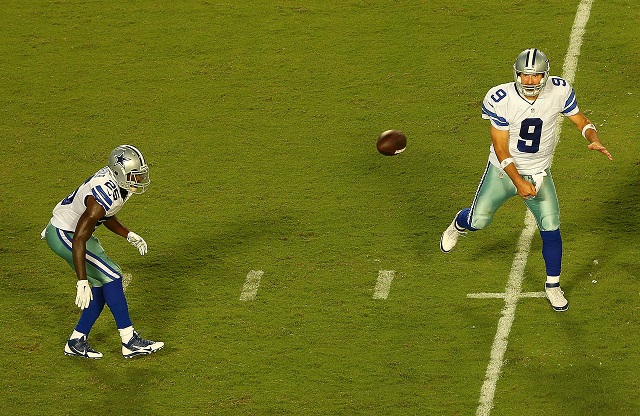 5. Tony Romo, 2009 — 451 mYAC

So, by this measurement, Tony Romo was gifted just over four-and-a-half football fields worth of yardage over the league average in 2009. How did we get to this? Well, the actual equation is "mYAC = (YAC/completion – LgAvg YAC/completion) * Completions," so, in '09, Romo's receivers pulled in 2,340 yards after the catch, or 6.74 YAC per catch, since he completed 347 passes that year.
The league average for YAC per catch that year was 5.45, so Romo's receivers were gaining just over a yard more on each pass (1.3 yards) after the catch than the average player. Multiplied that out by the 347 completions that the Cowboys QB threw that year, and you'll get his total mYAC that year. Make sense? In real world terms, 2009 was the last year that Cowboys posted a winning record and made the playoffs. Coincidence?
4. Kurt Warner, 1999 — 461 mYAC
The only quarterback on this list from the 20th century, Kurt Warner's sophomore season with the St. Louis Rams (although, really, you could make the argument that it was his rookie year, since he only saw the field for one game in '98) saw the franchise lead the league in total points scored, averaging just under 33 points per game as they stormed their way into a Super Bowl victory over the Tennessee Titans.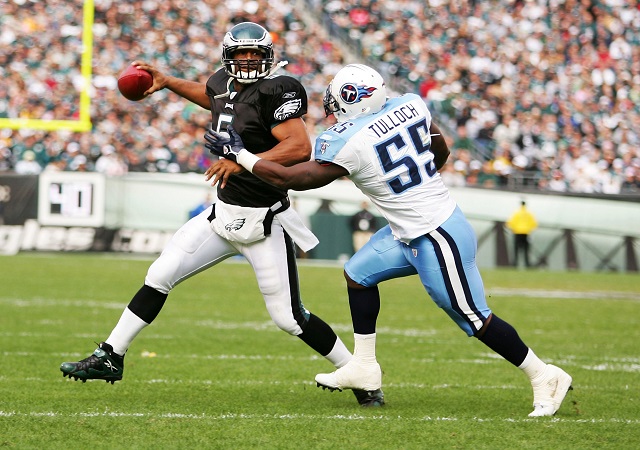 3. Donovan McNabb, 2006 –  472 mYAC
Look at the 2006 Philadelphia Eagles team, who went 10-6 and generally looked like a good team, even when they were getting bounced by the Saints, and you'll see a lot of great receivers who managed to eek out every last inch of each completed pass — McNabb's '06 season ranks as the highest yard after carry per completion on this entire list, a 7.76 number that's more than two yards above the league average from that year (5.14). So why the low overall ranking for Donovan? He only completed 180 passes that year.
2. Tom Brady, 2011 — 476 mYAC
If you think about this Patriots team at all, it's either as the team that lost to the Giants in the Super Bowl (again), the team that signed Chad Ochocinco for his last go-around in the NFL, or the last time that New England really had a roster with anything resembling a receiving core. Out of the top five Patriots receivers from that year, only the oft-injured Rob Gronkowski remains with the team. Still, anyone that's had even a passing interest in the New England football team knows that their game plan in recent years has always been to beat you with the short pass, so this positioning shouldn't come as much of a surprise.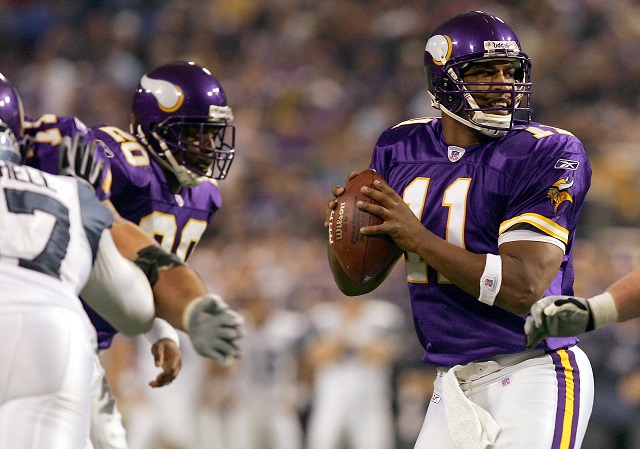 1. Daunte Culpepper, 2004 –  543 mYAC
Was Daunte Culpepper overrated? That's not for us to say, really, but the fact remains that during his 2004 campaign, when the Vikings broke even at 8-8, their receivers were doing more work for him than for any other QB in the modern NFL. With almost a yard and a half extra running yardage added to each catch compared to the league average a year ago, Culpepper's 379 completions bore out to nearly 2,400 yards after the ball was safely in the hands of the receiver — who, given the numbers from that year, was probably Jermaine Wiggins, Nate Burleson, or Randy Moss.
For more information about Marginal Yards After Carry, be sure to check out Adam Steele's full for Football Perspectives post here. It's awesome and interesting.