5 Most Head-Scratching Moments From Urban Meyer's Short But Puzzling Jaguars Tenure
It has been less than a week since Urban Meyer was fired from his duties as head coach of the Jacksonville Jaguars after one of the ugliest head coaching tenures in the history of the NFL.
Many players, analysts, and media personalities came out and voiced their opinions on Meyer's bizarre time as the Jaguars head coach — one that lasted less than one entire season. It was filled with highly-criticized decisions both on and off the field from start to finish.
Trevor Lawrence, the generational quarterback everybody was anxious to see at the NFL level, has looked nothing of the sort. James Robinson, one of last season's rookie standouts, has been used in a puzzling way time and time again.
The list keeps going, and Meyer's tenure will be remembered forever — although not for good reasons. As the Jaguars return to the table to find another head coach, it is time to reflect on Meyer's run in Jacksonville and relive some of his most puzzling moments running the show.
Jaguars QB competition between Trevor Lawrence and Gardner Minshew
The Jaguars took the once-in-a-generation quarterback in Lawrence, the consensus top choice in the 2021 NFL Draft, but decided to split reps with Gardner Minshew during training camp over the summer.
This move seems to be swept under the rug by many, perhaps due to how everything else unfolded in Jacksonville. Instead of naming Lawrence the starter from Day One, Meyer insisted — for some reason — on holding a quarterback competition.
Now, Minshew is a capable quarterback, but you don't sit your prized rookie on a rebuilding team in your first year as a head coach. It doesn't make sense, and it never will.
To make things worse, the Jaguars traded Minshew to the Philadelphia Eagles for a Day 3 draft choice. Really.
Sadly, this wasn't even the first mistake Meyer made during his time in Jacksonville. But, handling Lawrence like that from the beginning seemed to play a factor in the rookie's confidence.
The bizarre mishandling of running back James Robinson
The James Robinson saga was downright confusing. After an impressive year in 2020 as a rookie, Robinson was expected to shoulder a heavy workload once again.
That is until Clemson star Travis Etienne was selected toward the end of the first round. Who knows what Robinson's role would have been if it weren't for Etienne's season-ending injury in the preseason.
But, at the start of December, Robinson was dealing with a heel and knee injury but ultimately ended up playing against the Los Angeles Rams.
Then, shortly into the game, Robinson fumbled and didn't see the field for a long time. Was it because of his health? Or was Meyer sending the young RB a message to take care of the pigskin?
Meyer's postgame comments just made things even more confusing.
Can this be chalked up to miscommunication? Or just a brainless coaching blunder once again by Meyer?
He did clarify it after he got fired in a conversation with Ian Rapoport of NFL Network. Meyer insisted there was a miscommunication and that Robinson was benched for the fumble.
That wasn't the only time it happened, either. He rolled with Carlos Hyde in some big-game situations and had a bizarre moment with Lawrence as well, and the list just goes on and on.
All in all, the way he handled Robinson's usage — especially without Etienne all year long — was one of the most frustrating things for all parties.
The infamous Josh Lambo kicking story
Rick Stroud of the Tampa Bay Times dropped a bombshell in what ended up being the straw that broke the camel's back in the Meyer tenure.
The details in the story are pretty shocking, stunning, confusing, upsetting — you name it.
That is not the right way to go about things. No wonder Meyer lost trust from his players and those in the locker room in his first year running the show in Jacksonville.
Urban Meyer's night out after the game against the Cincinnati Bengals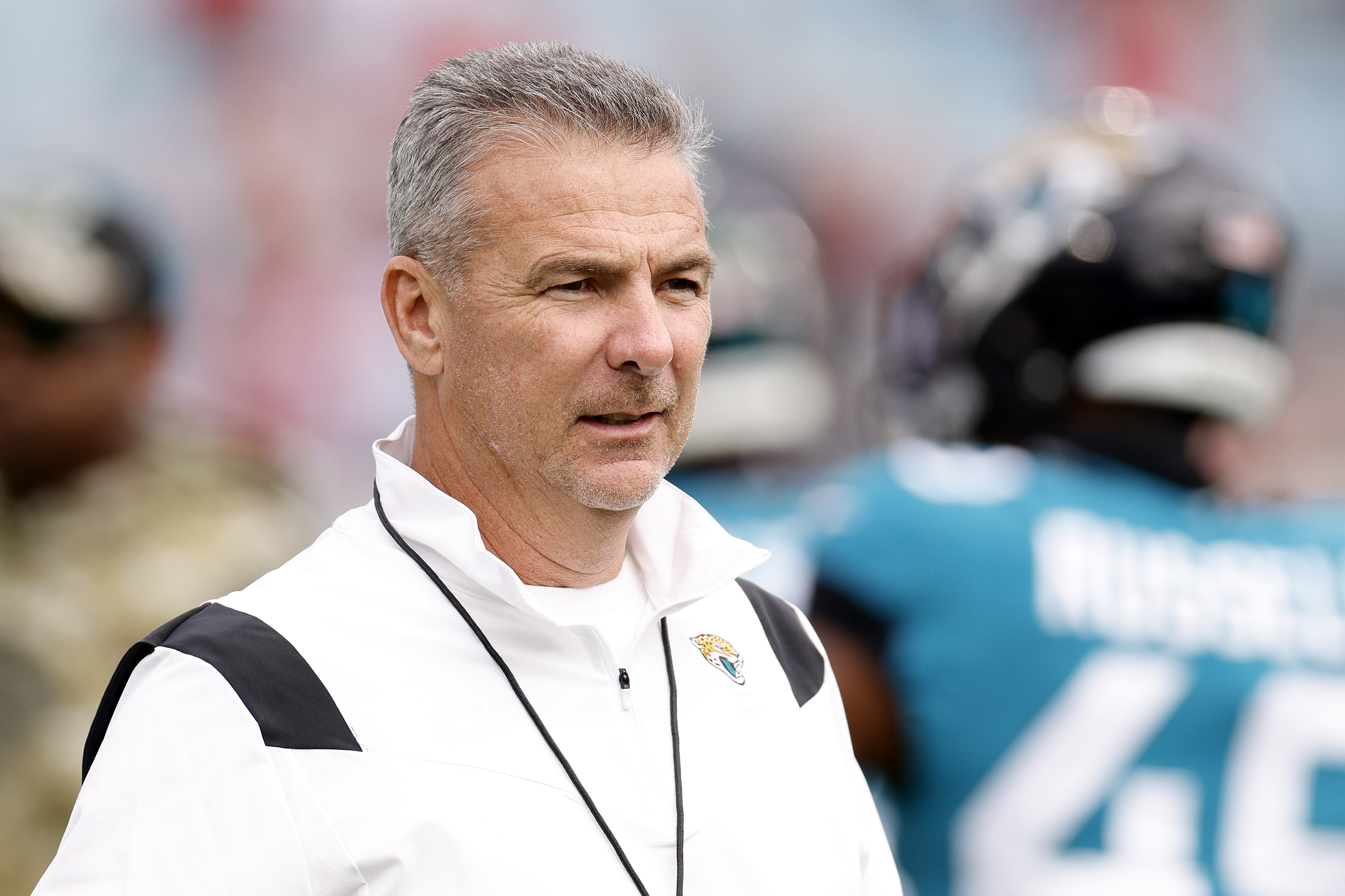 The story of Meyer is a long one. Unfortunately, his antics from late September might go down as one of the worst decisions in his entire coaching career.
After losing to the Cincinnati Bengals to drop to 0-4, Meyer decided not to fly home with the team. That, in itself, is usually a red flag and a cause for concern.
What made it worse is that Meyer was seen at a bar with a woman who was not his wife, creating quite the uproar around the sports world.
That incident brought a ton of reactions and put Meyer in a massive hole, one that would be too much for him to climb out of. It didn't help that the Jaguars weren't winning games, and Meyer's confusing decision quickly became viral on social media and will live forever as an unfortunate meme reminder.
Many athletes and TV personalities ripped Meyer for his behavior, including one of Meyer's old friends — Tim Tebow.
Tim Tebow signs with the Jaguars as a tight end
Tim Tebow signed a contract with the Jaguars back in May. At the time, this move was, well, shocking.
The former Florida Gators star spent some time in the NFL, mainly with the Denver Broncos, before transitioning to minor league baseball. That didn't work for Tebow, either, although he did make it to Triple-A in the New York Mets organization.
Still, almost a decade after leaving the NFL, Meyer called up his old Gators quarterback and brought him on board — as a tight end. This experiment was a joke from the beginning, and although Tebow gave it his all, he didn't end up making the roster.
Tebow wound up being cut in August, and it must have been painful for Meyer to make that decision.
This list can go on and on and on. As short as it was, Meyer's time in Jacksonville began with turmoil and ended with even more turmoil. Each week that went by, it felt like there was something new about Meyer.
The good news? The Jaguars were able to fire him for cause, freeing up his ugly five-year contract, and they can now try to refocus and go back to the drawing board for yet another head coach.
Like it or not, the Meyer era will be remembered forever in Jacksonville.