5 Most Memorable Moments in Duke Basketball History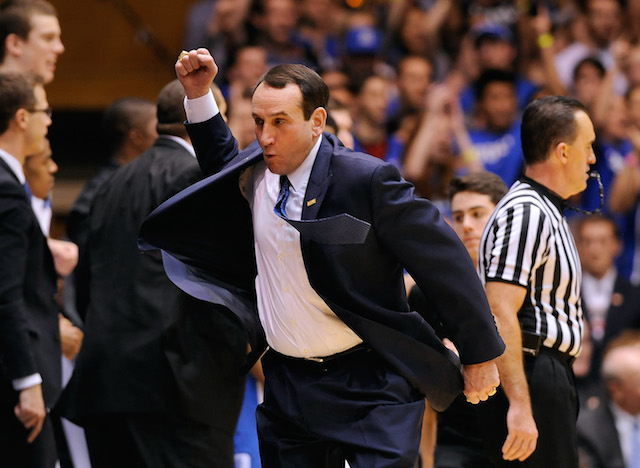 It seems like just yesterday that we were still looking forward to the Duke Blue Devils taking on St. John's Red Storm for the chance to see Mike Krzyzewski become the first coach in men's college basketball history to record 1,000 career victories.
In his illustrious 40-year coaching career, Krzyzewski has a .766 winning percentage. He's won 12 regular season conference titles, 13 conference tournament titles, and taken his teams to the NCAA tournament 31 times. In that span, he has been to 12 Final Fours and won four National Championships. Suffice to say, Coach K is a basketball icon. And there is no place in the world he is revered more than Duke University.
In Durham, North Carolina, he is their coach, and he has brought the Duke faithful a lifetime of memories. And these instances go way beyond the banners that hang in Cameron Indoor Stadium. So, in honor of Coach K, here are the five most memorable moments in Duke basketball history.
5. Austin Rivers drops a three on UNC
There is nothing in college basketball like the rivalry between the Duke Blue Devils and the North Carolina Tar Heels. Separated by eight miles on Tobacco Road, it's always a treat whenever these two blue bloods take the floor against each other. You never know what's going to happen. You never know who's going to be the hero. And on this night in 2012, it was freshman, Austin Rivers, playing in his first-ever Duke-UNC rivalry game, who delivered the dagger in Chapel Hill. His buzzer-beating 3-pointer gave the Dukies an 85-84 victory, in a contest they had no business winning. Talk about a moment.
4. Sean Dockery sinks Virginia Tech from half-court
Duke was the No. 1 team in the country at the time (2005-06 season), and they were about to lose on their home floor to an unranked conference opponent. The Virginia Tech bench swayed back at forth, as they were less than two seconds away from a major upset at Cameron Indoor Stadium. And then, on the final play of the game, Sean Dockery, standing on the other side of half court, catches the inbound pass that's heaved from under Duke's basket. He turns, takes one dribble, and lets it fly. Splash!
And that's how you get remembered.
3. Jeff Capel forces overtime
On February 2, 1995, Duke lost to UNC in overtime, 102-100. The result wasn't that surprising. After all, the Blue Devils weren't a good basketball team that season. However, this was against the Tar Heels at home, and anything was possible. Duke did lose this game, yes. But no one tends to really focus on the outcome. What they remember is the shot that sent the game to overtime. That unbelievable Jeff Capel heave that tickled the twine. Wow.
2. Sweet revenge
This upset victory over UNLV in the 1991 National Semifinal game was an unbelievable representation of poetic justice. The year before, the Runnin' Rebels demolished the Blue Devils in the National Championship game, 103-73. This time around, the defending champs came into the contest riding a 45-game winning streak. Duke was not supposed to win this game. Which is what made it all the more memorable. To this day, it's probably still the greatest upset in the history of college basketball.
1. Greatest shot in history?
This play stands alone as the single-most memorable moment in the history of the Duke Basketball program.
It was the 1992 Regional Final against the Kentucky Wildcats, and the Blue Devils are down one (103-102) with 2.1 seconds left on the clock. Duke took the ball out under their basket, with time left for just one play. Grant Hill chucked a perfect three-quarter length pass that All-American, Christian Laettner, with his back to the basket, caught at the free-throw line. Laettner shifted right, took one dribble, turn-around jumper at the buzzer…history. Nothing but nylon. Duke wins 104-103.
All statistics are courtesy of S/R College Basketball